The Loop
Brooks Koepka's underrated talent, Phil Mickelson's WTF moment, and DJ/Paulina move on after a wild U.S. Open
Welcome to another edition of The Grind, where we're impressed with Brooks Koepka's ability to stay focused on his job, even under the utmost pressure. And amazed by his knack for finding the just right moment to make a statement. And that's just his product placement game:
So smooth. Oh yeah, Brooks' golf game is pretty good, too, as evidenced by him picking up a second major title. And as we pick up a Michelob Ultra in Brooks' honor (This is an Ultra-good sponsorship opportunity, guys!), let's discuss an extra-wild U.S. Open week.
Brooks Koepka: Jeez, this guy's career has taken off after witnessing this shot by me last year, huh?
Brooks made it back-to-back national titles at Shinnecock and answered any silly questions about whether he has the game to win a "true" U.S. Open because he suffered and gritted his way to a win at one over this year. And it was nice for his girlfriend, Jena Sims, to get the respect she deserves from Joe Buck on Fox's telecast.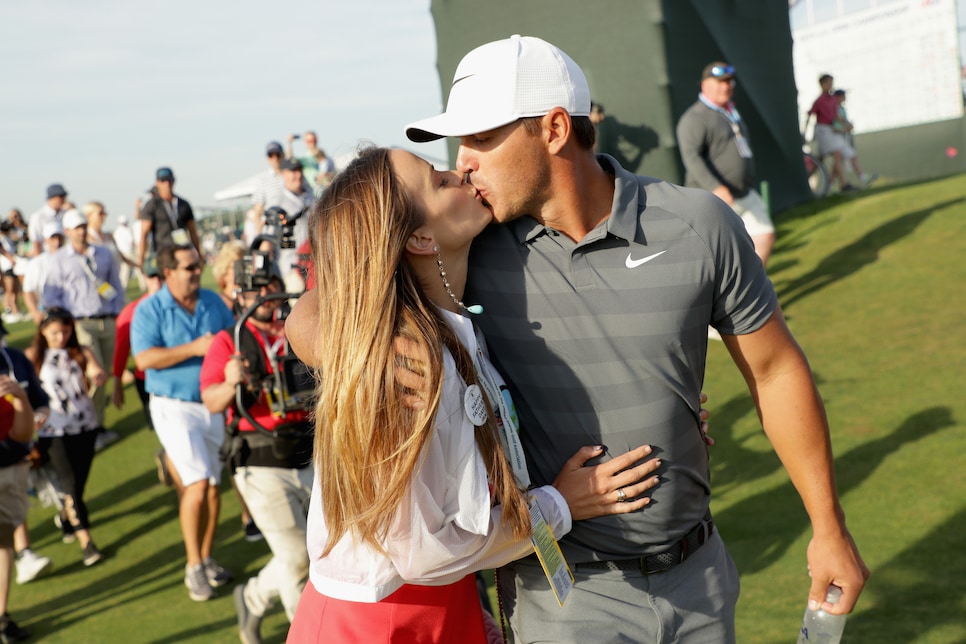 But seriously, Koepka's performance at majors, especially the U.S. Open, is mighty impressive. That's 16 consecutive cuts, which includes seven top 10s and 11 top 15s. The guy clearly knows how to peak in a big spot. And again, what a pitchman.
Tommy Fleetwood: The Brit nearly did the unthinkable, just missing an eight-footer for birdie on the final hole that would have given him a Sunday 62 at the U.S. Open and potentially, a six-shot, come-from-behind-win (You could hear Johnny Miller's sigh of relief all the way from Utah). Either way, it was quite a performance for a man who was a 40-to-1 shot going in. I'm guessing his odds won't be that long at another major for some time.
Patrick Reed: Admit it, you started thinking about a possible REED SLAM when the reigning Masters champ birdied five of his first seven holes on Sunday to grab a share of the lead. Reed ran out of steam, but a solo fourth means he's only been beaten by a total of four golfers at the past three major championships.
Shinnecock Hills: Within 15 minutes of walking these hallowed grounds for the first time on Tuesday I was in love. Shinnecock is speckled with brilliant, memorable holes while sitting on a picture-perfect plot of land that reminded me so much of being in Scotland that I kept waiting to hear bagpipes playing in the background. I'm so glad it's already locked in for the 2026 U.S. Open. Waiting another 14 years to come back to this glorious track would have been way too long. But if the USGA can figure out a way to help cut down the traffic issues before then, that would be great. . .
Phil Mickelson's mini-golf move: Remember when BACKSTOPPING was all the rage? That was a simpler time. Amid the thousands of takes you've heard by now on what happened on Moving (ball) Day at the U.S. Open, I fall somewhere in the middle. I think Phil embarrassed himself by stooping to John Daly's level, but I also think the two-shot penalty was enough and that this won't make him any less of a crowd favorite or RUIN HIS LEGACY. This tweet from tour pro Ed Loar best summed up what happened on the 13th hole on Saturday:
The moving ball rule: So Phil Mickelson wasn't disqualified for hitting a moving ball, but he would have been DQ'd if he'd simply "stopped or deflected" his ball? What?! And you wonder why people make fun of golf's rules. Also, I disagree with the people who think this is going to be an epidemic. For one, Phil may have cost himself a shot by doing this, and two, do you really want to risk getting raked over the coals like he was for this? Didn't think so.
Dustin Johnson's major total: No, he didn't play — well, putt — well enough over the weekend to win, but Johnson is a reminder that golf, especially major championship golf, isn't always fair. A man with 18 PGA Tour wins who has contended plenty in the sport's four biggest events should win more major titles than someone who has only won three (Sorry, Brooks). But yet, Johnson is stuck on one major, which I believe is as much due to bad luck as bad play. I genuinely felt sorry for the guy. And then I saw these photos taken on a boat by his fiance, Paulina Gretzky, less than 24 hours after his latest close call: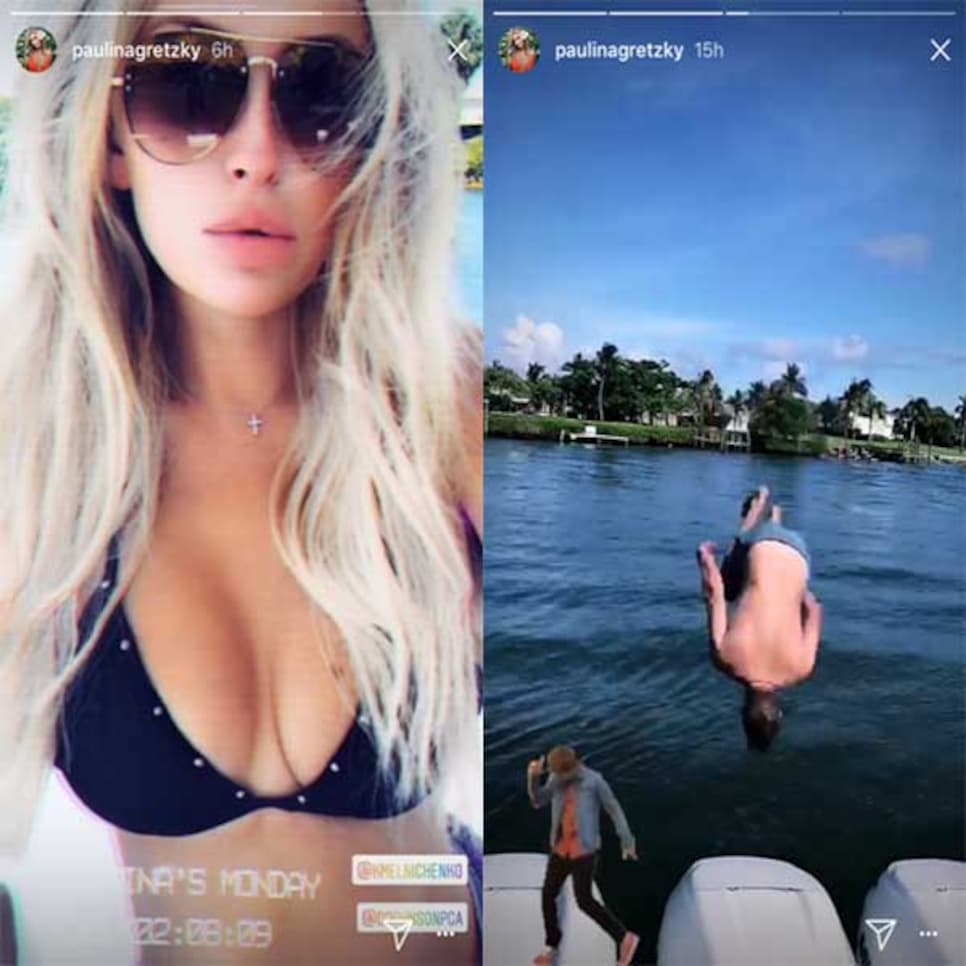 Yeah, I think DJ will be OK.
The PGA Tour heads to Hartford for the Travelers Championship, AKA the other fifth major. Seriously, do you remember that finish by Jordan Spieth last year? And have you seen how good the field has gotten?
Random tournament fact: Rory McIlroy practiced with five different putters before the third round of last year's event. This year, he's practicing on the range with a giant ball hanging from his neck. Suffice it to say, we aren't witnessing peak Rory right now.
RANDOM PROP BETS OF THE WEEK
— Someone will hit a moving golf ball at the Travelers: 1 million-to-1 odds
— Brooks Koepka will win the Travelers: 14-to-1 odds
— Brooks Koepka won't try out any new putters this week: LOCK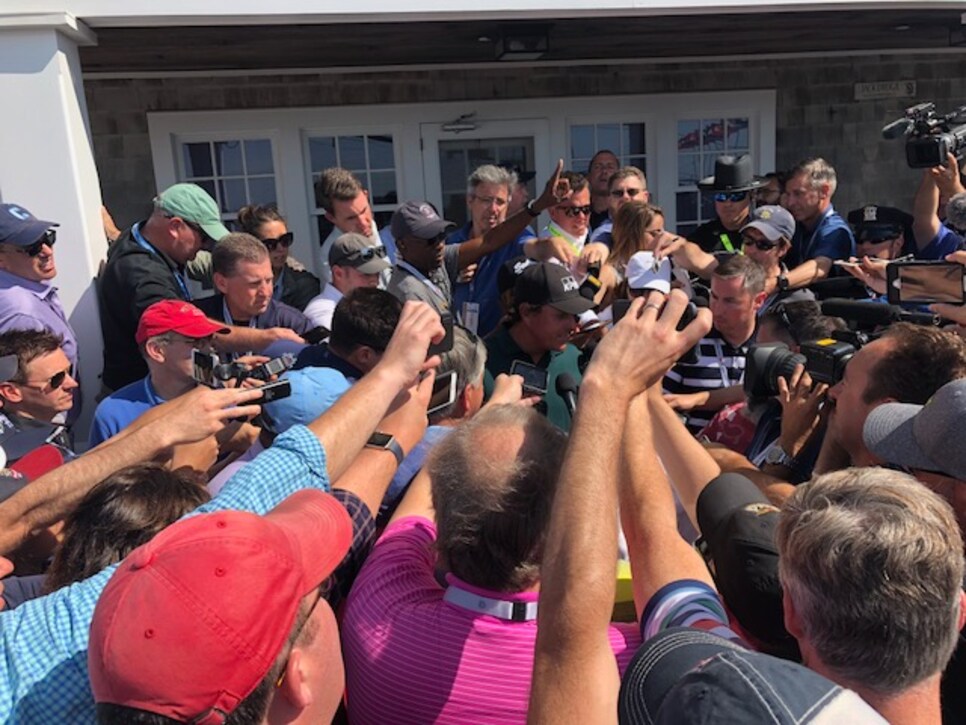 Now that' a proper media scrum.
Check out the effort by this kid, who risked life and limb (well, at least limb) to pull his dad's golf ball out of a burrowing animal hole at the PGA Professional Championship. And nice job by dad as well to capitalize on his son's bravery by making birdie. Great team effort.
VIRAL VIDEO OF THE WEEK (KINDA NSFW DIVISION)
Henrik Stenson dropped an F-bomb on live TV. And it was hilarious because of his reaction to finding out he'd just dropped an F-bomb on live TV:
VIRAL VIDEO(S) OF THE WEEK (REALLY NSFW DIVISION)
Fox Sports' microphones were a little too good on Friday. . .
And Bob Menery's "call" of the Phil debacle was hysterical:
THIS WEEK IN CELEBRITIES PLAYING GOLF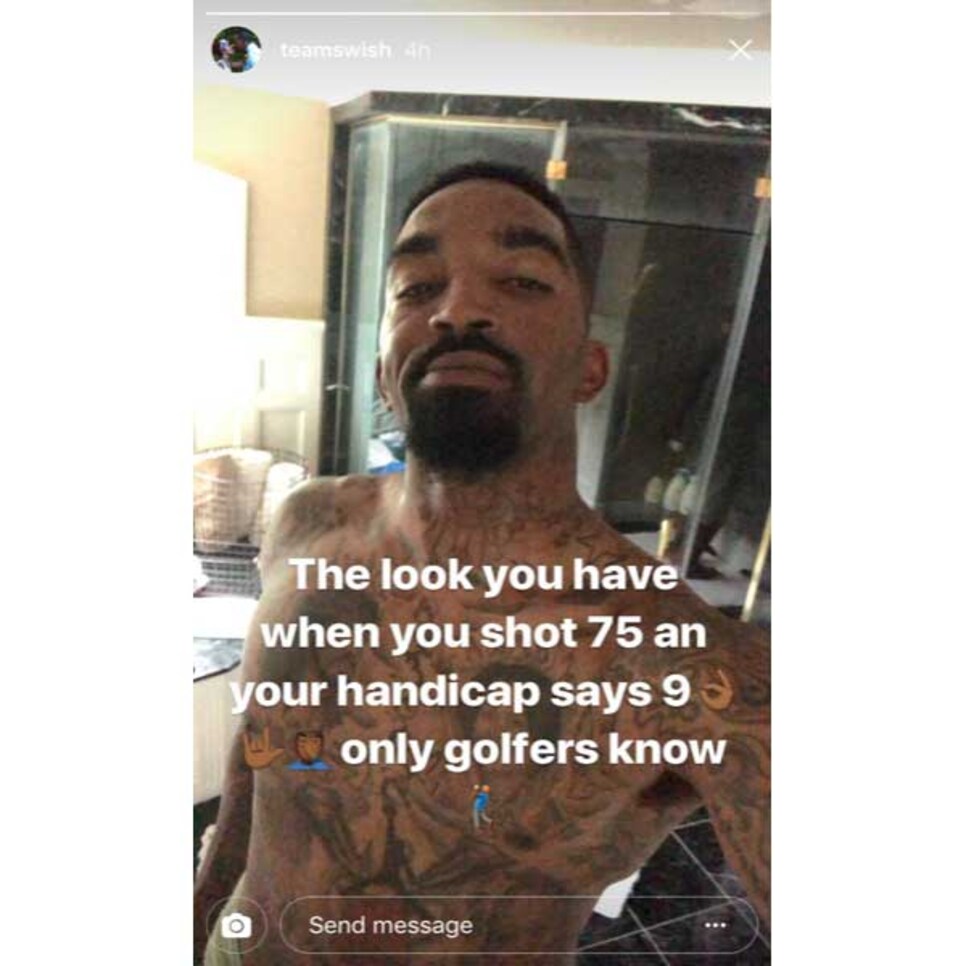 I was disappointed in J.R. Smith for forgetting the score at the end of Game 1, but he's a sandbagger, too? Say it ain't so!
THIS WEEK IN DUSTIN JOHNSON-PAULINA GRETZKY PUBLIC DISPLAYS OF AFFECTION
There's a rumor going around that Paulina and her friends were celebrating when Dustin drained a birdie putt on the final hole because they thought he won the tournament. I don't buy it. Maybe, maybe one of her friends made this mistake, but there's no way Paulina did. She's been going to tournaments for more than five years! And she watches the action pretty intently.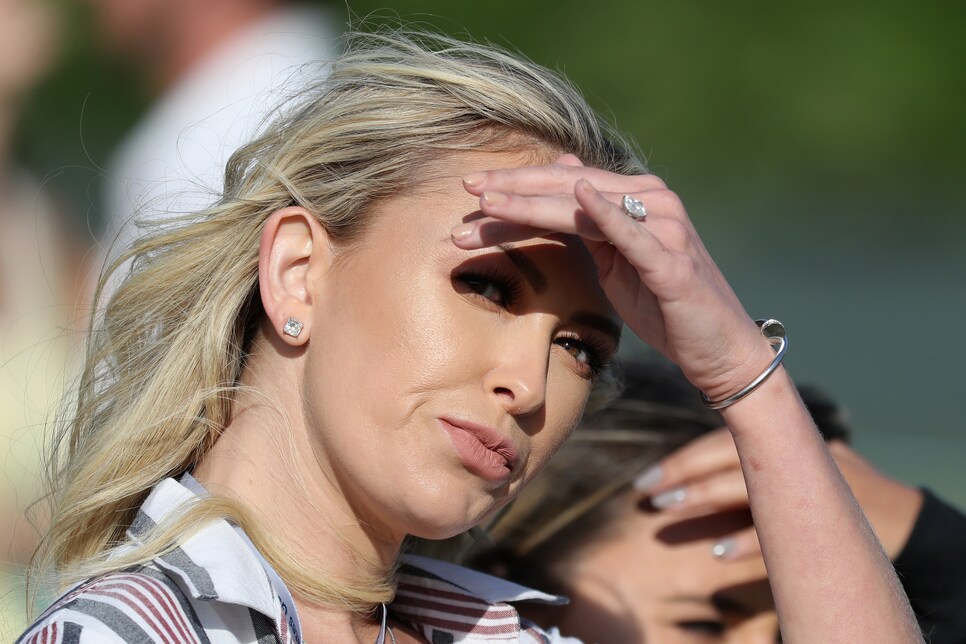 Don't worry, Paulina, I've got your back on this.
"If somebody is offended by that, I apologize. But toughen up." -- Phil Mickelson. Apology accepted.
A silly Jets fan screamed during Peter Uihlein's backswing upon seeing the team's recent No. 3 pick Sam Darnold in the crowd. If you heard someone yell "Long live ELI THE GREAT," it wasn't me. I swear. . . . Steve Kerr says he was pleasantly surprised when Tiger Woods sent him a congratulatory text after the Warriors won a third NBA title in four years. Apparently, I need to have a back surgery to become buddies with Tiger. . . . I had a reunion of sort at Shinnecock when I ran into tour pro Mike Miller, who I last saw when I was covering high school golf for The Journal News 10 years ago. Now, he's playing in the U.S. Open and I work for Golf Digest and am lucky enough to do things like this: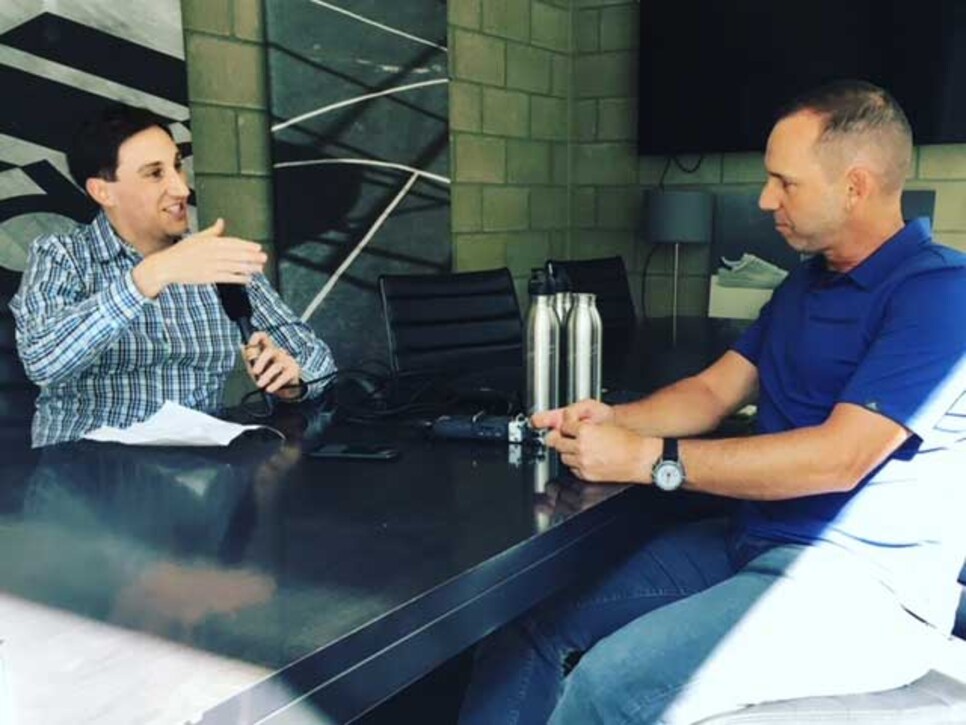 Just a couple green jacket winning new dads talking about changing diapers. Pretty cool. . . . And speaking of being a dad, even though I "worked" on Sunday, I had a fantastic first Father's Day with my little girl -- and this tremendous bacon-and-egg sandwich my wife made: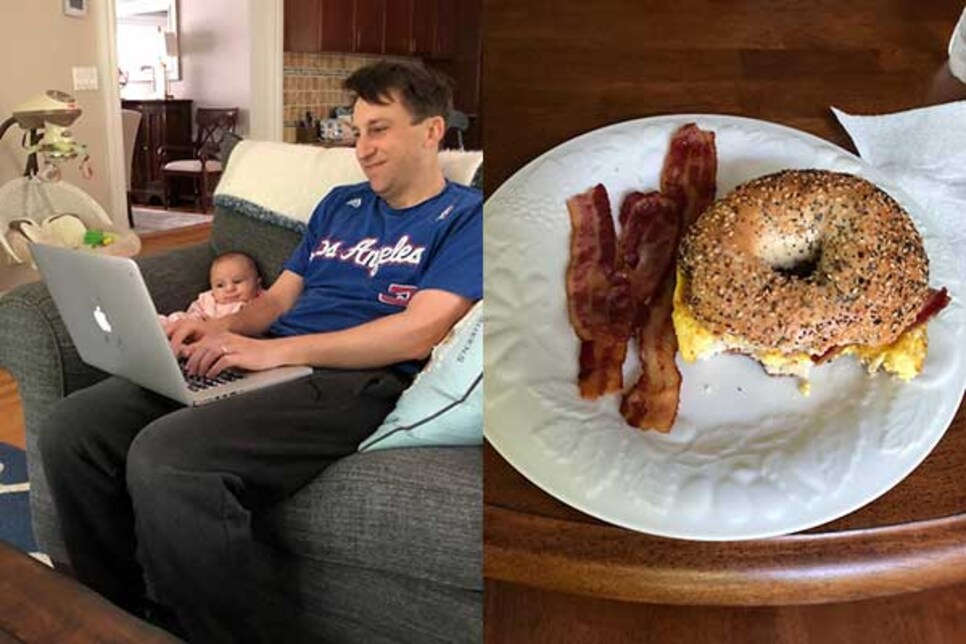 RANDOM QUESTIONS TO PONDER
How does Brooks only have one other PGA Tour win?