The Loop
Brooks Koepka's creative Christmas card, inspirational holiday gifts and the funniest Anthony Kim sighting yet
Welcome to another edition year of The Grind where we have discovered a foolproof way to keep your New Year's diet resolutions: get an incredibly painful tooth infection. For the second consecutive year, an old root canal is wreaking havoc with my mouth, but if I'm being honest, my chompers could use a break. It's been a bit of a break in this space as well, but I'm excited to be back for a ninth(!) year. To think, Charlie Woods was only 3 when The Grind started. Time flies, huh? Anyway, we've got a lot to catch up on so let me pop a couple more pain meds and let's get to it.
Masters invites: 'Tis the season for a lucky few golfers to get the greatest piece of mail ever. No matter who you are, it never gets old. And it never gets old watching reactions like this:
By the way, we're already inside 100 days until the Masters. Now we just have to keep our fingers crossed that patrons will be back in April. And if I'm lucky enough to go, fingers crossed I'll be able to chew again by then. As Dustin Johnson noted, those Augusta National sandwiches are incredible.
Valentino Dixon: While we're on the subject of Augusta National, a rendition of the famed 12th hole by our favorite artist wound up in the hands of Barack Obama:
It's the latest chapter in Dixon's tragic, yet inspiring journey. The man who spent 27 years in prison for a murder he didn't commit and was freed thanks in part to Golf Digest's Max Adler, is now creating art that's hanging in the home of a former President of the United States. Amazing. Speaking of Christmas gifts …
Josh Allen: In his third NFL season, the Buffalo Bills QB hasn't just morphed into an MVP candidate, but one of the best teammates you could ask for. Just look at how he treated his offensive line for Christmas:
Just give this guy the MVP right now. What a great gesture. And a smart one as well for team bonding. Yep, the future looks bright in Buffalo. Speaking of bright futures …
Charlie Woods: Yeah, yeah, it's been a couple weeks, but how cool was seeing this young dude playing with Pops? And playing so well? The kid made his first eagle on national TV! And gave us the moment of the tournament with this familiar looking fist pump:
He's also already getting kids all over the country into the sport:
OK, so my daughter had no interest in watching one second of the PNC Championship, but she'll get there. Hopefully. In any event, no matter how Charlie's golf career winds up going, he's already got better highlights than 99.999 percent of golfers. And after performing so well under such pressure, those sixth-grade finals are going to be a breeze.
People knocking people getting excited about Charlie Woods: Unfortunately, much of Golf Twitter clutched its collective pearls and couldn't allow themselves to just enjoy this. "He's just a kid! Stop putting all these expectations on him!" First of all, who exactly was seriously saying Charlie is going to win 100 PGA Tour titles and 25 majors? No one! Also, if the most private person on the planet wanted to trot his son out there for the world to see, then that's all you need to know. It was awesome to watch. End of story.
People knocking Kyle Berkshire's chances: In case you haven't read or heard it (Subscribe to our Local Knowledge Podcast, please!), I put together a story about the reigning World Long Drive champ's decision to pursue a second career as a tour pro.
And so far, about 90 percent of comments are that the 24-year-old is wasting his time or has no chance. Look, would I bet on him making it to the PGA Tour? No. But I think it's pretty cool that a guy who dropped out of college before cracking the starting lineup would put so much on the line to give this such a serious try. And considering Berkshire's staggering length and the importance of distance in today's game (SEE: DeChambeau, Bryson), now seems like a good time to give it a go. At the very least, it should be fun to watch. So good luck, Kyle, and bombs away.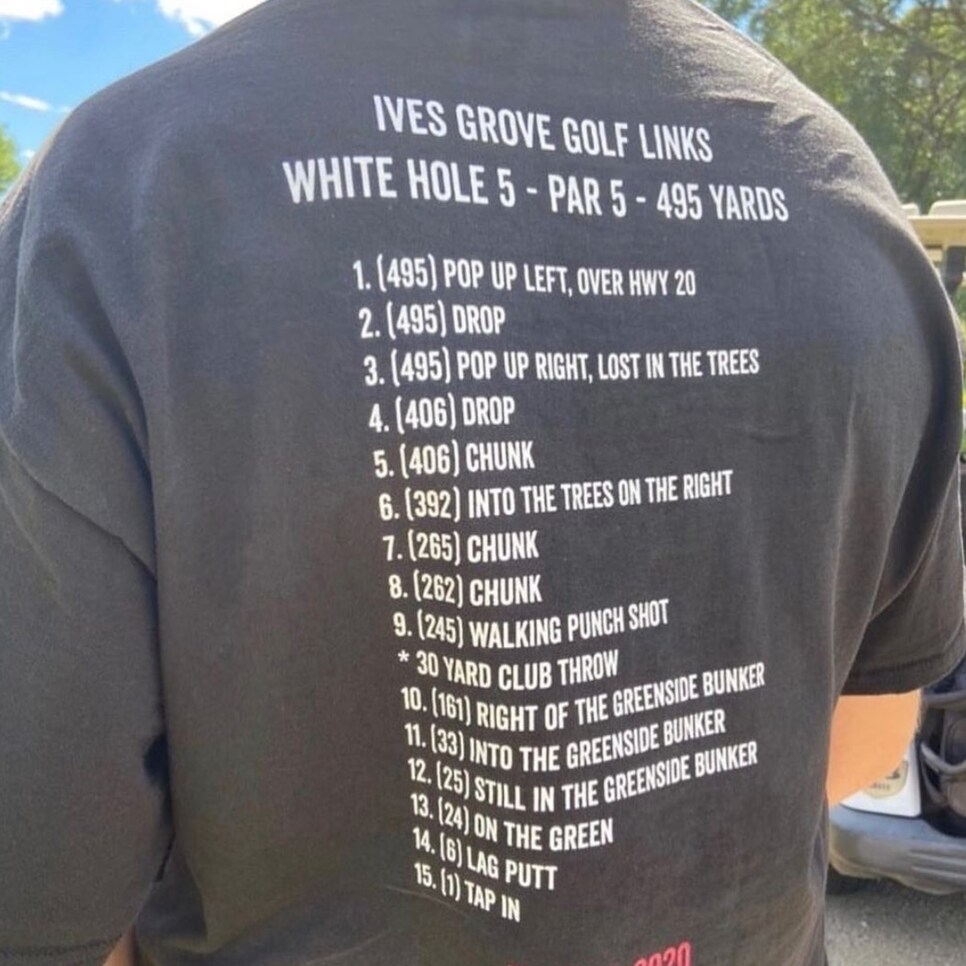 It's actually a hilarious concept. Get a shirt to memorialize a golf buddy's worst blowup hole. But it instantly gave me nightmarish flashbacks to the double bogey I made on the 10th hole at Mid Pines during the final round of last year's HGGA Championship. And the triple bogey I made on the 14th hole when I was still in the hunt. I am such a choker it's not even funny. But this shirt on someone else kind of is. OK, maybe I'm buying.
Now that is someone who deserves to spend a long time in prison.
The PGA Tour is back! And it's calendar-opening Sentry Tournament of Champions is more loaded than it has been for a long time. Almost all of 2020's winners accepted their invite and because of the weird season, anyone in the top 30 of the final FedEx Cup list got invited as well. So it's not really a "tournament of champions" this year, but a tournament of champions and really good players.
Random tournament fact: All told, 17 players got the nod who normally wouldn't, and 42 of the 45 players eligible accepted. A vacation in Hawaii to play for a big purse against a limited field with no cut? Merry Christmas, indeed.
RANDOM PROP BETS OF THE WEEK
—Kyle Berkshire will win a major by the time he's 25: 1 MILLION-to-1 odds
—Charlie Woods will win a major by the time he's 25: 825-to-1 odds (Actual odds!)
—Charlie Woods was the coolest kid in school when he returned from winter break: LOCK
There were a couple of Anthony Kim sightings recently. First, with longtime swing coach(!) Adam Schriber:
And then the funniest one yet. A sighting in which the person taking the photo didn't even realize it was an AK sighting, but focused on former Oklahoma football coach Bob Stoops instead:
That's how long he's been gone. Crazy. Also, many have pointed out the comparison to seeing Big Foot, but there's one key difference. Anthony Kim is REAL. And he was spectacular. And as much as I'm happy to see he's still out there, each sighting is a sad reminder of what could have been.
Check out Austria's Matthias Schwab playing golf on his skis:
How has this dude not won on the European Tour yet? Anyway, love the concept and the Hosung Choi-esque follow-through. See? It really works!
THIS WEEK IN TOUR PRO PUBLIC DISPLAYS OF AFFECTION
Props to Brooks Koepka and Jena Sims for coming up with the most creative Christmas card of the season:
Meanwhile, Dustin Johnson and Paulina Gretzky kept things much more simple:
Some things never change.
Jon Rahm made huge equipment news by switching from TaylorMade to Callaway. I guess rocketing to World No. 1 faster than almost anyone in history wasn't good enough. … Speaking of equipment, shoutout to Ryan French, AKA Monday Q Info on Twitter, for helping out high school and middle school golf teams in need this year. Here's more info:
If you're into gambling on golf, be sure to check out our Top 100 ranking of PGA Tour players and to subscribe to our weekly gambling podcast, "Be Right." Let's make some money! … And finally, congrats to Kiawah's Ocean Course for securing a second major championship of 2021. In addition to May's PGA Championship, this year's HGGA Championship—AKA my annual golf trip—will also be held there. What an honor for this spectacular venue!
RANDOM QUESTIONS TO PONDER
What hole will I choke away this year's HGGA?
Where will we see Anthony Kim next?
Why didn't I listen to my dentist as a kid?