'The Beef'
Brooks Koepka says he and Bryson DeChambeau did not discuss feud at Ryder Cup dinner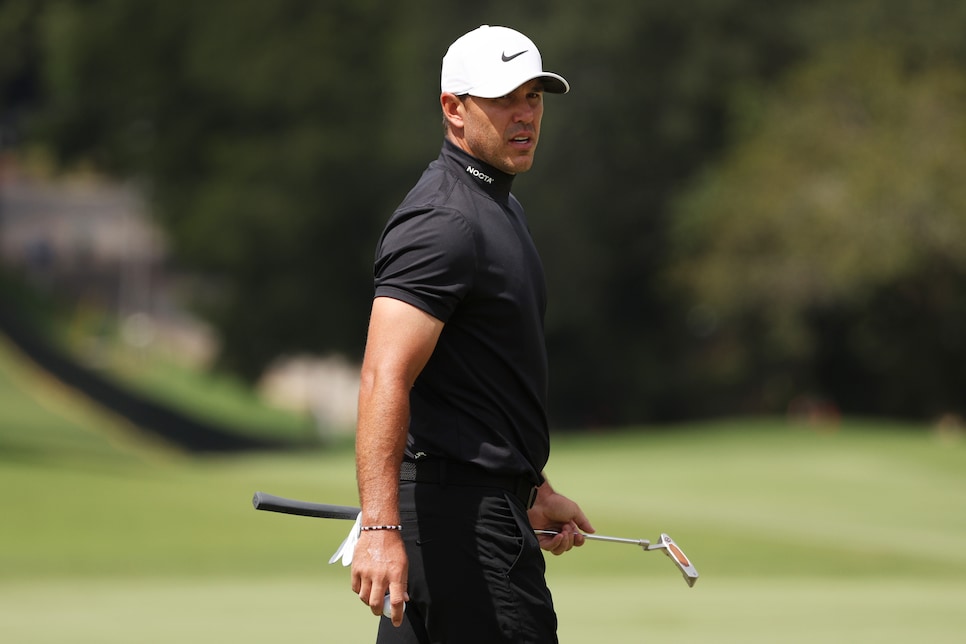 Brooks Koepka looks on from the first green during the first round of the 2021 Tour Championship.
Kevin C. Cox
ATLANTA — U.S. Ryder Cup captain Steve Stricker took the six players who qualified on points for his team out to dinner on Wednesday. That includes Brooks Koepka and Bryson DeChambeau, the two protagonists in a feud that has dominated discourse this summer. This would be an opportunity, at least in theory, for the two men to hash out their differences three weeks before they'll be teammates at Whistling Straits.
"It was good," Koepka said of the dinner after opening the Tour Championship with a "pretty boring" three-under 67 at East Lake. "Food was good. We just talked about everything that's going on right now, what we're doing kind of leading up to it, … who we think might suit the team well if they would be there. It was a good dinner. We enjoyed it, and it was fun."
But was there any conversation with Bryson to discuss what's gone on the past few months?
"I mean, I get it," Koepka said. "Try to be as … everybody's trying to be as respectful as you can. Between me, the fans, everybody, try to live their life like that. So I think we all can do a better job. But at the same time, it's fine.
"I haven't seen it too much," Koepka said about increasingly aggressive fan behavior. "I mean, everybody's … when you're out there, you can hear everything, so everybody's been told something or said something they didn't like and, I mean, that's sports. It's not a sport if you [don't have] people cheering for you and against you. It's kind of difficult to call it a sport, isn't it?
"But, yeah, I mean, I think there comes a time [and] a place I think where you can see fan behavior get a little excessive. You kind of see it in the NBA a little bit. Maybe out here as well. But, like I said, everybody tries to be as respectful as you can be. Players, everybody, the fans, everybody could use a little bit more respect."