The Loop
Brooke Henderson wins KPMG Women's PGA Championship in playoff with Lydia Ko
SAMMAMISH, Wash. – When the list is made of most riveting finishes in a major championship, the 2016 KPMG Women's PGA Championship is going to be right up there near the top. And I mean ALL tournaments – men's and women's.
Holy Pine Trees, Bat Man, a spectacular Sahalee CC threw everything it had at the best gals in golf and they handled it with grace and grit. And no one was more brilliant than Brooke Henderson, Lydia Ko and Ariya Jutanugarn, who engaged in a game of "can you top this" in Sunday's final round.
Henderson, 18, and Ko, 19, finished in a tie at six-under-par 278 with Jutanugarn, 20, in third place, just one stroke back. Henderson closed with a 65, the low round of the week on an extremely difficult course on which only seven players broke par over 72 holes. Ariya had a 67 and Lydia a 68.
That trio combined to make a grand total of ZERO bogeys under the stress and strain of final-round play in a major.
That Henderson ended things with a brilliant 7-iron from 155 yards to three feet on the first extra hole – No. 18 – was in keeping with the drama of the day. It was only the sixth birdie on that hole all day.
"It was an amazing day, for sure," Henderson said after she reached out and slightly polished the massive silver trophy sitting next to her.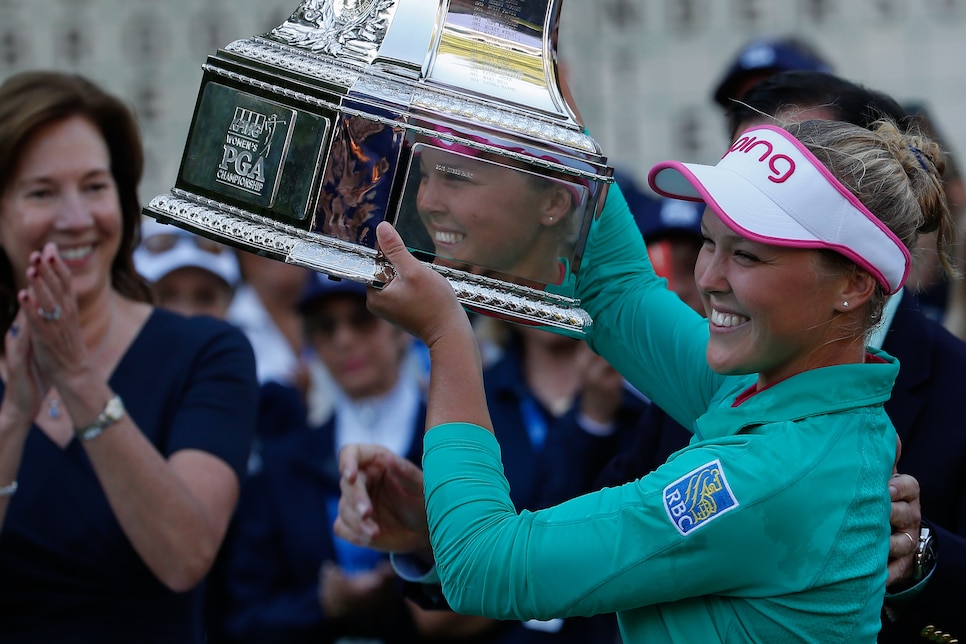 "We all push each other," Ko said about the ton of young talent on the LPGA. "I think this is a great thing. It's a fun challenge. I think this is great for golf and for the LPGA."
Henderson is now the second-youngest to win an LPGA major – behind Ko – and the youngest ever to win this tournament, which dates back to 1955. And in Brooke and Lydia, the LPGA has a couple of personalities on which to hang it's marketing hat.
"I wouldn't be pretty if I was crying," Ko repied when asked how she handled the heartbreak of being denied her third consecutive major championship so well.
"If I was crying," she said with a huge smile, "I'd have eye-liner going everywhere. I always worry about my makeup."
Then, in a semi-serious note she added: "To be even close to winning three majors in a row is special."
Henderson has as much spunk as she does talent. When the LPGA denied her an exception to the minimum age rule of 18 last year, she was not shy about her displeasure. So she went out and Monday qualified for a tournament in Portland, Ore., won it by eight strokes and was granted tour membership.
"There are three majors left [this year] and I'd like to get my name on all three," she said. "But I don't want to get ahead of myself."
That's about as retrained as Henderson gets.
When the tour changed the name of this event from the LPGA Chamionship to the KMPG Women's PGA Championship there were a lot of traditionalists who were angry. But in two short years the alliance of KPMG, the PGA of America and the LPGA has been a smash hit.
This tournament felt like a major in every way possible, not the least of which was the quality of play. It's clear, in Henderson, Ko and Jutanugarn, the LPGA is three-deep in major champions.