The First Rule of Prisoner Exchanges...
Russia would like us to stop talking about the Brittney Griner mess they orchestrated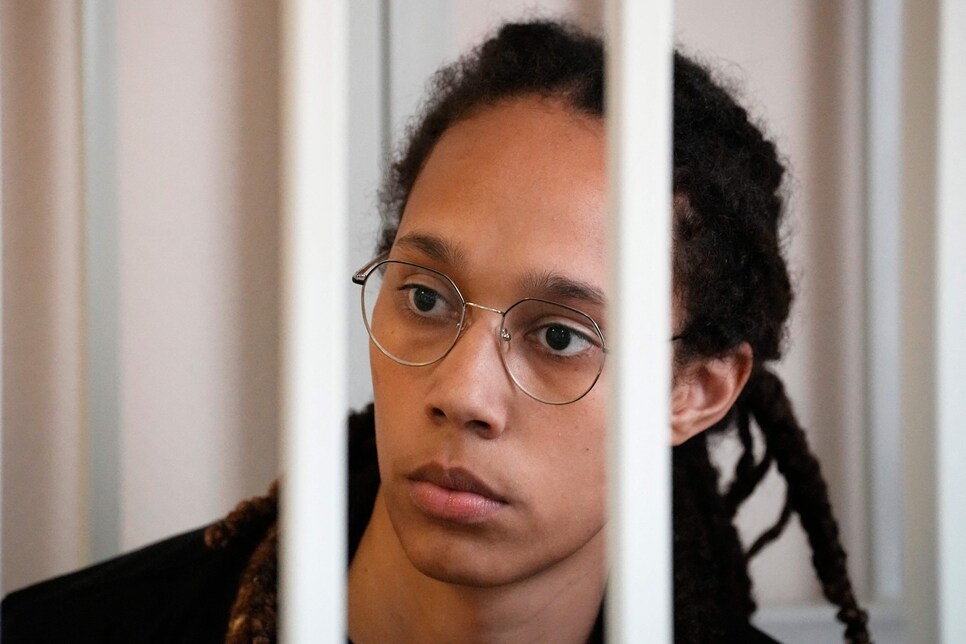 2022 is an extremely weird year, in an extremely weird millennium, but the Brittney Griner-getting-detained-in-Russia story is possibly the weirdest thing the sports world has offered up in our bizarre times. That's really saying something!
We probably can't do the latest news, about some wild prisoner exchange possibilities, without a quick summary of what's gone down so far:
*WNBA and former Baylor star Brittney Griner, one of the best basketball players on the planet, also plays for UMMC Ekaterinburg. Moonlighting is not uncommon in the world of women's professional basketball—playing overseas in the offseason can be lucrative, and WNBA salaries are nowhere near their NBA counterparts.
*In February, returning to Russia after a break, she was arrested at Sheremetyevo International Airport in Moscow for carrying vape cartridges with hashish oil, which is illegal in Russia.
*She had the bad fortune to be arrested a literal week before Russia invaded Ukraine, at a time of truly woeful relations between the U.S. and Russia that included severe economic sanctions. Needless to say, Russia wasn't about to let her walk without extracting something, and she quickly became a kind of political hostage as "negotiations" played out. She was held without being read her rights, had her phone confiscated, underwent interrogation, and was detained.
*Her detention was eventually extended until May, the beds in her prison cell were too short for her, and eventually the U.S. declared her "wrongfully detained."
*The trial began in January, with Griner pleading guilty, basically saying she packed hastily and only used the cannabis oil for injury pain.
But here's where things get even weirder: talk of a prisoner exchange has been going on for at least a month, but on Wednesday, U.S. Secretary of State Anthony Blinken said publicly that the U.S. had offered a prisoner exchange to the Russians: Griner, plus a spy to be named later, for three future first-round espionage prisoners.
No, just kidding: The offer was a 1-for-2 deal, in which the U.S. would release an international arms dealer named Viktor Bout (nickname: "The Merchant of Death") in exchange for Griner and an alleged American spy detained in 2019 named Paul Whelan. As you might imagine, both Bout and Whelan are pretty insane figures in their own ways. Bout is a former Soviet army colonel and probably a KGB operative who speaks six languages and seems to have spent the two decades after the USSR's dissolution shipping weapons to anyone with the money to buy. At one point, that included the Colombian group FARC, and since those weapons were intended to fight U.S. forces, the Americans got serious. Bout was arrested in Thailand in 2008 after the U.S. requested an Interpol red notice, extradited, found guilty in Manhattan, and has been in prison ever since.
Comparatively, Whelan is small-time; a former Marine who was booted for larceny, and may or may not have been engaged in espionage while attending a friend's wedding in Russia in 2019, was arrested and sentenced to 16 years.
The question of why the U.S. has made this offer is open to debate, and the answer may be that they thought it might put public pressure on the Russians. Blinken even said he plans to speak with the Russian foreign minister soon. The response from the Russians, though, was essentially, "whoaaa...let's keep this on the DL." Here was Kremlin spokesperson Dmitry Peskov:
"We know that such issues are discussed without any such release of information...Normally, the public learns about it when the agreements are already implemented."
There has been no "concrete result" yet, per the Russians. In the end, though, you'd think they would give this one the thumbs-up. Trading a basketball player and a shoddy low-level spy for an international arms dealer with a ridiculous number of connections who was maybe/probably working for Putin the whole time seems like a pretty good deal. We'll see how it plays out, but with these negotiations underway, Griner's prospects of getting the hell out of Russia look a whole lot better than they did a month ago.