The Loop
Seven British Open storylines NOT involving Jordan Spieth heading into Friday play
Excuse me for the heresy, but I'm a tad Spieth-ed out.
Not the player; it's a pleasure watching that kid play. (Note: it's a sad stage in a man's life when he can refer to another as a "kid" in a non-glib manner.) Rather, we've been talking about Jordan's Open aspirations since Dustin Johnson three-putted the 18th at Chambers Bay.
How amplified is this fever pitch? Arguments were had regarding Spieth's participation in the John Deere Classic in the same consequential tones as Obamacare, drone usage and "Brady or Manning?"
Assuming Spieth stays relatively steady tomorrow, there will be plenty of time for Grand Slam discussion over the weekend. Keeping that caveat in mind, here are the main non-Spieth storylines heading into Friday play at the 2015 British Open at St. Andrews:
If you thought the flags were doing the rumba on Thursday afternoon, wait until you see what's in store for Friday. The afternoon forecast includes steady 20-25 mph winds, with gusts reaching as high as 40 mph. First-round stars like Dustin Johnson, Spieth, Jason Day, Louis Oosthuizen, Paul Lawrie and Charl Schwartzel will be playing in these conditions, which could wreak havoc on the leaderboard.
The forecast also calls for heavy rain in the morning, which should correlate to a…
Phil Mickelson's two-under 70 was arguably one of the best rounds of the day, as his group played in the face of heavy currents for most of their round. His early-morning tee time, one that should feature rain-soaked greens and a minimal breeze, can catapult Phil over his five-stroke deficit.
Another name that can benefit from this fortune: Zach Johnson. The 39-year-old is sitting pretty with a six-under 66, and the (relative) tranquil conditions should only foster further red numbers.
However, before Johnson heads to the first tee…
Will someone have a wardrobe intervention with Zach Johnson?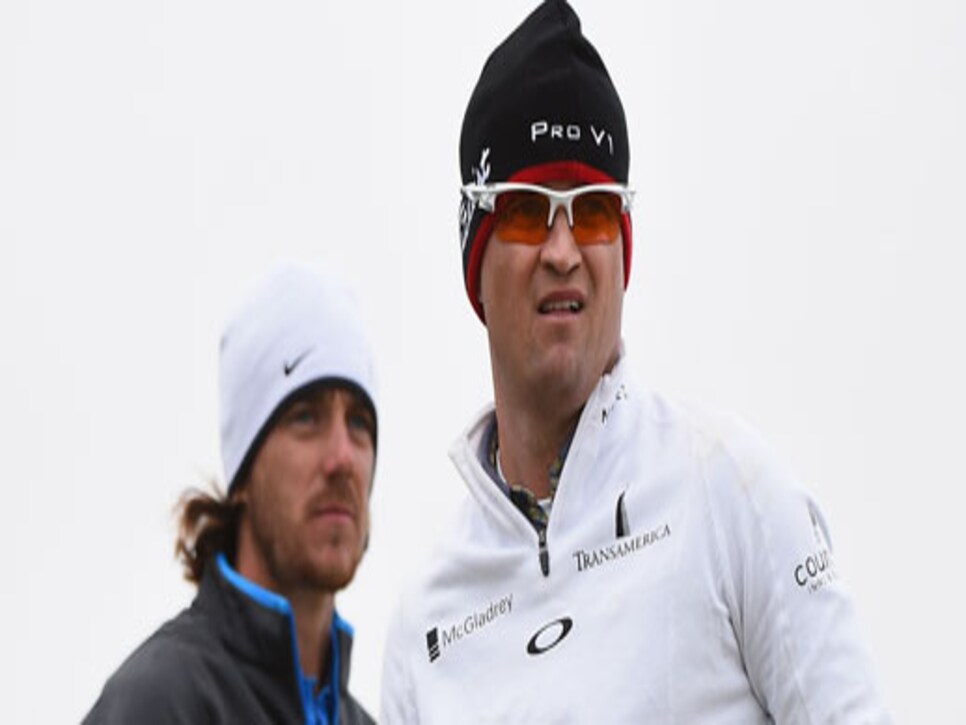 In his defense, if you shoot 66 at St. Andrews in that environment, you can wear whatever you damn well please. Moreover, there's a chance that Johnson walked out of the locker sans beanie, festooning that ridiculous shades-and-cap combo only upon hitting the elements.
Conversely, anytime you're drawing comparisons to The Great Gazoo from the Flintstones or making John Daly's outfit an afterthought, something is seriously wrong.
Right where he wants them
It's a crowded leader board, and most of the attention is in the Spieth and DJ direction. Lost in this noise is Oosthuizen, the 2010 champion. Not only does Oosthuizen have a sound track record at the Old Course (aside from triumphing at St. Andrews in its last Open appearance, Shrek was 14-under on the grounds during the 2014 Dunhill Links Championship), but he turned in a strong finish at Chambers Bay with a back-nine 29.
If he can navigate through tomorrow's storm unscathed, circle Oosthuizen as one to watch this weekend.
Lawrie and Goose battling Father Time
Both have done little of merit in recent memory, and with good reason: at 46 years old, the duo sit a few years away from Champion Tour status.
Perhaps we shouldn't be as surprised by Goosen's performance. In the past two Opens at the Old Course, the South African finished fifth (2005) and sixth (2010).
Lawrie, however, is out of left field (or, if we're sticking to golf parlance, emerging from the heather). Mainly known as "that guy who won after Jean van de Velde's meltdown," Lawrie has made just 16 cuts in the 63 majors held since his 1999 victory at Carnoustie.
If either captures the crown on Sunday, they would be the oldest winners in tournament history, besting Old Tom Morris.
However, this matchup is nothing compared to the one brewing at the Golf Digest offices between:
Joel Beall and Jason Day against the world
Somehow in a debate about athlete handsomeness (don't ask), I nominated Day as a good-lookin' cat. I could have sacrificed a living animal in the room and received a warmer response.
I mean, we all can agree Adam Scott is the closest apparition to what God must see when he looks in the mirror. But are you telling me Day isn't in that conversation?
The hell with all of you.
Curtain call for Tom Watson and Nick Faldo
Neither is in line to reach the weekend, making Friday the last day both will cross the Swilcan Bridge. (While Faldo plans to play in a few more Opens, this will be his final appearance at St. Andrews.) The duo has combined for eight claret jugs, and their links prowess is unparalleled.
Despite the nasty elements, expect an emotional scene when these two make their way up the 18th.