The Loop
British Open: Five questions for Sunday
LYTHAM ST. ANNES, England -- Through three rounds, Royal Lytham & St. Annes has give us a tremendous leader board. How will it all shake out by Sunday evening? We take a look at five burning questions entering the final round.
1. Will we finally see some "British Open weather"? If you believe the weather forecast, then yes. Sunny skies should greet the leaders as they tee off, but the most wind of any of the four rounds is predicted for today. A steady 15-20 mph southwest breeze is expected with isolated gusts up to 35 mph a possibility after 3 p.m. local time. With the final group teeing off at 2:30, we could be in for a wild finish.
2. Can Tiger mount a charge? So far, he's faithfully stuck to his conservative game plan. It will be interesting to see if that changes, though, facing a five-shot deficit to begin the final round. The stronger winds could make things even trickier, possibly forcing the man who has hit driver just five times in three days to go to the big stick more often. Keep in mind, too, that the 14-time major winner didn't collect any of those trophies by coming from behind and at the last major, he entered the final round in similar position before playing the first six holes at six over. On Woods' side? There's only one guy with a substantial lead over him. Which brings us to...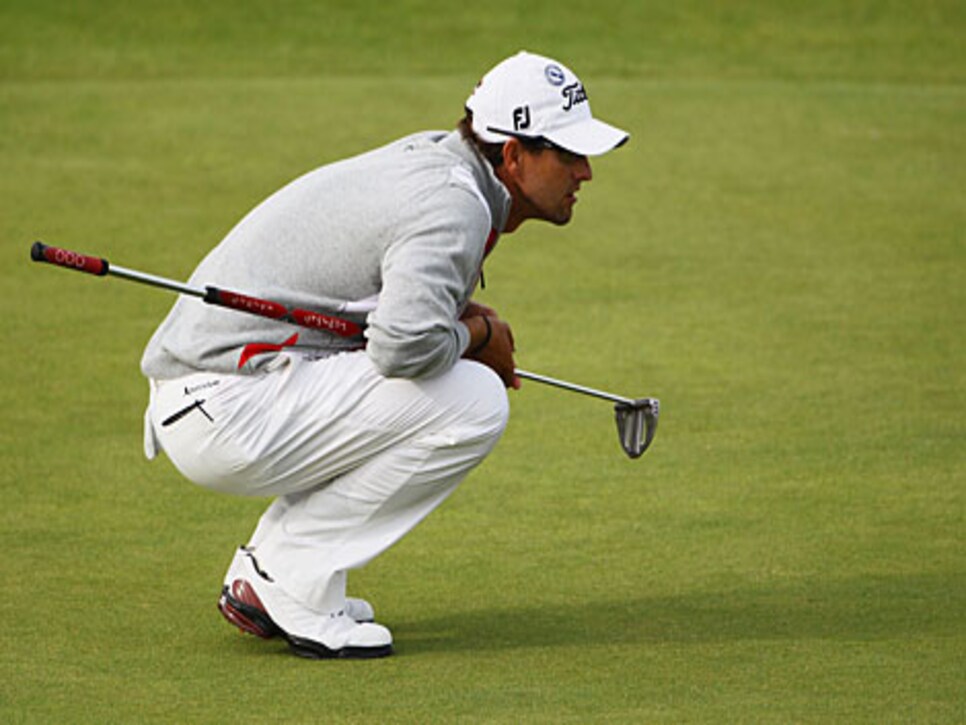 3. Is it finally Adam Scott's time? It's been nearly a decade since a 23-year-old Scott burst onto the scene with his first PGA Tour win and backed that up with a win at the Players in 2004. Multiple major championships seemed inevitable for the man with a seemingly identical swing to Tiger Woods circa 2000. But other than a close call at Augusta in 2011, Scott -- currently ranked No. 13 in the world -- hasn't even contended in one of golf's biggest events. After a 68 in the third round that gave him a four-shot lead, Scott said he'd draw from that experience in which he played well down the stretch, but was caught by Charl Schwartzel. If he plays anything at all like he has the first three days, though, he'll be nearly impossible to catch this time.
4. Can G-Mac get major No. 2? For a second-straight major, McDowell will tee off last thanks to playing his last 11 holes on Saturday in four-under par. He played solidly in the final round of last month's U.S. Open at Olympic Club before coming up one shot short of Webb Simpson. Making up four shots will be difficult, but the man from Northern Ireland has proven he has what it takes. In the 2010 U.S. Open, McDowell played in the final group with Dustin Johnson and wiped away a three-shot lead to claim his first major. Of course, he got a lot of help that day from DJ, but the point is that he relishes these types of pressure-packed opportunities.
5. Will the string of first-time major winners come to an end? It doesn't look like it with Scott holding a four-shot lead, but in a year that has has already seen more than its fair share of comebacks, anything is possible. Should Scott stumble, it's more than likely that this unprecedented run of nine consecutive maiden major winners will come to a halt. Of the next five players on the leader board, only Brandt Snedeker is without a major. And who started this stretch? A certain Northern Irishman playing in the final pairing. . .