The Loop
What the stats project for Day 4 at the Open Championship
Eight notable third-round stats that indicate how the Open Championship might unfold Sunday, provided by Golf World contributing writer Brett Avery, who compiles the Rank and File statistical sections for the magazine's coverage of the major championships and other significant events.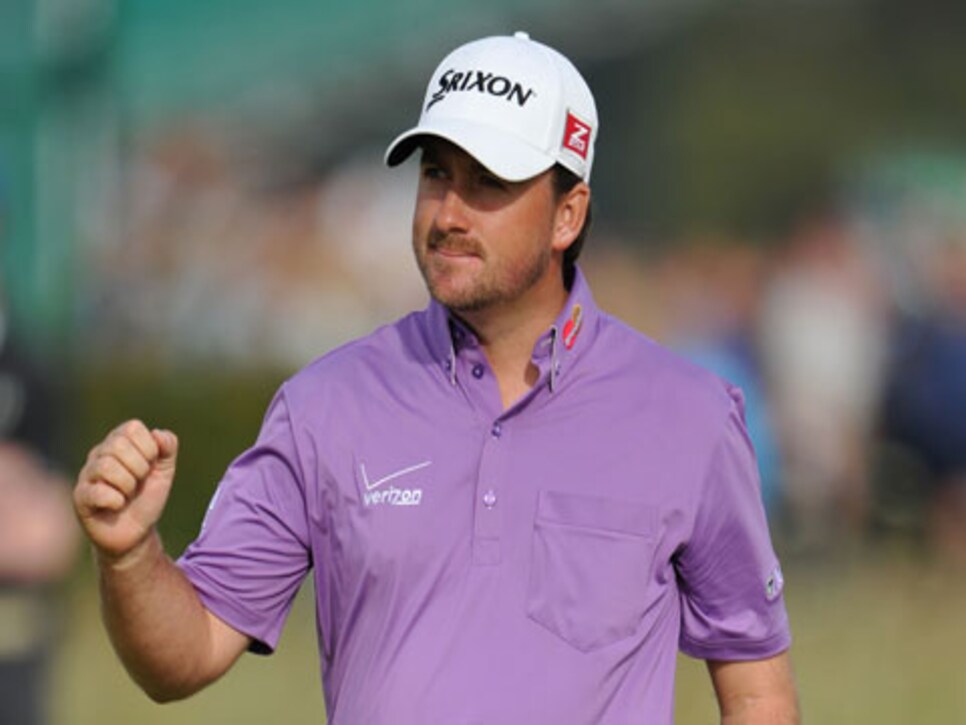 Graeme McDowell had never broken par the first three days of a major until this year's British Open. Photo: Stuart Franklin/Getty Images
1. This week marks the fifth time in 46 major-championship appearances that Adam Scott has broken par in each of the first three rounds. This is the third time he has accomplished the feat in the Open Championship and his 11-under 199 at Royal Lytham & St. Annes brought his first career 54-hole lead in a major. Scott's four earlier sub-par weeks, however, were hardly crucibles in the thick of contention:
-- 2004 PGA (Whistling Straits): Began 71-71-69 and stood T-11, trailing Vijay Singh by seven strokes; closed with even-par 72 for T-9.
-- 2005 Open (St. Andrews): Began 70-71-70 and stood T-20, trailing Tiger Woods by seven; closed with three-over 75 for T-34.
-- 2006 Open (Royal Liverpool): Began 68-69-70 for T-8, trailing Woods by four; closed with even-par 72 for T-8.
-- 2006 PGA (Medinah): Began 71-69-69 and stood T-12, trailing Luke Donald and Woods by seven; closed with a five-under 67 for T-3.
The '06 PGA was 23 starts ago -- a span equaling half of his major-championship career. In that time Scott has missed the cut in seven majors and made the top 10 only three times. Those latter performances are recent, though: T-2 in the '11 Masters, where he broke par in the last three rounds (72-70-67-67); solo seventh in the '11 PGA at Atlanta AC, where he broke par all but Saturday (69-69-70-68); and T-8 in this year's Masters (75-70-73-66).
2. As with Scott, this could mark the first time returning four sub-par rounds in a major for Graeme McDowell, who began 67-69-67 and shares second with Brandt Snedeker at seven-under 203. McDowell had never broken par the first three days of a major and only once bettered it on the first two days. During the '10 Open at St. Andrews, a month after claiming the U.S. Open at Pebble Beach, McDowell began 71-68 and shared seventh, seven shots behind eventual winner Louis Oosthuizen. McDowell spiraled to 76-70 and tied for 23rd.
3. Scott is flirting with his lowest total in relation to par in his major-championship career. He finished 12 under in the '06 PGA (276) and '11 Masters (276). Unless something disastrous happens, Scott will break par over 72 holes in a major for a 10th time, including six of his last 10 starts.
4. According to the PGA Tour database, Scott and McDowell have been paired together only once in a tour event. It happened during the final round of the 2005 WGC-Cadillac Championship at Harding Park in San Francisco. McDowell shot two-under 68 and tied for sixth while Scott's 74 tied for 29th. Tiger Woods won at 10-under 270.
5. Since the 1958 Open, the 54-hole leader/co-leader has won 30 of 54 times, including Louis Oosthuizen at St. Andrews in 2010 and Darren Clarke at Royal St. George's last year. In the first 10 Opens at Lytham, the men ahead after three rounds logged six triumphs: Peter Thomson in 1958, Bob Charles in '63, Tony Jacklin in '69, Gary Player in '74, Tom Lehman in '96 and David Duval in 2001.
6. The promise of the Day 3 item concerning midway leader Brandt Snedeker's recent performance following an extremely low round met a bitter end. Since his heartbreaking T-3 in the '08 Masters, Snedeker has shot nine 63s and 64s in PGA Tour competition. The day after those scores he failed to break par only twice. Snedeker, who shot 64 in Friday's second round, avoided bogey for his first 40 holes. But Saturday he dropped six shots between the fifth and 14th holes and returned a 73. Birdies at the 16th and 18th allowed him to avoid shooting his highest next-day in that stretch, a 74 in this year's Farmers Insurance.
Statistics can buttress both the case that Snedeker has a marvelous opportunity to succeed from four shots behind Scott or has little chance to remain a factor:
Pro: His three tour wins involved last-round rallies from five shots (2007 Wyndham), six shots (2011 Heritage) and seven shots ('12 Farmers, won in a playoff).
Con: This will be Snedeker's 12th Sunday round in a major. In his first 11 tries he's averaged 72.818 and broken par only in the '11 Masters (70 for T-15) and '11 U.S. Open (69 for T-11). He played in the '08 Masters' final pairing but posted 77.
7. Next up: Tiger Woods, whose par 70 put him in solo fourth at 204, five behind Scott. Among his incentives for winning this week:
-- Fourth Open title (2000, '05, '06) would match the output of Tom Morris Sr., Tom Morris Jr., Willie Park Sr., Walter Hagen and Bobby Locke and trail only Harry Vardon (six), James Braid, John H. Taylor, Peter Thomson and Tom Watson (five each).
-- A 15th career major triumph would leave him three behind Jack Nicklaus
-- He would become the first man in PGA Tour history with more than $100 million in official earnings. Woods entered the week with $99,037,940. First prize is £900,000, or roughly $1.4 million.
8. For a third day the wind remained all but absent, allowing a field average of 71.807. The players hit a combined 63.6 percent of fairways and 60.1 percent of greens, and averaged 29.52 putts. The rough cost an average of 0.543 strokes for every shot hit from it. All those figures are virtually identical to the first two rounds.
The outlook for Sunday promises wind -- and plenty of it. Anyone who has spent time in Britain knows Met Office weather forecasts are subject to frequent and potentially vast revisions. That said, according to an R&A press release the seven-hour window during which the Open should be decided (1200 to 1900 local time, 7 a.m.-4 p.m. in the Eastern U.S.) calls for south-to-southwest winds of 10-15 mph, increasing to 15-20 mph and gusting 25-35 mph. That direction is almost 180 degrees opposite of what little wind the field has encountered the first three days.
One hint of how significantly such winds would affect play can be gleaned from the 2001 Open at Lytham. Thursday was mostly overcast, breezy and cool and resulted in a 73.128 average (2.128 strokes over par because No. 6 played as a par 5). With scant wind and cloudy skies the rest of the week, the field averaged 72.416 Friday, 71.414 Saturday and 72.657 Sunday. Such a small variation may seem insignificant, but the difference between calm and "breezy" conditions is far less than between calm and 35-mph gusts.