One of us
British Open 2023: Watch U.S. Open champion Wyndham Clark struggle like any of us would in the rough at Hoylake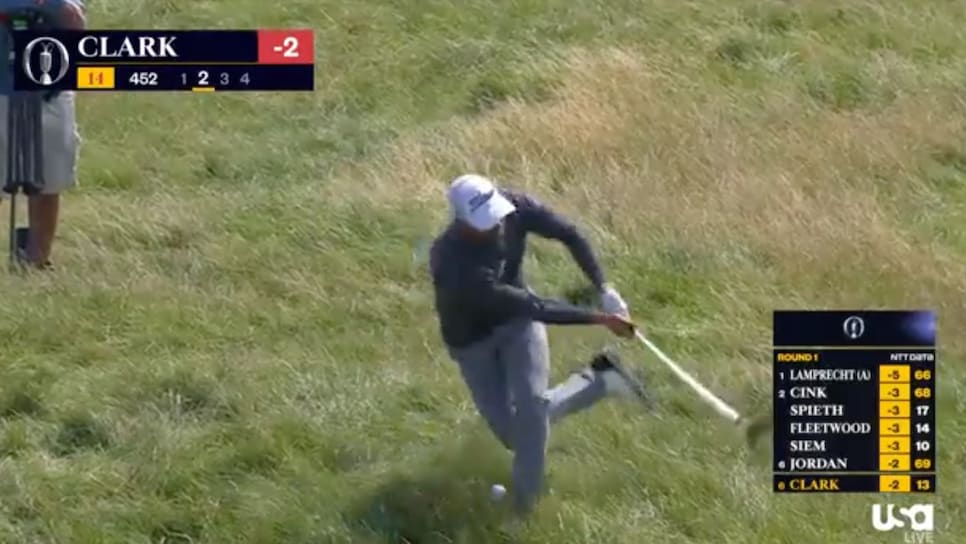 This game can reduce all of us to looking silly. There's plenty of trouble to be found at Royal Liverpool this week, and it's likely that U.S. Open champion Wyndham Clark's adventure on Thursday will be one of the first of dozens of examples of the carnage all week.
Let's count the ways you can find trouble at Hoylake: out of bounds lurking on six of the 14 driving holes, including internal OB on a number of holes, pot bunkers that will be huge penalties for finding off the tee or around the green, and some really thick gorse off the narrow fairways.
Enter golf's most recent major champion, Wyndham Clark, who is not a weak man by any means, but he was barely able to advance his ball a yard off the 14th hole on Day 1. Check out the video below.
We're here for the carnage. No, we're not all masochists, but for a few weeks a year, there is something satisfying about watching the pros struggle like all of us weekend hackers. Clark salvaged a bogey on 14 by making an 18-footer for his 5, which was a huge save for his round, which was one of the best of the morning with a 3-under 68. This was a reminder that if you lose control for just one shot at Hoylake, the golf course will bite you back.