That Hurts
British Open 2023: Early leader Lucas Herbert becomes the first big victim of Royal Liverpool's new hole
Top coach Pete Cowen warned Royal Liverpool's 17th hole "could ruin somebody's career" on the eve of the 2023 Championship. It certainly didn't take long on Thursday for it to ruin one golfer's first round.
Lucas Herbert was cruising around Hoylake and in a tie for the lead following an eagle on the par-5 15th. A par on 16 kept him there, but then disaster struck on the course's new par 3.
Listed at 135 yards on the card, the par 3 that replaced No. 15 from the last time the Open was at Hoylake in 2014 actually playing even shorter at 126 yards on Thursday. But that's not going to keep the hole known as "Little Eye" from causing big numbers. And the Aussie became its first big victim.
Herbert missed the small, elevated green long and left. Then chipped into one of the deep bunkers surrounding the putting surface. From there, he left one in the trap before finally finding the green and two-putting for a triple bogey that dropped him all the way back to even par and out of the top 15. Here's a picture of how it looked: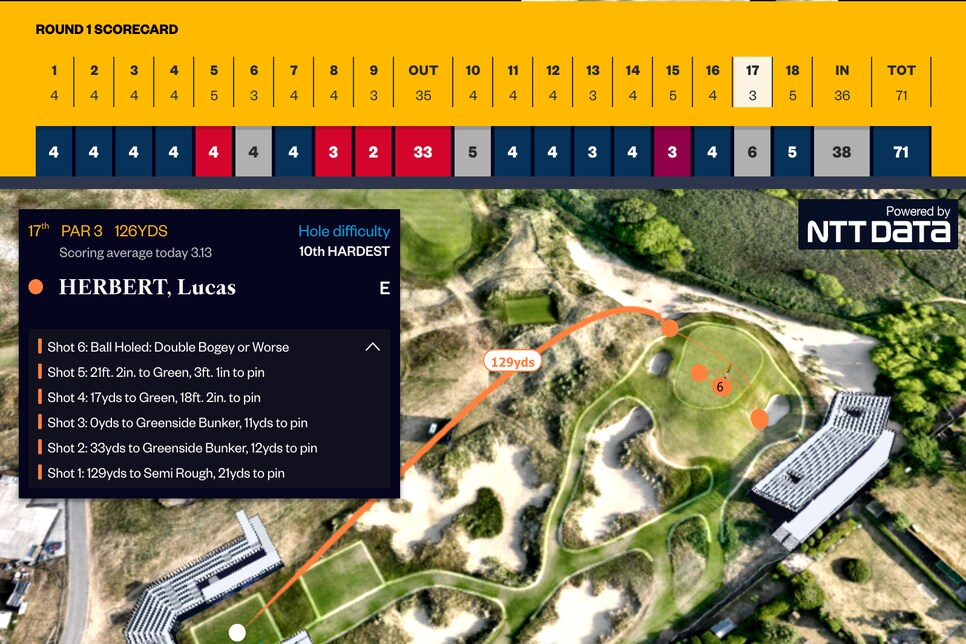 And here are some of the, um, highlights from Herbert's hole (Look away, Lucas!):
That's rough. But if it's any consolation to Herbert (it's not), he won't be the last to struggle on Royal Liverpool's shortest hole. As Jordan Spieth predicted before the tournament, there will be plenty of "carnage" there so we're just getting started.