News
British Open 2018: Our 10 favorite prop bets, odds, wagers and picks at Carnoustie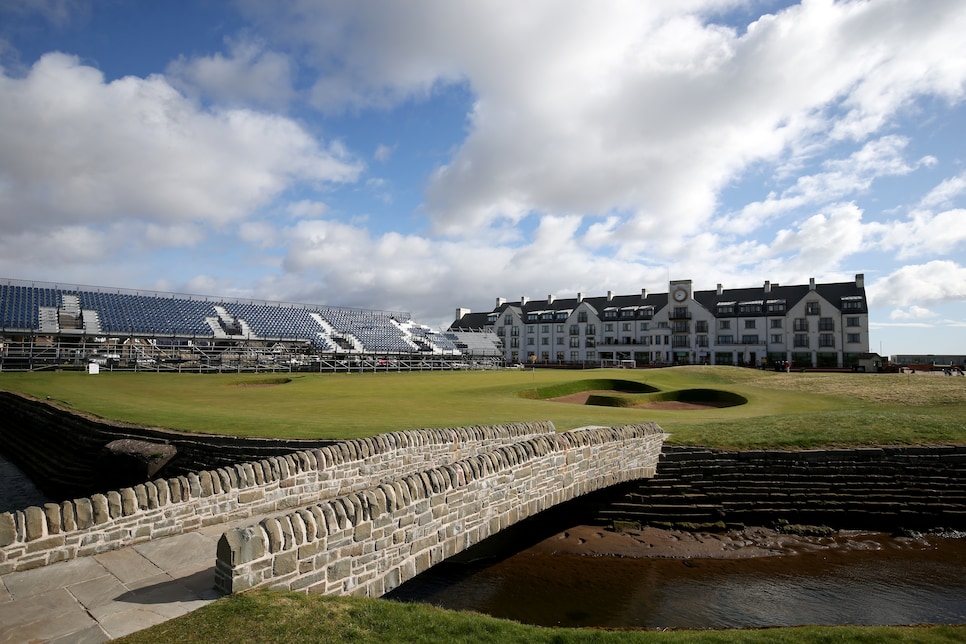 While we welcome the glorious arrival of legalized sports betting in the United States, there is an unfortunate upshot. (You know, aside from the onslaught of ensuing point-shaving scandals.) The Open Championship held a special place in gamblers' hearts thanks to the United Kingdom's laissez faire attitude towards wagering, for what better way to commemorate a pilgrimage to St. Andrews or Muirfield than walking straight from said hallowed grounds into a neighborhood gambling parlor. Just the way Old Tom intended.
Alas, like steam engines, light bulbs and "The Office," Americans have borrowed this amenity and—if the first three are any indication—will make it better. Bookmaking shops in the U.S. aren't open for business yet, making this Open a last hurrah of sorts. As such, let's pour out a cold warm Tennent's and commemorate the passing of this singularity with our 10 favorite prop bets, odds, wagers and picks for the 2018 Open Championship.
Number of 425.5 yard drives (Over/under 7.5 -120)
Divest your savings. Dismantle your portfolio. Cash in your bitcoins (disclosure: despite watching three documentaries on the currency, still unsure how bitcoin works.) Ask grandma if you can get advance on the inheritance. And put ALL of it on the over.
In case you haven't noticed, Scotland looks like "Mad Max: Fury Road" at the moment, meaning Carnoustie will play firm and fast. Guys are cranking 3-wood close to four bills. There's a good chance this threshold will be crossed by the end of Thursday. While we're here, side note to college kids: proceed with caution on drinking games centered on commentators saying "firm and fast." Seriously, you're going to hear this five times an hour. And probably three times in this article.
First-round leader: Beau Hossler (+13000)
The Texan prodigy has been lights-out on Day 1s, boasting a 68.74 scoring average on Thursdays in 23 registered starts. Only Steve Stricker has a better first-round average, and Stricker's played in just nine events. Hossler's struggled to carry that performance to the weekend; in fact, he gets worse as the tournament progresses: 17th in Friday scoring, 103rd on Saturday, 155th in Sunday.
However, this prop strictly concerns Thursday, and while his prospects may be dimmed due to making his Open debut, +13000 is too good to pass.
Will there be a playoff? (Yes +275, No -400)
There have been playoffs at the last three Carnoustie Opens. There have also been just two overtimes in the last 10 Opens. Considering the venerable links won't have its usual bite because it's playing, ahem, firm and fast, don't expect the field to be as bunched up as past competitions. Wager on a two-to-three stroke win.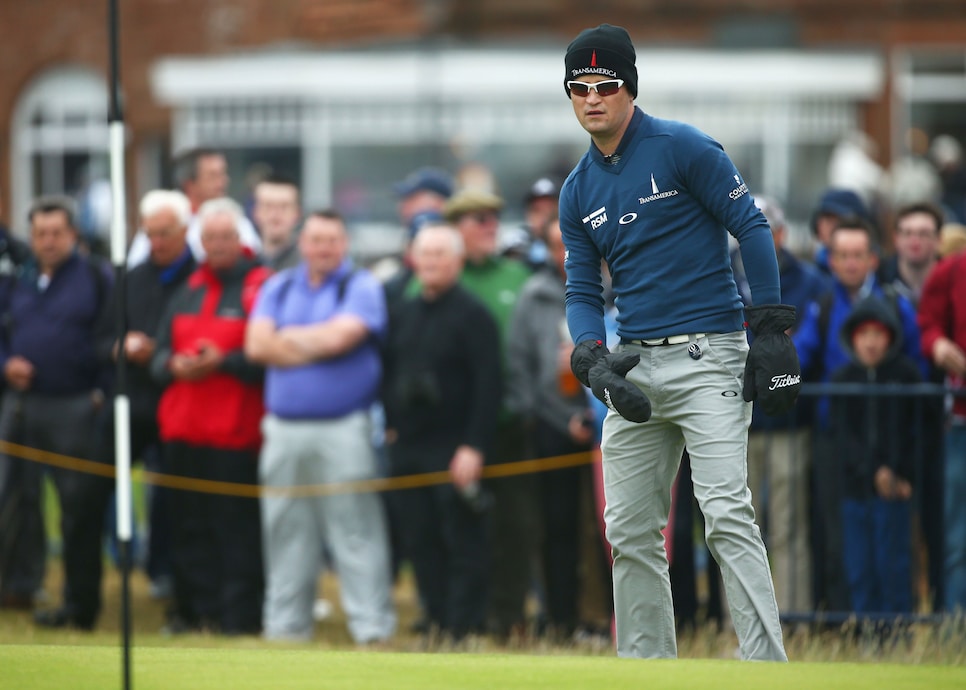 Matthew Lewis/Getty Images
Top former winner: Zach Johnson (+1100)
Johnson's St. Andrews triumph might seem like an aberration. Far from it, as the Ryder Cup stalwart has finished T-16 or better in eight of his last 11 Open appearances. Johnson's enjoying a quietly strong campaign (27th in strokes gained) and, even in the burnt conditions, precision remains paramount at Carnoustie. Expect another solid Open showing from Johnson.
Wire-to-wire winner? (Yes +900, No -1800)
Since the championship moved to a 72-hole format, only six players have won wire-to-wire. Why? Chalk it up to weather, or at least its fleeting nature, which creates a tournament schism based not on performance but pairing time. Though it has occurred twice in recent memory (Rory McIlroy in 2014, Tiger Woods in 2005) and the +900 is mighty, mighty tasty, early forecasts call for the aforementioned fickleness, making such a possibility remote.
Jon Rahm to finish in the top 5: (Yes +375, No -550)
You've likely seen this stat floating around since Rahm's T-4 at the Irish Open, but it bears repeating: in 50 events as a professional, the Spaniard has posted a top-5 finish 40 percent of the time. That's pretty, pretty, pretty good. He's been especially on fire as of late, with five top-5s in his last seven outings. In that vein, +375 seems generous.
How he's fared at majors is another tale. In seven starts as a pro, Rahm has just one top-25 finish (fourth at this year's Masters). Not totally out of left field; the Big Four are different animals than the CareerBuilder Challenge, and the dude is just 23 years old. Still, his distance advantage somewhat negated by the firm and fast conditions (chug), and the rest of his game remains a work in progress (120th in approach, 56th in around the green, 61st in putting). We think Rahm's streak ends this week.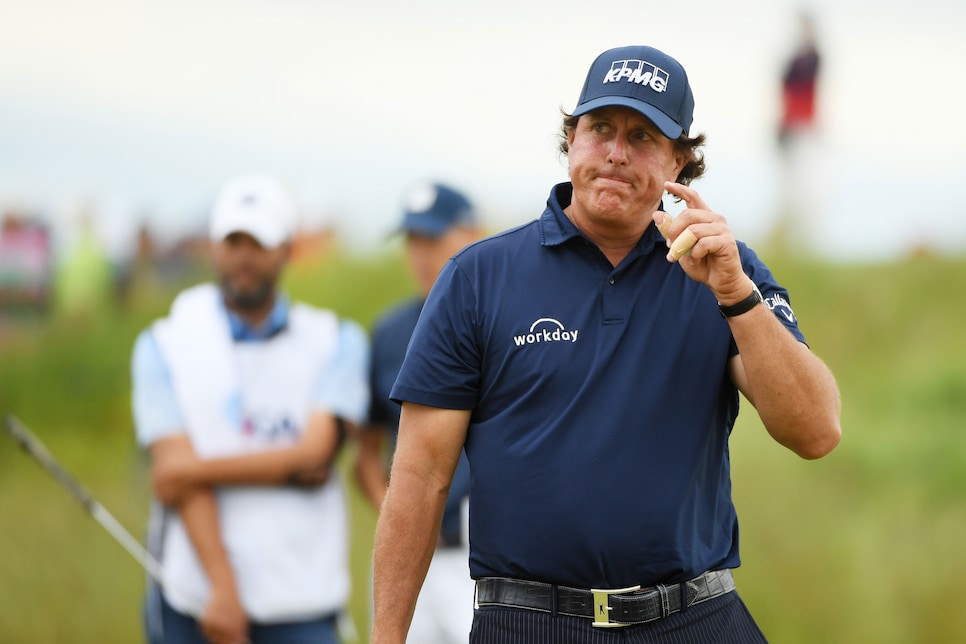 Ross Kinnaird/Getty Images
Will Phil Mickelson make the cut? (Yes -330, No +250)
A regression to the mean from his scorching start (four consecutive top-6 finishes, including a WGC win) was expected. In that same vein, the 48-year-old looks very much his age entering Carnoustie with a missed cut at the Scottish Open, a T-65 at the Greenbrier and a...well, we're still not sure what the hell happened at Shinnecock.
However, if history repeats itself, Mickelson will be teeing it up on the weekend. Along with capturing the claret jug at Muirfield, Mickelson has two runner-ups and two other top-25 standings since 2011. And one of the more underreported aspects of the Scottish drought is the castration of the rough. Forget #FirmAndFast; the lack of penalty off the tee is a godsend to the wayward Mickelson (197th in driving accuracy). Competing for a second Open title might be a bridge too far, but bank on Lefty to make it to Saturday.
Tiger Woods' finishing position (Over/under 25.5 -115)
Our Alex Myers strolled through a host of Woods bets, but we're tackling this for good measure. The 14-time major winner was a non-factor at the Masters and had a quick exit from Shinnecock, yet there are a host of positives in Tiger's Carnoustie corner.
He turned in a T-4 in his final Open tune-up, and has played well in previous Carnoustie trips. While consistency hasn't been his forte, he does rank third in approach and sixth in strokes gained. The much-maligned putting should be alleviated by slow greens, and the above sentiments on Phil's tee-ball accuracy ring true as well. That the Open, more so than its major brethren, caters to an older crowd helps. Don't construe this as forecast for a Tiger victory (unless he does; in that case, construe away), but book Tiger for a top-25 finish.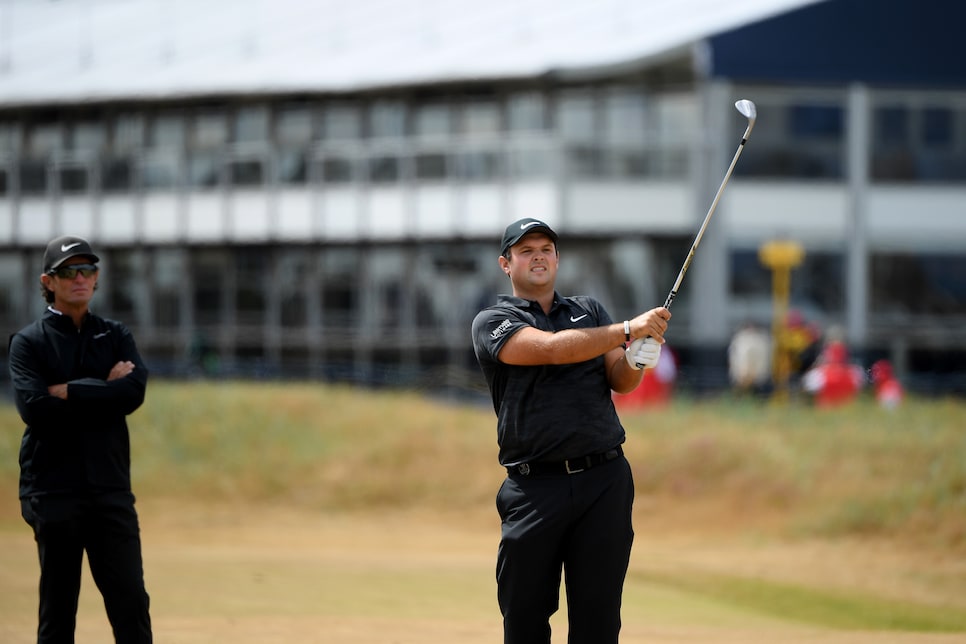 Top American Player: Patrick Reed (+2200)
There are so few truths in this life that when you see one, you know it. And nothing is as true as a prop bet listing Patrick Reed as the Top American.
His seasonal stats don't paint the prettiest picture, but the results don't lie: Reed has logged six top 10s in his last 10 worldwide appearances (highlighted by grabbing the green jacket and finishing fourth at the U.S. Open). For a guy who was dogged for his major no-shows, Reed has spun that reputation 180 degrees in the past calendar year, and appears to take great pleasure proving the doubters wrong. Four consecutive top-5 major finishes is a big ask, but Reed has the facility, patience and conviction to pull it off.
Reed's also an intriguing gamble at 30/1 to win. But who really catches our eyes is...
The 2018 Open winner: Ross Fisher (150/1)
Is Fisher coming in hot? Not really, missing the cut in three of his last four events. Does he have a sterling Open track record? Eh, just one top 30 in 10 starts. Does his profile fit Carnoustie? Nope, as Fisher's scrambling efforts, or lack thereof, could be problematic.
So, uh, why Fisher? Because we are well overdue for a rank-and-file major champion, and this tournament has a reputation for producing out-of-nowhere champs. With wind in the forecast and (clears throat) FIRM AND FAST conditions bringing a high degree of chance into the proceedings, it feels ripe for a Ross Fisher-esque coronation.