News
British Open 2018: Jordan Spieth laments the 'brain fart' that ruined his first round at Carnoustie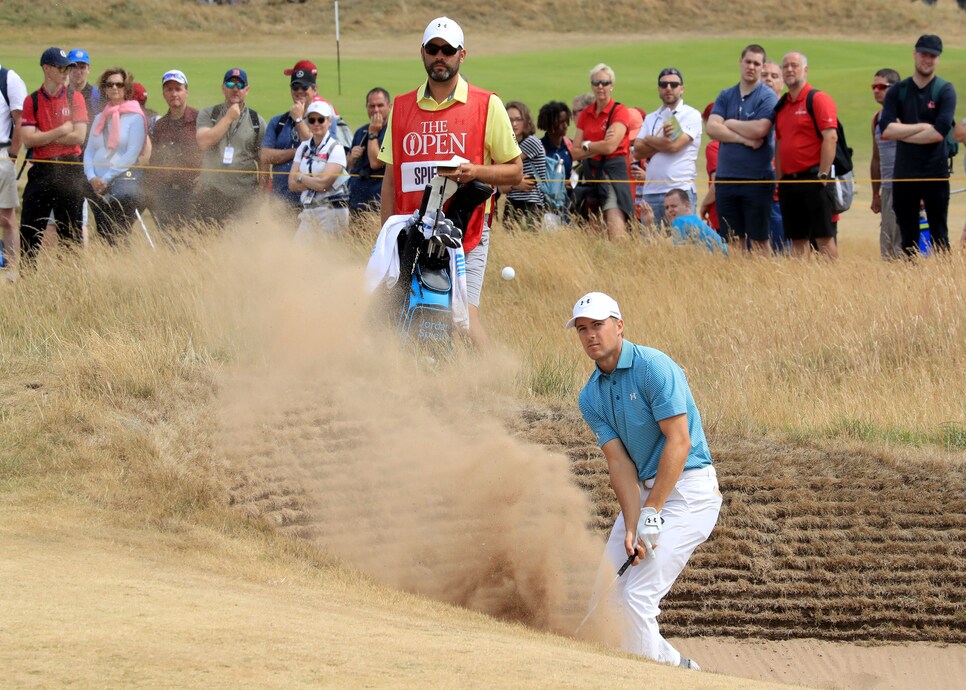 CARNOUSTIE, Scotland — A year ago, good decision-making in a chaotic situation down the stretch at Royal Birkdale helped Jordan Spieth capture the claret jug. On Thursday at Carnoustie, it cost him a chance at being near or at the top of the leader board in the opening round of the 147th Open.
At three under par and within two strokes of the lead as he played the 15th hole, Spieth hit his approach on the par 4 short and right, plugging in a greenside bunker. He had to play out sideways but knocked the shot through the fairway, leaving an awkward downhill chip that he hit 30 feet past the hole. A two-putt left him with double-bogey 6.
It wasn't the score that bothered him as much as how he got there.
"I should have hit enough club to reach the front of the green, and even if it goes 20 yards over the green, it's an easy up-and-down," Spieth said. "That's what I would consider as significant advantage for me is recognizing where the misses are, and I just had a brain fart, and I missed it into the location where the only pot bunker where I could actually get in trouble, and it plugged deep into it.
"It was a really, really poor decision on the second shot, and that cost me."
He compounded the mental mistake with a bogey one hole later after failing to get up and down from a tough spot short and right (again) on the difficult 248-yard par-3 16th. Next came the final blow at always difficult 18th, where Spieth hit driver and pushed it right and into the burn. Bogey.
From three under to one-over 72. Just like that.
"It felt like a missed opportunity," said Spieth, who trails leader Kevin Kisner by six. "I felt like I was really going well."
Early on, he mostly was. Or at least he made the most of a few opportunities.
At the par-4 second, Spieth flighted a beautiful shot to six feet and rolled in the putt for birdie. Two holes later, he spun his approach back a few feet and knocked in a five-footer for another.
Then came the par-5 sixth, where he drove into a bunker and had to play out sideways but hammered a fairway wood from 240 yards onto the green and made the 20-footer.
He added another birdie at 11 and was seemingly on his way. The last player to win back-to-back Opens was Padraig Harrington, who did it at Carnoustie in 2007 and Royal Birkdale a year later. Spieth is trying to do the same in the reverse order. He was off to a good start.
But Carnoustie's closing holes have a way of wrecking scorecards.
"It was very stress-free," Spieth said of his round before the mistake-riddled finish. "I was putting the ball where I needed to, having maybe no more than fewer feet for par on every hole. It was just a clean round of golf.
"I've done a bit of that this year, just the decision making that's cost me."
Just how much, we'll see.