News
British Open 2018: The incredible story of Jhonattan Vegas, an expired visa, lost golf clubs and barely making his tee time at Carnoustie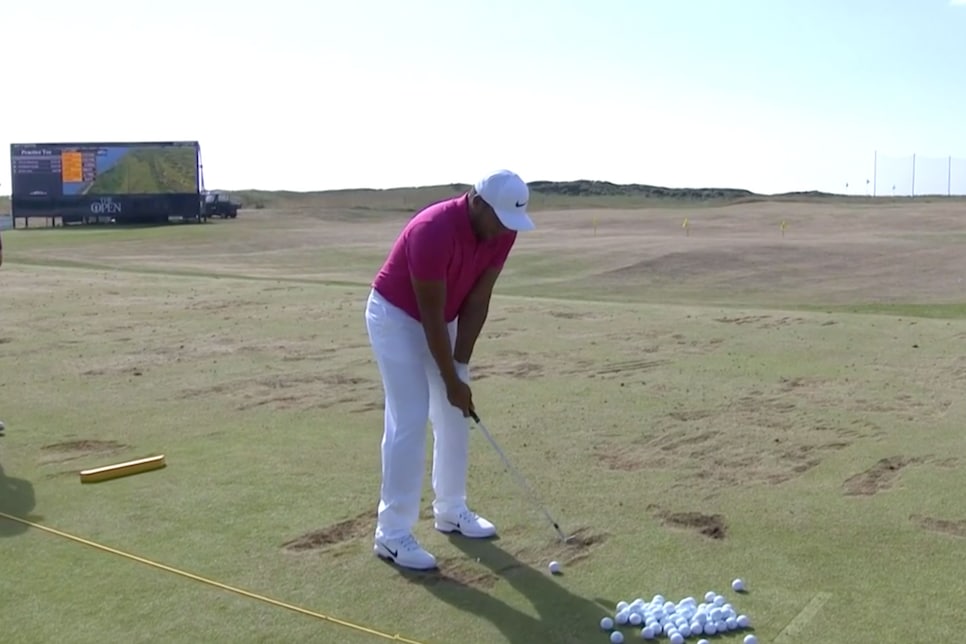 CARNOUSTIE, Scotand — The Open Championship is often filled with stories of golfers managing late-arriving baggage. But how about a late-arriving golfer?
Jhonattan Vegas didn't set foot on the firm ground of Carnoustie Golf Links until roughly 45 minutes before his 10:31 a.m. Thursday tee time, happy to have completed a trip that looked for a long while like it might not happen—and with a heck of a story to tell.
But first things first. He had to play his round. Having gotten just two hours of sleep during his trans-Atlantic flight, Vegas did his best to make it around the Scottish links, sight unseen and with new clubs, eventually posting a five-over 76.
"The course really gave me a great feel," Vegas said, "and then I decided to start hitting the driver and I started hitting some bad shots and it didn't really fit."
OK, so why did he barely make his tee time?
Originally, the 33-year-old from Venezuela, who lives now in Houston, had planned to come the previous Thursday, July 12, to acclimate to Scottish time in advance of playing in the Open for just the second time in his career. However, in preparation for his trip, Vegas discovered that his U.K. visa expired the same day as his flight.
"I've been living in America I guess for too long," Vegas said, "and got used to seeing the dates flipped."
Alright, no problem. Officials told him it only takes 24 hours to process a new application. So Vegas filled out the paper work that Thursday, assuming he'd get the visa on Friday and be on to Scotland over the weekend.
Except, the paper work for some reason didn't get processed on Thursday. Or Friday. It wasn't until Monday that Vegas heard from the consulate, stating he had filed the wrong application.
Still, Vegas wasn't sweating. He filled out the correct application on Monday, and had things set to pick up the visa on Tuesday at the consulate's office in Houston, and then immediately head to the airport with the goal of getting into Scotland on Wednesday morning.
"It still gives me a day to see the golf course, which would have been nice," Vegas said.
Indeed, it would have been. However, a mailing issue getting the visa out of the New York office meant that it never arrived on Tuesday.
"I waited in a car in front of the consulate in Houston for seven hours," Vegas said, "sitting hoping for the Visa to show up that day, and it never did."
Vegas was told the problem was a UPS glitch. Whatever, it wasn't until Wednesday that the visa finally got to him, at which point he raced with his bags and clubs to the Houston airport. He'd fly from there to Toronto, and then on to Glasgow, with a scheduled arrival of 6:35 a.m. Thursday morning, a little less than four hours before his tee time. From there, he had arranged a helicopter to take him to Carnoustie, where he'd have about two hours to settle in, go to the range and prep for the round.
Thankfully, Vegas' flights all came in on time. However, upon getting to Glasgow the next awful domino fell.
His golf clubs were back in Toronto, having not made it on the flight. "The only bag that didn't show up,"
Before getting in the helicopter, Vegas called his caddie, Ruben Yorio, who had been in Scotland since Saturday, and told him he needed to scramble to find clubs while he took a helicopter ride.
At a regular PGA Tour event, Vegas probably would have been out of luck. Equipment vans aren't allowed at tournaments during tournament rounds, and most roll out on Wednesday night. But that's not the case at the Open. "[Otherwise], I probably would have played with some members clubs here," Vegas said.
Reps from Titleist were able to quickly build Vegas a set of irons—he ordinarily plays Mizuno irons—and TaylorMade got him some new woods—although they were models he doesn't usually play. Same with the putter. But Yorio had the bag ready when Vegas finally got to Carnoustie.
"I went out and hit about 20 balls," Vegas said. "Luckily they were going forward, which was nice. So we gave it a try."
After the round, Vegas couldn't help but laugh at the amazing few days he'd been through.
"To me it almost seemed like a horror moving happening for the last week," Vegas said. "For me, even if somebody was trying to do it on purpose, you couldn't really do it."
The good news? Vegas' Friday tee time isn't until 3:32 p.m. Suffice it to say, he was ready to get some sleep and hoping that his clubs might be able to get to Scotland for him to be able to play.
So was there ever a time he thought he was out of luck?
"As long as I had a shot at making, I was going to go forward," Vegas said. "Playing this, even feeling awful, it feels good. I'm here. I played. I gave it a try. It was fun. It's always fun playing in this championship at this course."
And boy does he have a story to tell down the road.