News
British Open 2017: You won't believe how little golf Brooks Koepka has played since winning the U.S. Open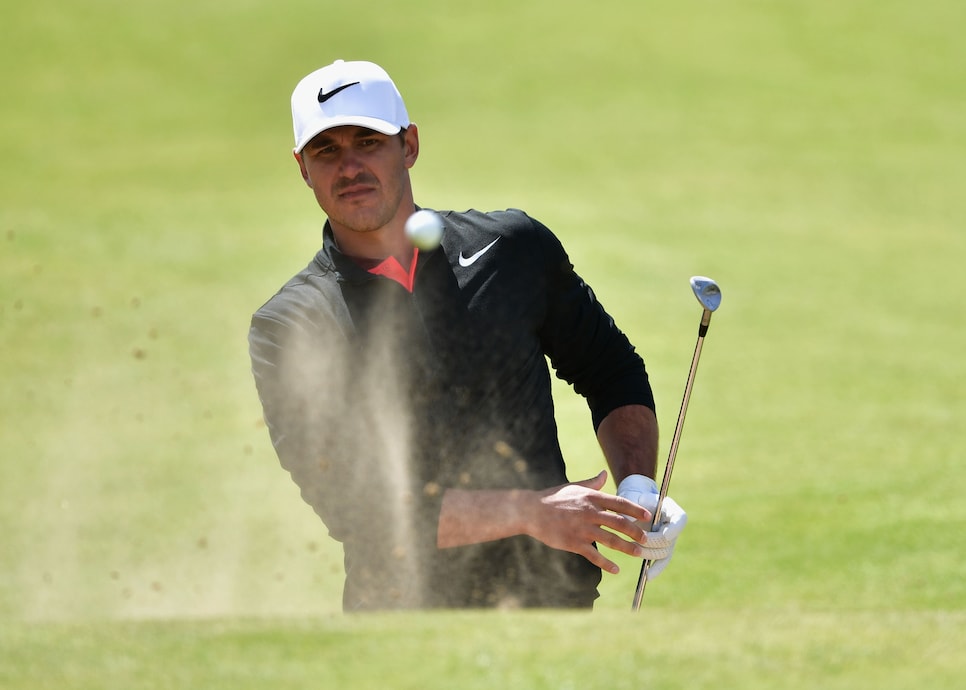 SOUTHPORT, England -- Brooks Koepka's biggest smile following an opening 65 at the 146th British Open had nothing to do with how he played, but rather, a Las Vegas trip to celebrate his U.S. Open victory. "We had fun," Koepka said with a wide grin, befitting of one of those What happens in Vegas stays in Vegas commercials. When asked to elaborate, Koepka drew laughs in the media center with a coy, "It was fun," before adding as little detail as possible. "I had a few friends out. We had a good time."
In case you don't get the drift, Koepka wasn't talking about playing golf in Sin City. In fact, you won't believe how infrequently he touched his clubs in the five weeks between winning at Erin Hills and showing up at Royal Birkdale. Twice. A round with his agent and a photo shoot. That's it.
Yet there was Koepka on Thursday, grabbing a share of the early lead with Jordan Spieth. So how was he able to snap back into tournament mode so quickly despite an extended break? Quite easily, actually.
"It's just a mental thing. I don't think it's anything else. If I start playing four or five weeks in a row, everything just seems to get nonchalant, I guess you could say," said Koepka, who admitted to struggling more when he went back to the gym following his Vegas jaunt. "You get to be in the routine and get used to it. And it just doesn't seem -- it just doesn't ever seem like I'm fully ready to play. If you take some time off and kind of recharge mentally, physically, I feel like I'm in really good shape right now, even with that time off mentally."
Jason Gay wrote a story in Thursday's Wall Street Journal about how Roger Federer has used extended periods of rest to his advantage late in his career, most recently winning last week's Wimbledon after sitting out the entire clay season. In Federer's case, the time off is taken to combat the tennis great turning 36 next month. With Koepka, a gym fanatic nearly a decade younger, the benefits he reaps from rest all have to do with motivation.
"I was chomping at the bit to get back, kind of those last few days at home. I was excited to get over here. I just wanted to play golf. I just wanted to get back inside the ropes. I wanted to have those juices flowing," Koepka said. "Sometimes it's hard even when you're practicing at home, if you're playing with buddies or just playing by yourself, really hard to get up for it. I mean, I think -- it's funny, I'll play with my dad and shoot 75 every time or higher. It's hard to get into it. It's something, you just need a little bit of competitiveness and a little bit of something to get me going."
Koepka didn't really get going on Thursday until birdieing the par-4 eighth and then ripping off three consecutive birdies on 11-13. He made his lone bogey on No. 16, but bounced back with an eagle on the par-5 17th by holing a difficult bunker shot.
"Seventeen was actually a terrible lie in the bunker," Koepka said. "It was in one of the those rake marks. And my caddie told me to get inside 10 feet; that would be pretty good. And luckily enough it went in."
Lucky or not, Koepka taking apart a course in a completely different manner than his destruction of Erin Hills was impressive. Not that we should be too surprised that a player who honed his skills in Europe before becoming a PGA Tour star is comfortable playing links golf. And we definitely shouldn't be surprised that Koepka is comfortable on the big stage.
"Anytime you're excited, you're extremely focused when you're out here," Koepka said. "And it's a major championship, and if you can't get up for that, you might as well go home."
If Koepka keeps playing like this, he might be going home with another trophy. Well, after another trip to Vegas first.