News
British Open 2017: Why I'm picking Matt Kuchar to win the claret jug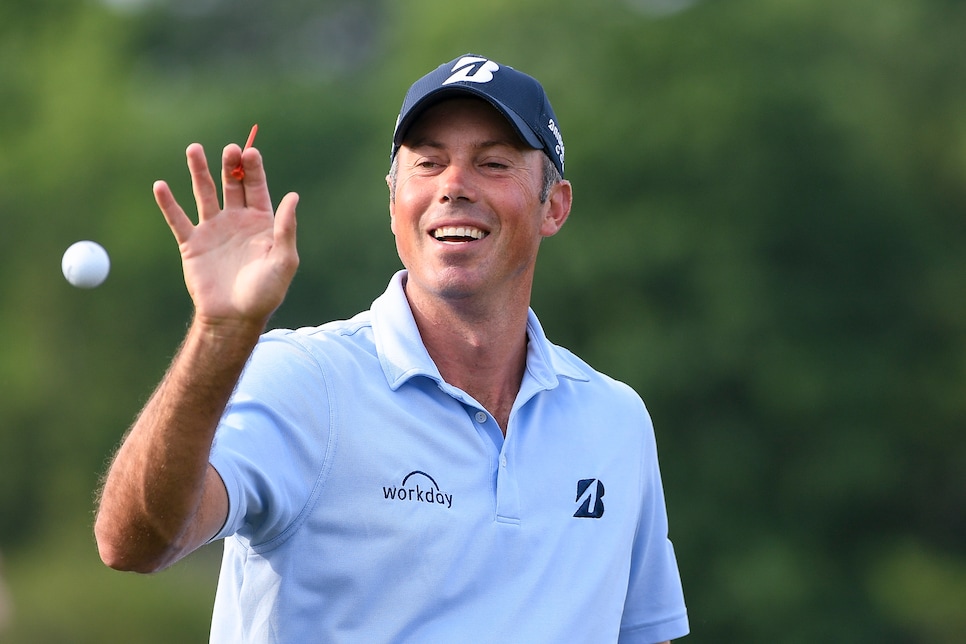 A year ago, when I made my crazy prediction for the winner of the 145th Open Championship, I emphasized that the recent trend among those honored as "the champion golfer of the year" was experience. Or what we in the working trade like to call "age."
Fitting, seeing as we are after all talking about the man who prevails in golf's oldest major being the sort of chap who's seen the mercurial panoply of golf's rich tableau. Which is what Open Championship fans know as "Friday."
It was against that weathered backdrop that I chose a resolute veteran, an accomplished winner who had known the depths of defeat and self-doubt and risen to golf's heights with the fortitude only poets and kings know. Or what today most Americans see as "a Gatorade commercial."
So it was with that sense of Churchillian "Keep Calm and Carry On" that I bravely suggested an Englishman would win the Open Championship, the proud, earnest, resilient Justin Rose.
Rose, of course, did not win.
But he did finish T-22. And we all know that when one of my major championship predictions finishes with a top-25, that must be characterized as some kind of victory. (Though not the kind that actually wins you anything.)
But I digress. What it really tells me is that the method I chose from last year for the Open Championship selection matrix really deserves another chance. Heck, the eventual winner Henrik Stenson was very much the kind of winner the Open Championship has produced over the past decade: experienced, steely and ineffably competitive (which in this case means pretty much what it sounds like).
The simple facts of the matter of the Open Champion are these: Over the last decade, the winner of golf's oldest major has been old (the median age for the last 10 winners has been 37.5); experienced (12 Open appearances); a winner (only one did not enter his Open Championship victory week with double digit titles to his name); and an elite player (only two winners of the last 10 were ranked outside the top 40 in the world).
So those statistics were my main criteria, and in the hopes of improving on my theory, I added a note of current form to the mix: the lowest round of the player's last tournament heading into Open Championship week. Turns out the average low round heading into the Open for the eventual Open winners of the last decade was 67.5. Stenson had posted a 66 in his last tune up before Troon last year, while Phil Mickelson, Rory McIlroy and Zach Johnson all shot 66 or better leading into their claret jug-capturing weeks.
After all the number crunching, what we were left with was just what you would expect. A veteran? Yes, obviously. But more importantly, and more relevant to the current history of the Open, what I found was the kind of career survivor we've come to expect to win this championship, the next in the natural competitive lineage of Mickelson and Els, Padraig Harrington and Darren Clarke, Zach Johnson and most assuredly Stenson.
With his 13 professional wins, his 12 Open Championship appearances, his top-20 position in the world rankings and his most recent 68 at last week's blustery and befuddling and decidedly "Scottish" Scottish Open, Matt Kuchar is my pick to win this week at Royal Birkdale along the northwest coast of England. At 39 now, you can see the mileage in his hairline, perhaps, but not in his smile. He is as dependable as English Leather, and I'm not exactly sure if I'm talking about a saddle or his cologne. All I know is he is the kind of American even the stodgiest of Brits could root for.
In that reliably dichotomous way that he has come to present himself, he is at once no different than the gleeful, almost career-amateur we were first introduced to two decades ago, yet no less bankable than the virtual ATM he has become as a professional for the better part of the last decade. He's won nearly $40 million on the PGA Tour, about 90 percent of it coming in the last 10 years, or literally a thousand times more than he earned on the PGA Tour in 2006. This, you'll remember, came after he first won back in 2002 but then drifted to near oblivion, a time so removed from his current reliability that, frankly, (and I'm pretty sure he won't remember this), he stooped to even asking me what ball he should be playing.
I don't exactly remember what answer I gave him then, and I'm pretty sure we all know what my advice was and is worth. But I do remember, down on his luck as he was, he still laughed, just like he does now.
All the way to the bank. Cue the Gatorade commercial...