The Loop
British Open 2017: The stern pep talk that helped salvage Rory McIlroy's week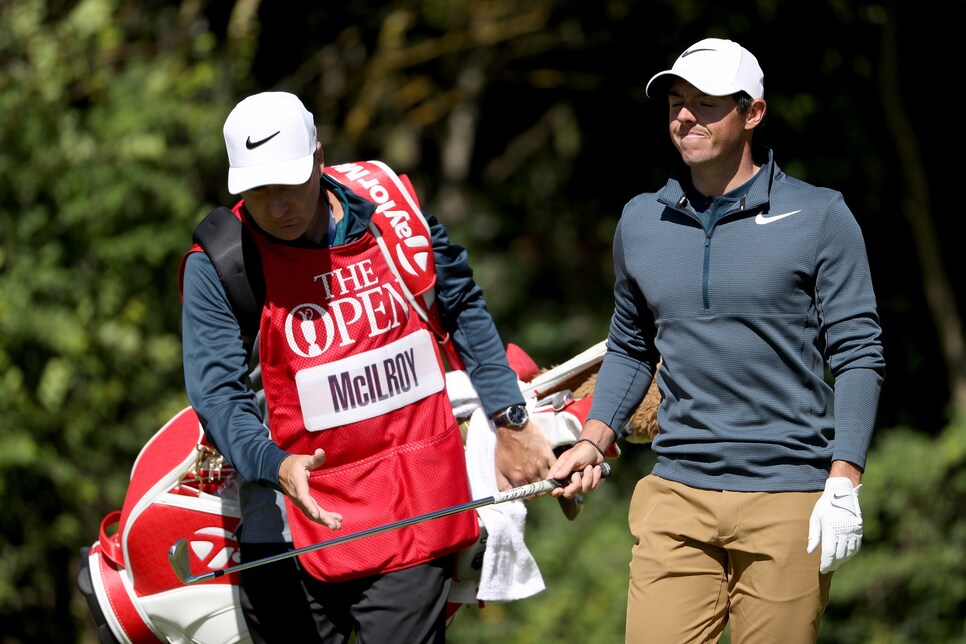 SOUTHPORT, England -- Rory McIlroy poured in one final birdie putt and unleashed what's likely his biggest fist pump for an over par round ever. But considering how his day started, the reaction was understandable.
McIlroy was five over through six holes on Thursday at the 146th British Open, including a four-hole ride on the bogey train from Nos. 3-6. So what turned things around for the four-time major champ? Better tee shots? Sure. Better putting? Of course. But first and foremost, McIlroy credited his caddie, J.P. Fitzgerald for giving him a pep talk.
"He reminded me who I was, basically," said McIlroy, who shot four under on the back nine for a one-over-par 71. "He said, 'You're Rory McIlroy, what are you doing? What the-- are you doing?'"
McIlroy said he got the stern talk from Fitzgerald on the sixth tee box. Although he bogeyed that hole, his caddie's candid words got him out of the "nervous" and "timid" mode he started the round with. And it's not the first time.
"Thankfully he's not had to do it too often. But, yeah, he's had to do it a few times, and he's never afraid to do that," McIlroy said. "And I feel today it helped a lot more than at other times because I needed something. It wasn't I couldn't look within myself. I was trying to look within myself. But J.P. kept me positive out there, so that was very much appreciated."
McIlroy's 71 in ideal scoring conditions on Day 1 left him six shots behind a trio of Americans: Jordan Spieth, Brooks, Koepka, and Matt Kuchar. But he'll return to Royal Birkdale for his Friday morning tee time in good spirits.
"I could be standing here and hit 18 greens and shot one over and missed every putt and feel terrible. But because of the way I started, I actually feel really positive," said McIlroy, who needed a jolt following consecutive missed cuts that past two weeks. "It's a bit like Ryder Cup at Medinah in '12. We're 10-6 down on Saturday night but we feel like we were right in with a chance, because we won the last two points. It's sort of like that. Even though there's a lot of golf left, in other circumstances it might have been a disappointing day. But just with the way I finished, I feel really good about it."