News
British Open 2017: The most disappointing 64 of Dustin Johnson's career? Maybe, but he's back in it at Birkdale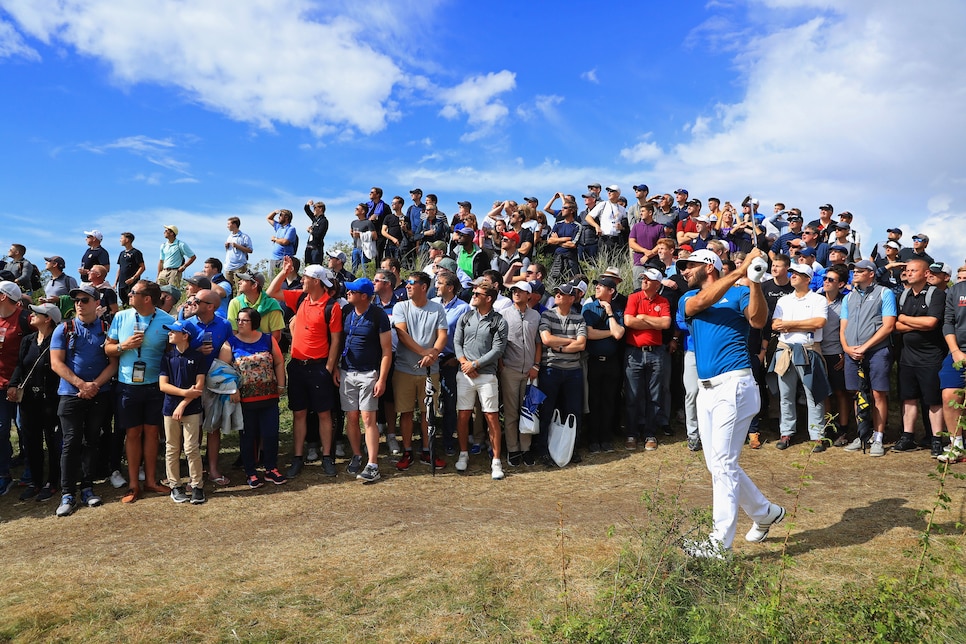 Andrew Redington/Getty Images
SOUTHPORT, England — So here's the state of craziness at Royal Birkdale on Saturday at the How Low Can You Go Open Championship. Dustin Johnson shot a six-under 64, his lowest 18-hole score in a major championship in 119 rounds played, and he walked off sounding mildly disappointed.
Granted, the World No. 1 prefaced his remarks by noting that he hit the ball a heck of a lot better this afternoon than he had the two previous trips around the links. (On Friday, for instance, he hit just four greens en route to a two-over 72.)
But when you stand on the 16th tee at six under for the round, six birdies already on your card, and you know a 62 has already been posted by Branden Grace less than an hour earlier, the thought of something really, really low does come to mind. Which makes the three pedestrian pars—leaving an eight-foot birdie try short on 16, making 5 on the par-5 17th after being just over 200 yards in the fairway off the tee and then two-putting from 30 feet on 18—well, as previously said, disappointing.
"Definitely [left] a couple of shots there on the last couple of holes," Johnson said.
"You definitely still have to think your way around, but definitely coming into the greens, you could be more aggressive because they're more receptive. So you could be a little more aggressive with your lines and going at flags that you might not normally be able to."
Johnson can take solace, however, in knowing he's back in the hunt. At three-under 207, he'll be among the last few groups teeing off on Sunday. The thing of that is, you just how many back he might wind up being with Jordan Spieth, Matt Kuchar and Brooks Koepka all still on the course with a crack at posting their own low scores under mild conditions at Birkdale.
So what might Johnson need to shoot on Sunday to have a real shot at holding the claret jug?
"You never know what's going to happen tomorrow. But I figure—who knows what the lead's going to be at the end of the day today—but I'm going to need to shoot probably nine under, I would imagine. To get to 12, I think that would be a decent number to sit in the clubhouse at.
Dustin, you do know that nine under means a 61, right?
"That's about—I'm just going to go out tomorrow and play as good as I can and try to post another good score."
Preferably a low one that won't disappoint.