News
British Open 2017: Let's forecast who has the best chance to catch Jordan Spieth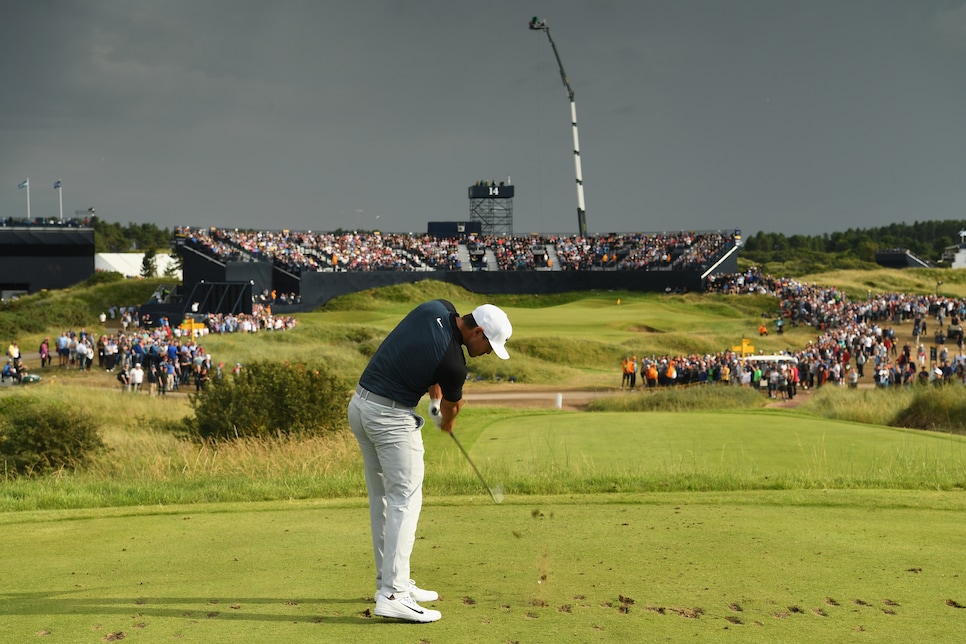 SOUTHPORT, England -- The good news for Matt Kuchar, Austin Connelly, Brooks Koepka, Branden Grace and Hideki Matsuyama is that golf history is littered with final-round collapses in major championships.
There was Adam Scott leading by four with four to play in the 2012 Open at Royal Lytham & St. Annes only to bogey his way in; Greg Norman blowing a six-shot lead on the final day of the 1996 Masters; and of course who can forget Jean Van de Velde, shoes off and ankle deep in the Barry Burn on the 18th hole at Carnoustie in the 1999 Open Championship to name a few.
Jordan Spieth even had one, last year at Augusta National, where after leading by five with nine holes to play he went bogey-bogey-quad and eventually finished three strokes back.
Unfortunately for Spieth's closest pursuers, Rae's Creek is in Georgia. There's no water in play at Royal Birkdale, so the hopes of Spieth having a Van de Velde moment are close to non-existent.
Can anyone catch the 23-year-old Texan and prevent him from joining Jack Nicklaus as the only other player to win three-quarters of the career Grand Slam before age 24?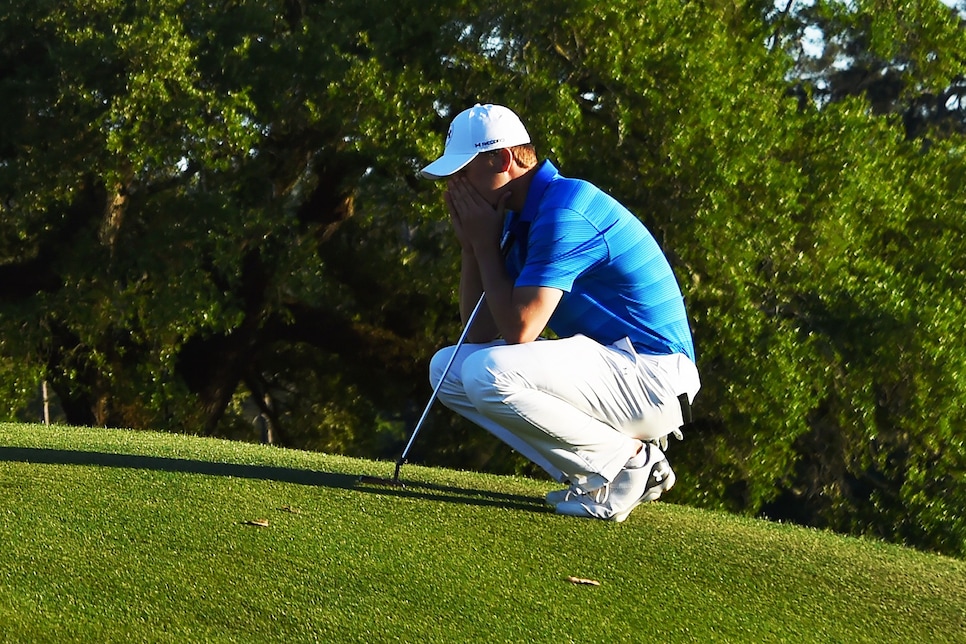 Kuchar, for all his consistency, trails by three and has never won a major.
Connelly, for all his moxie, is playing in his first major. Though, as a good friend of Spieth's who skipped college to turn pro, he has beaten his fellow Texan a few times at home in the Lone Star State. But he's six back and his last name isn't Faldo.
Koepka has the firepower, something that was evident last month at Erin Hills when he won the U.S. Open, but Birkdale isn't Erin Hills, and he's also six back.
Grace shot a major-championship record 62 on Saturday, but that was in windless, soft conditions. Sunday, the wind is expected to blow between 15-20 mph, accompanied by showers. He's also seven back and has never won a major, having when in contention on Sunday at the U.S. Open two years ago hit one onto the train tracks adjacent to the 16th hole at Chambers Bay.
Matsuyama, who also trails by seven, has likewise never won a major championship.
More daunting news: Spieth is 8-for-13 in his career when leading after 54 holes. All eight of those have come in his last nine leads, including in his last start at last month's Travelers Championship, where he holed a bunker shot for birdie to win on the first hole of sudden death.
Spieth relishes the role of being a closer.
"I think I'm in a position where it can be very advantageous, just everything I've gone through, the good, the bad, and everything in the middle," he said Saturday night. "I understand that leads can be squandered quickly, and I also understand how you can keep on rolling on one."
He has certainly rolled this week.
Spieth is the only player in the field with three rounds in the 60s this week.
His finish on Saturday was also reminiscent of one two years ago at Augusta National, where he got up and down to save par after short-siding himself on the last. It kept his cushion and the momentum going into Sunday.
Spieth had a similar moment at Royal Birkdale on Saturday, and he birdied the 18th to pad his lead.
"I'm extremely pleased," Spieth said after his second 65 of the week. "Couldn't ask for much more."
At this point, there's only one thing left. It feels like a matter of not if but by how much.