News
British Open 2017: Hideki Matsuyama might be golf's most underrated player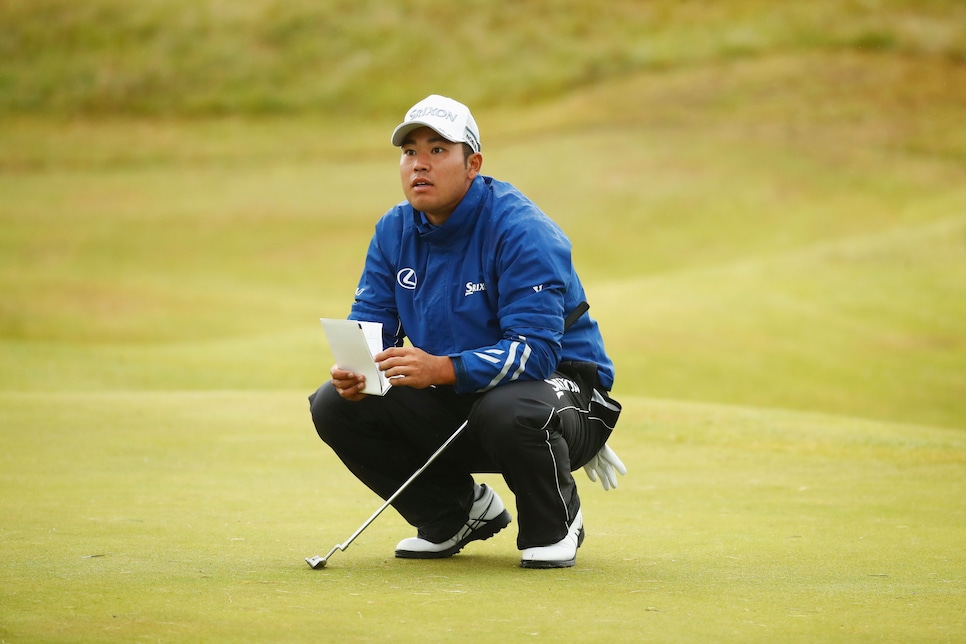 SOUTHPORT, England — Here's an interesting question: Who's the No. 2 player in the world? Assuming that the person asked is an American who knows that Dustin Johnson is No. 1, chances are good the most votes would go, in descending order, to Rory McIlroy, Jordan Spieth and Jason Day, with Rickie Fowler and Sergio Garcia garnering some scattered support.
The correct answer: Japan's Hideki Matsuyama, golf's invisible man.
The 25-year-old got to the highest position ever attained in the World Ranking by an Asian player when he finished T-2 last month at the U.S. Open. And since Garcia won the Masters, Matsuyama has arguably become the new best player not to have won a major. Among the world's six top-ranked players, he is the only one without a major championship.
He'll have a chance this weekend at Royal Birkdale, where after rounds of 68 and 72 he stands six behind leader Jordan Spieth. His Friday round in bad afternoon weather was marred by a stumbling finish that included a double-bogey 7 on the par-5 17th hole. Still, Matsuyama, who considers his positive attitude a strength, was not discouraged.
"I could have done more, and going left off the tee on 17 hurt me, but considering the tough conditions, it's not a bad position," Matsuyama told the large group of Japanese journalists that follow him whenever he plays. "I can play better tomorrow and have a chance on Sunday. If the weather is good, I'll be aggressive. If it is again bad, I will be patient."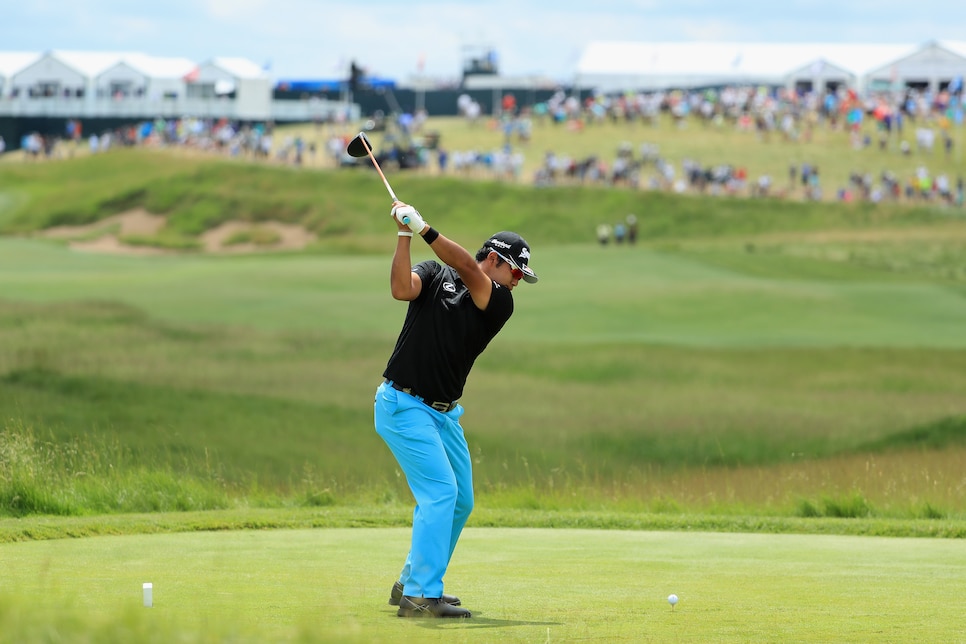 There is no doubt that Matsuyama's Asian heritage, along with the need for an English interpreter, has been a barrier to popularity with American fans. But even Japanese golf writers find him reserved.
"He is shy, although he can be funny if he knows you," said Reiko Takekawa of the Kyodo News. "But basically, he is all golf, always working to get better."
Matsuyama, who completed a degree in social welfare at Tohuko Fukushi University in Sendai before turning pro, says he does not play golf to get famous. On the PGA Tour, he is known for his long practice sessions, which he says he breaks down into 60 percent short game and putting, 40 percent full swing. His fierce focus has served him well. Besides producing steady improvement, the tunnel vision has acted as a guard against the expectations and public demands that have distracted and hindered the best Japanese golfers, particularly those who have come to America.
The only Japanese player, man or woman, to ever win a major championship was Chako Higuchi at the 1977 LPGA Championship (Y.E. Yang, the 2009 PGA Championship winner, is the only male from Asia to win a major, while women from other Asian countries—particularly South Korea—have won some 33 LPGA majors). Japan's Ayako Okamoto was a runner-up several times in LPGA majors, and the recently retired Ai Miyazato also came close. On the men's tour, Isao Aoki, Jumbo Ozaki and his brother, Jet, Tommy Nakajima, Shingo Katayama, Shigeki Maruyama all contended in majors, but invariably faltered on Sundays.
Besides his performance at Erin Hills, Matsuyama's best finishes in majors have been fifth at 2015 Masters, T-6 at 2013 Open Championship, T-4 at 2016 PGA Championship. What's been impressive has been his ability to shoot strong final rounds when near or in contention.
"He is shy, although he can be funny if he knows you," said Reiko Takekawa of the Kyodo News. "But basically, he is all golf, always working to get better."
The contrast between Matsuyama and Ryo Ishikawa, also 25, who the Japanese and worldwide media anointed as a future superstar when he was still a teenager, and who went along with the attendant demands even as his game declined, is striking. And Matsuyama seems intent on going in a different direction.
"I want to make Japanese golf fans proud," he told Ewan Murray of the Guardian earlier this week. "There is pressure for sure, but I believe I have learned how to deal with the pressure. I feel that there is no way to get away from pressure, but I try to focus on what I can control. Winning a major is on my list of goals."
Sturdily built at 5-foot-11 and 200 pounds, with thick legs, Matsuyama has a swing that is distinct for the fullness of his turn and a discernible pause at the top, followed by a powerful surge through he ball. He drives with power, and hits a lot of greens. His short game and putting are the areas he needs the most work.
Introduced to the game at an early age by his father, Mikio, who was a good amateur and club champion, Matsuyama has mostly kept his own counsel, never having a regular swing coach even as he became the No. 1 ranked amateur in the world in 2012 and won four times on the PGA Tour and eight on the Japanese Tour.
"I use a cellphone on the range and during practice rounds to check my swing," he told Brian Wacker of GolfDigest.com. "I enjoy working things out on my own, but I also enjoy talking with some of the swing coaches on tour and hearing their suggestions."
Matsuyama has enlisted Pete Cowen to help with his short game, and last year was given a putting alignment aid by countryman Hiroshi Iwata. It led to the hottest two months of his career, in which he won five times in nine starts, including the WGC-HSBC Champions in Shanghai (the Asian major), the Hero World Challenge and the Waste Management Phoenix Open for a second straight year. He was also second at Kapalua.
He then went seven tournaments without a top-10 (his T-11 at the Masters the closest), until Erin Hills, where he closed with a 66, the low round of the day, to finish second by four shots to Brooks Koepka.
On Saturday, Matsuyama's intent will be to get himself into position where another final round in the mid-60s in a major could make real history.