The other side
Brian Harman shares perfect Shawshank analogy about Lucas Glover, admits tears while watching him win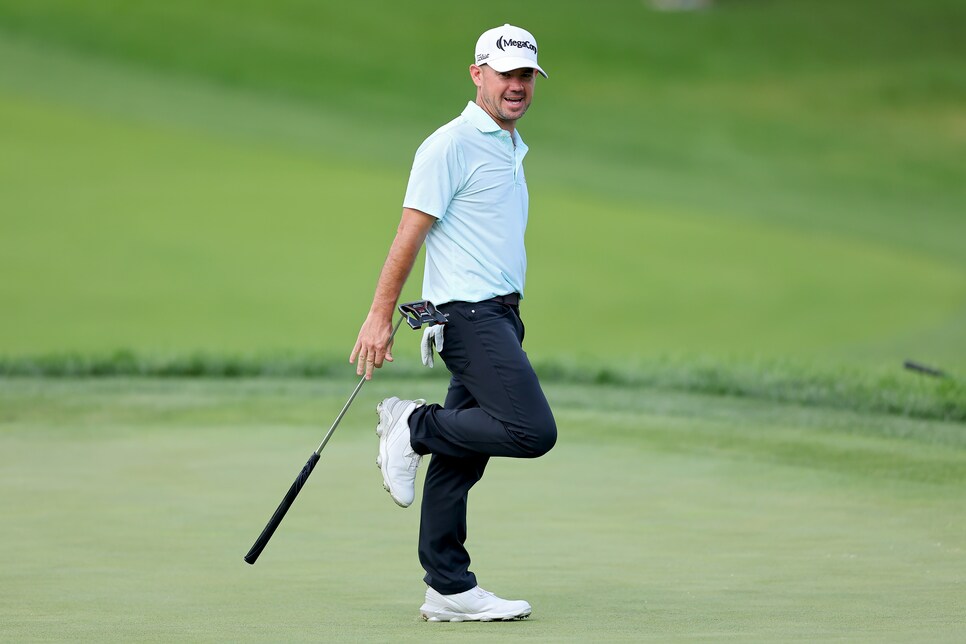 OLYMPIA FIELDS, Ill. — The putting woes Lucas Glover endured for a decade have been well documented by now—and well, they should be given just how beautifully he's played over the last two months highlighted by his back-to-back victories the last two weeks. British Open champion Brian Harman was able to put a more compelling—and colorful—spin on Glover's resurgence by paraphrasing a line from the film, "The Shawshank Redemption."
"To go through what he went through with his putter and to come out the other side, I think about like Andy Dufresne, crawling through the river and coming out clean the other side," Harman said Thursday at the BMW Championship where he shot 65 and grabbed a share of the first-round lead with Rory McIlroy. "I'm so proud of him; I'm so happy for him. Gosh, my wife and I were watching him win Wyndham [Championship, two weeks ago] and both of us are in tears watching it, and to follow it back up the next week, it's awesome."
Good on Harman to clean up the words of Morgan Freeman's character Ellis "Red" Redding, who in the closing moments of the film said, "Andy Dufresne, who crawled through a river of s**t and came out clean on the other side."
There's a visual. But close to accurate in Harman's estimation.
"I think all of us … we all struggle from time to time, and Lucas with the putter, he struggled. It's like … he was talking about putting left-handed," said Harman, who plays left-handed. "I remember when I first moved down to St. Simons [in Georgia], we'd go out and we'd play golf, and it was long before I had a tour card, and I was like, 'I don't know how I'm ever going to beat this guy.' He was so good. He's got such good hands. He was putting it so great. So he goes through that, and like I said, to come out the other side is just unreal."
Harman, who opened with a five-under 65 on the North Course at Olympia Fields, also had some choice words for an unnamed writer who in a recent story referred to Glover as a "journeyman." This was a different river, of, well, we'll let him just say his piece.
"I read an article the other day that made me very angry. It called Lucas Glover a journeyman. It said, 'journeyman Lucas Glover,' and I thought, what a ridiculous thing to say," Harman said. "This guy has made I don't know how many Tour Championships, won the U.S. Open. He's won six or seven times now. Lucas Glover is a world beater."
He sure has been lately. Harman, the Champion Golfer of the Year, hasn't been too bad, either.