The Open
British Open 2023: Putting past a bunker is the most electrifying shot in golf, and we need more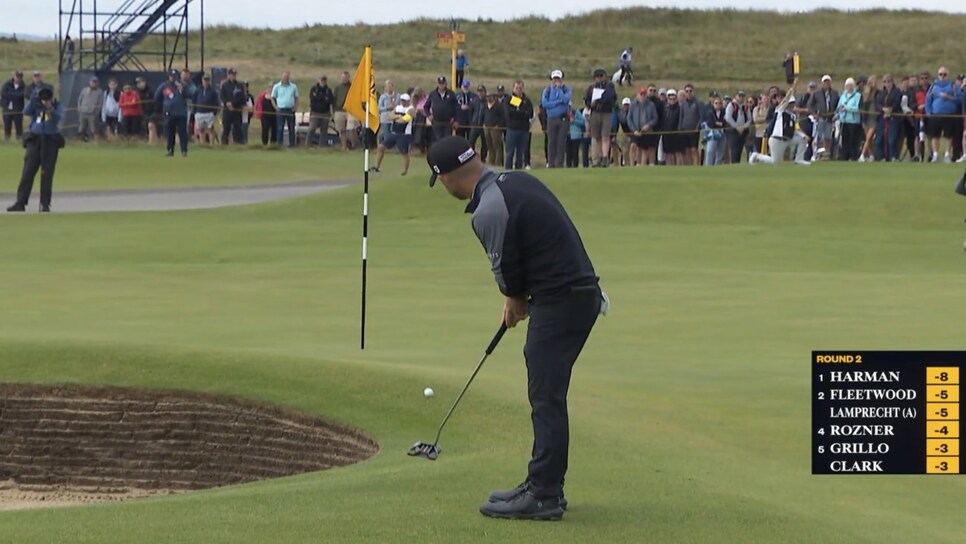 HOYLAKE, ENGLAND — We all remember last year when Cam Smith, facing a difficult pitch over a bunker on the road hole at St. Andrews, went full rogue and just putted the ball instead. It was absolute, sheer madness:
How hard was Smith's putt? Probably not quite as hard as the hype, at least based on how a few pros fared while trying to recreate it (with almost no pressure, to be fair), but it's not really about the absolute level of difficulty. It's about the deep soul-horror of the consequences. I think of it like walking along a 2-foot ledge on top of a 90-story building. Sure, I can walk along that ledge pretty easily, but man, if I screw up? I'm going down! So even if it wasn't the hardest putt in the world, Cam Smith took an enormous risk with the stakes as high as they come in professional golf, and it was spectacular.
Friday morning at the Open Championship, Brian Harman gave us another taste of the sublime on the 8th hole when, nearly stymied behind a bunker, he donned the wings of Icarus and flew among the gods:
We unfortunately don't have video of this, but we almost don't need it. You can see from that photo that he flirted with the right edge of the bunker, and that's all we need to experience the vicarious rush of danger that must have been sending his adrenaline to critical levels. As far as I'm concerned, they should give him the claret jug right now and never hold this tournament again.
The putt past the bunker is almost un-attemptable anywhere outside of a links course—maybe at Pinehurst?—and a key requirement is that basically everything has the consistency of a green. When the stars align, though, it's an act of terror and delight that knows no equal in the sport. The rarity heightens the thrill, and like a junkie, I find myself craving more. Next time, I want the putt to go between two bunkers. After that, it's going to have to go through a bunker. After that...well, I don't even want to think about "after that." It would be like understanding the immense magnitude of the universe all at once; too much for one human. I realize the trajectory I'm on here, and it's not healthy, but the bunker-defying putt is so good that players like Smith and Harman have got me hooked. Straight into my veins, boys.