The Loop
In September I read that John Daly had discovered a John Daly is an Arnold Palmer (lemonade and iced tea) plus some vodka.
Frankly, I was shocked Daly had only recently discovered his name was associated with a specific drink; he seemed flat mad. So mad, in fact, that he commissioned his 78,000 Twitter followers (@PGA_JohnDaly) to alert him to the locations that were using his name without authorization.
I wondered if Caesar, Tom Collins, Shirley Temple, Roy Rogers or Jolly Rogers protested swashbuckling name pirates.
I like Arnold Palmer's style (who ironically loves a good vodka); The King bottled and canned his magical mix and has probably doubled his fortune.
Long John has an underrated short game, but he also seems short on business smarts. For years he has been signing autographs in a Hooters parking lot the week of the Masters, and now he's taking time away from the range to tweet about, "TradeMark Infrin."
I bring all of this up because I was meeting friends for dinner in New York City last week. I was early, so I ducked into a hot bar on the Lower East Side of Manhattan (great city, good drink) and as I went to order a Jack Daniels, I saw this sign for a John Daly. (But before you go tweeting anything, look closely, it's a John Daily):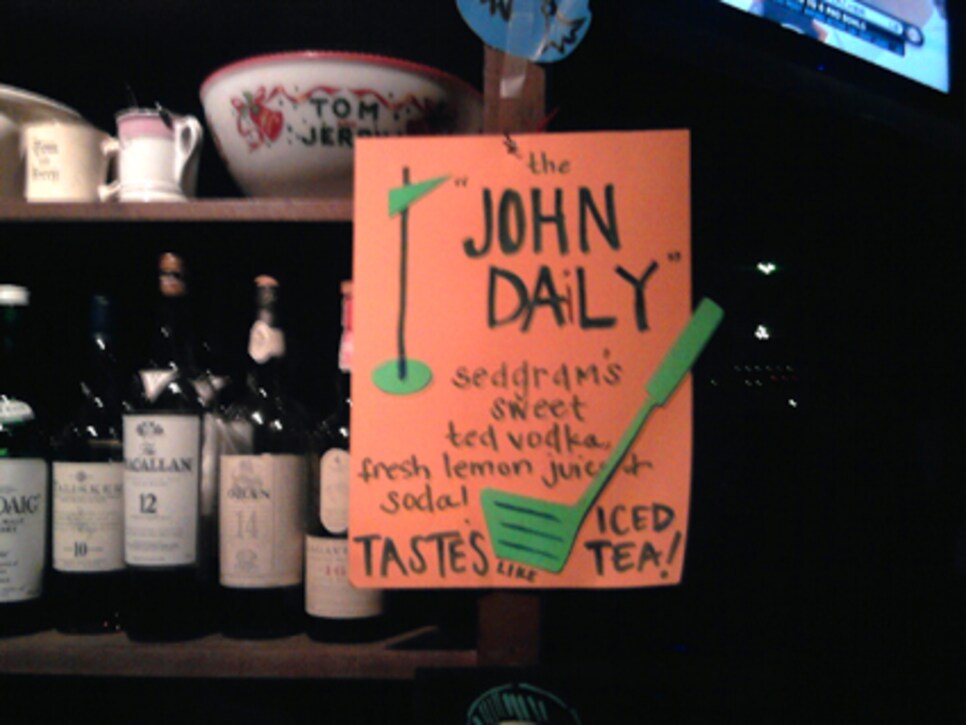 So silly. I say John Daly (@PGA_JohnDaily) corks his complaints, then figures out a way to embrace it and bottle it.