The Loop
Creative license is a central character in James Patterson's new historical golf fiction book
GolfDigest.com regularly highlights golf books we find of interest to readers. This week is: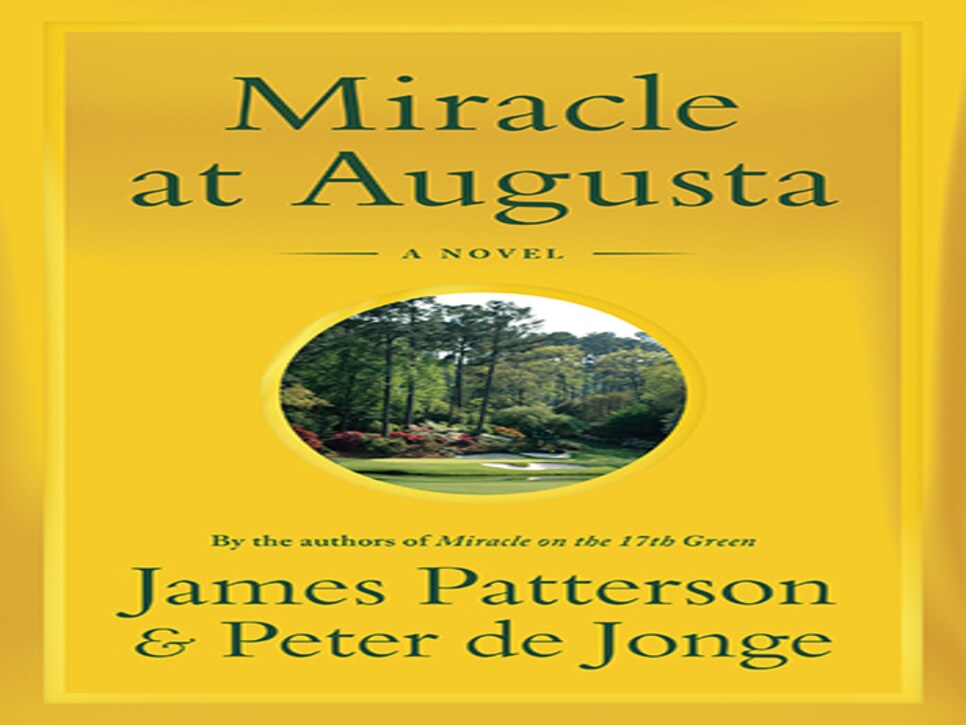 In plot and structure, Miracle at Augusta is all about suspension of disbelief, sometimes to an extreme level. Billed as a novel, it could just as easily qualify as a novella. It is a fast read of a primary storyline that covers roughly four months. And it is modified historical fiction with its main characters interacting with actual people and places, among them Augusta National, Augusta Country Club, Pebble Beach, Hootie Johnson, Tim Finchem, Lee Trevino and his caddie Herman Mitchell, Hale Irwin, Gil Morgan, Gary McCord, sport psychiatrist Bob Rotella and Dave Marr. But because Dave Marr Jr. first comes to my mind, that's a dilemma since the story takes place in 1998 and the 1965 PGA champion and ABC analyst passed away in fall 1997. Meanwhile, his son Dave Marr III, according to his Golf Channel bio, didn't join GC until 2000.
There are many annoying sticking points when the actual facts mix with fictional elements. Augusta National's first hole is a dogleg right not dogleg left. The only stinger associated with Tiger Woods in 1998 had to do with a pinched nerve not the low, boring 2-iron tee shot that entered the media lexicon after Ian Baker-Finch talked about at the 2000 British Open. Miguel Angel Jimenez' peculiar warmup flexibility routine is only a recent curiosity, not dated back to 1998. Phil Jackson didn't start coaching the Lakers until 1999 not 1998. McCord wasn't 50 until May 1998 and couldn't have played a senior event in late February '98. Augusta National was 6,925 yards in the '98 Masters not 6,500. The reader has to decide when reading a piece of fiction if it annoys them that hazy factual bits don't match up.
Let's move to the story, which causes the reader to have enough open-mindedness regarding plot. Having already introduced us to Travis McKinley in 1996's Miracle on the 17th Green, the authors continue with the unknown amateur who won the 1996 Senior Open at Pebble Beach. Now as a senior tour player, McKinley did poorly in 1997, and at age 52 wants to make 1998 special. We meet him in winter practicing at Big Oaks driving range, near Winnetka, Ill. (Coincidentally, that's the hometown of Golf Digest's founding fathers, who attended New Trier High School, the main school in the book.) When an incident in Hawaii with Travis' antagonist Stump Peters causes Finchem to suspend McKinley for a year, he retreats to Illinois and, with his supportive family, contemplates his future. McKinley feels he hasn't been a good person, but all we've seen is someone trying to excel using his surging golf skill, not a jerk, although the fact he wasn't with his dear grandfather when he died and heard the news second-hand from his wife is a mark against him.
From there the book turns into a morality tale regarding discrimination and selflessly doing what's right. McKinley seeks ways to help others, first with his African-American friend on tour, Earl, and then a high-school boy he meets, Jerzy, who is being bullied in school. Travis uses golf as an agent of change in Jerzy's life, and promises a trip to play Augusta National if he satisfies one of two challenges. The challenge is met, naturally, and the rest of the book is an audacious payoff to the promise of a miracle, which you have to read to "believe."
Jerzy ends up being the fastest learner in golf history, shooting 117 in his first round and just weeks later ready to break 80. And he makes bombs from so many places he's called the Rumanian-American Crenshaw. He also possesses unexpected talent as golf aficionado and a quick mind to talk his way out of any jam. Incredible skill for a 17-year-old from Bucharest who has played golf for three months.
Improbabilities abound in Miracle at Augusta, which culminates with a John Daly-at-the-1991-PGA-Championship-like finish. In that respect, the book is a golf fantasy at the genre's peak, inconsistencies included. I once went through a period of dreaming I was playing the Masters and every time I teed the ball on No. 1 and got prepared to swing, the ball would fall off the tee. I would re-tee and repeat the scenario over and over before the dream would end, never getting the round started, which was more of a nightmare. If you have dreams of your own to someday play Augusta National, enter into a dream-like state of mind with Miracle at Augusta and read away.