The Loop
Bookmaker Paddy Power pulls prank on "dinosaurs" running Muirfield Golf Club
While Muirfield Golf Club prepares for a second vote on whether to allow women members, the historic course has gotten a "wake-up call" from an unlikely source. And through an unusual method.
Bookmaker Paddy Power recently pranked the club by hanging a banner on its front gates that read, "Welcome to Jurassic Park." See for yourself: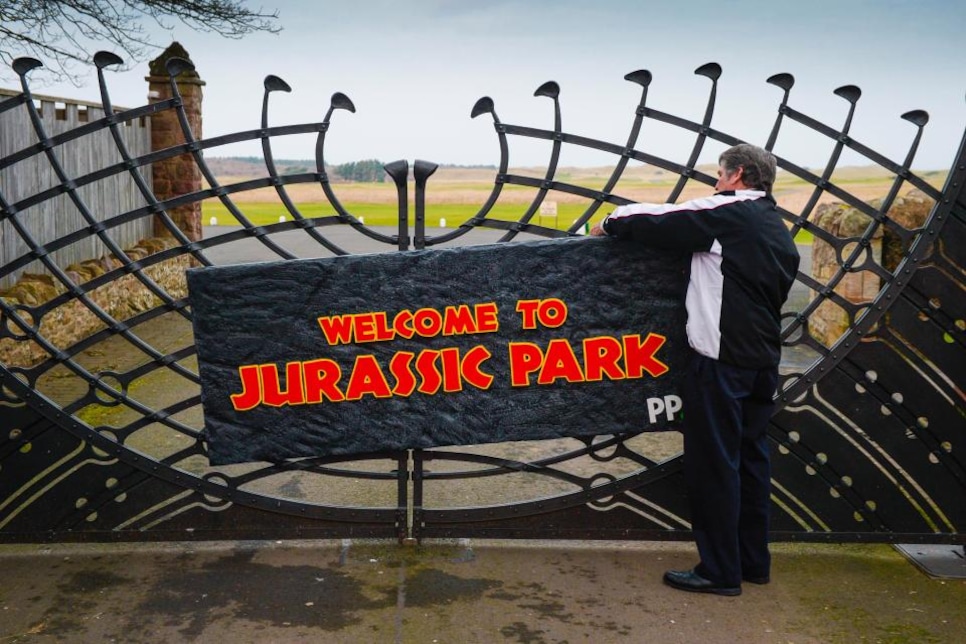 The implication, of course, is that Muirfield's members are dinosaurs for not changing its policy on women members through its first vote in 2016. Immediately after announcing that result -- the 64 percent voting yes was not quite the two thirds needed -- the R&A announced Muirfield, which has hosted the Open Championship 13 times, had been removed from the Open rota of courses.
In January, the Honourable Company of Edinburgh Golfers announced it would hold a second vote to allow women members, the results of which are expected by the end of March.
"It must be acknowledged that many of the next generation will find it difficult to be a member of a club that excludes women," an anonymous member told Golf World's John Huggan in January. "The world is changing."
Despite that sentiment from one member, Paddy Power still lists a "YES" vote to allow women members as a +150 (You risk $100 to win $150) underdog. But it hopes this prank "will serve as a wake-up call" to members who voted no the first time to change their minds.
"The decision last May to not admit female members was about as progressive as a Donald Trump policy, and unsurprisingly it's driven a wedge between stuffy members and the outside world," Paddy Power said in a statement. "While Muirfield members bury their heads in the sand this time round, we thought we'd prod the beast with our Jurassic sign."