The Loop
Boo Weekley is back and ain't it grand?
Golf needs a player who includes ain't as part of his vocabulary, notwithstanding the opposition of a few, mostly English teachers. It needs a player who endorses a camouflage hunting apparel line, one for whom Larry the Cable Guy was the logical choice to provide entertainment at his charity event.
Golf needs Boo Weekley, and it got him back on Sunday.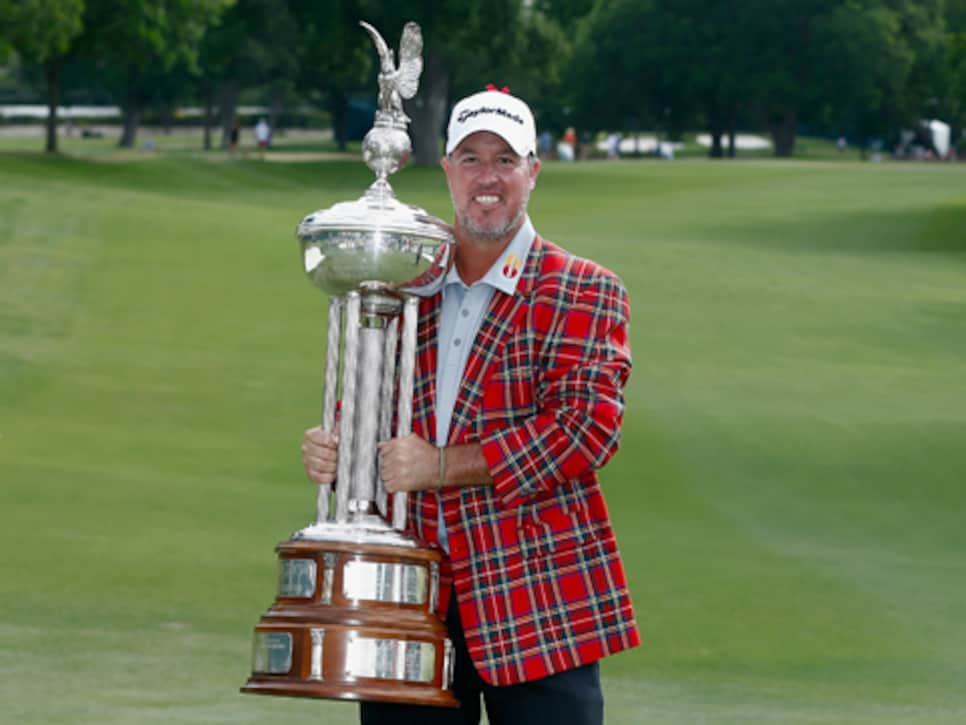 Weekley poses with the trophy after his one-stroke victory at the Crowne Plaza Invitational at Colonial. Photo: Scott Halleran/Getty Images
Weekley won the Crowne Plaza Invitational at Colonial, his third PGA Tour victory, but first since 2008. Incidentally, all three victories have come at tournaments that adorn their winners in plaid tartan jackets (the other two coming at Hilton Head).
Plaid surely is an upgrade from camouflage. Then again, Weekley has always been better at dressing a deer than himself. Combine that with the fact that ain't is in his vocabularly and Weekley conforms to no one's perception of what a PGA Tour player looks or talks like, except with an iron in his hands.
An avid hunter, Weekley is renowned for his ball-striking acumen, a sharpshooter on and off the course. He ranked first on the PGA Tour in ball-striking in both 2011 and 2012, was fourth entering Colonial, and on Sunday put on an exhibition of it on Texas' version of Hogan's alley that might have made Hogan himself proud. Post tournament, he even alluded to Hogan and the Wall of Champions at Colonial that now extends from Ben to Boo, Hogan winning the inaugural Colonial in 1946.
The hole, meanwhile, has always been the one target to consistently elude him. His putting has always been, well, this Halloween headline at GolfDigest.com last October said it best: "Boo! Weekley's putting is downright scary."
Weekley, 39, missed two short birdie putts -- one from four feet, one from 3 1/2 feet -- in the last five holes on Sunday, but his ball-striking was so pure that they served only to prevent him from winning by more. After the latter of the two misses, he stepped to the 18th tee apparently undeterred and split the fairway with his tee shot, 315 yards of talent and unbridled confidence.
"Some serious self belief in his ball-striking today," CBS' Nick Faldo said.
He chose the safe route for his second shot, then two-putted for a victory that ended five years of frustration from injuries and a miscreant putter.
"We're back," he said moments later. "We've finally made it back. This is awesome."
We all should concur. Golf tends not to breed colorful characters, beige, not green, its predominant hue, so when one comes along he's worth celebrating.