SPONSORED
The best golf apparel from Bonobos for under $100 right now
*All products featured on Golf Digest are independently selected by our editors. However, when you buy something through our retail links, we may earn an affiliate commission.*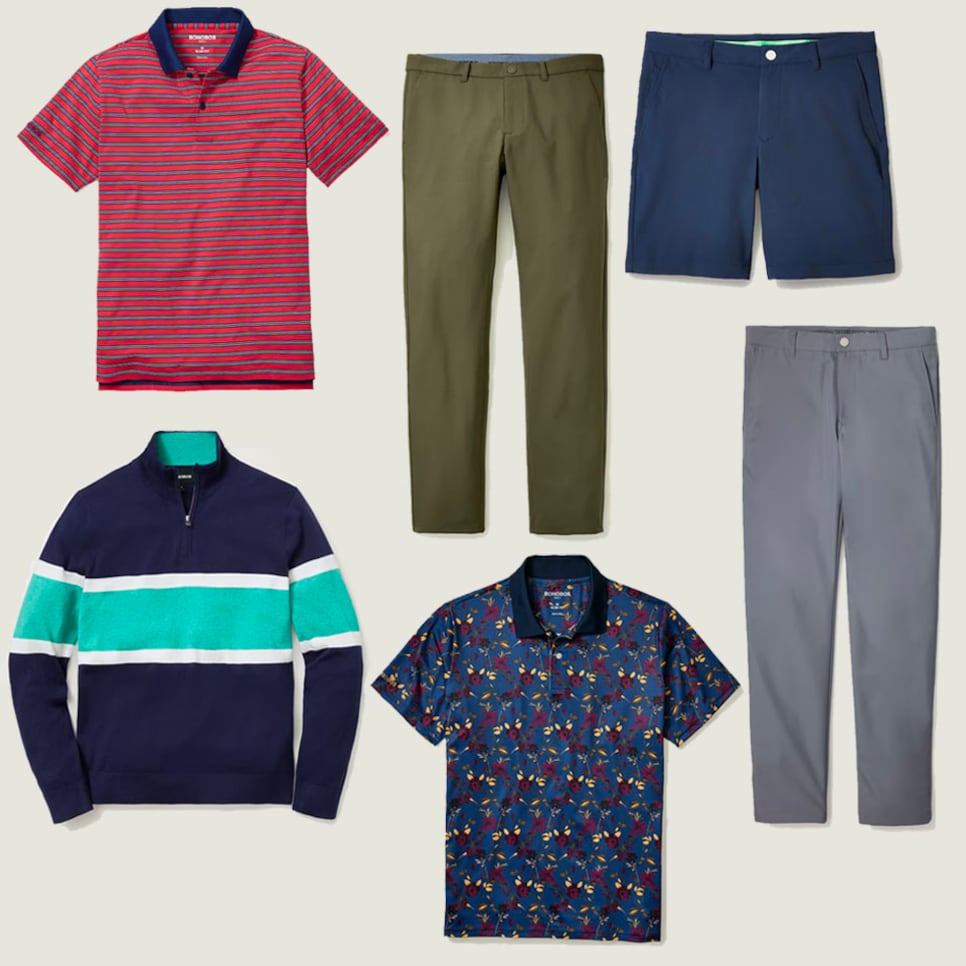 As many golfers begin to make the switch from shorts to pants, it's a great time to take stock of your wardrobe and see where replacements and upgrades can be made. It can be tricky to find a pair of golf pants that fit well, are performance-ready and won't break the bank. Once you have your golf pant stock in place, it's important to make sure you have golf shirts and layering pieces to match. Bonobos has become a great option for golfers looking for upscale pieces that are versatile, stylish and a great value. While the golf collection is reasonably priced comparatively, the brand often runs promotions for extra savings. We've rounded up our favorite golf pieces from Bonobos under $100 that will enhance your look going into the fall golf season.
RELATED: 11 items you need to wear on the golf course this fall
Bonobos is known for men's pants and suits. The brand launched in 2007 with a mission to give menswear a fit makeover by offering options that feel custom to each body type. It didn't take long for golfers to take notice that the pants could easily transition onto the golf course and thus the Highland Tour Golf Pants became a wardrobe staple for many. The pants are offered at a competitive price ($139) in colors like gray, black, navy and brown, with bolder seasonal colors mixed in throughout the year. Select colors are often discounted up to 50 percent (five colors are just $69 right now) for a great way to deepen the trouser rota.
Bonobos' golf pants come in four fits: tailored, slim taper, slim and athletic. Athletic is the fit most golfers will recognize. It offers the most room in the seat and thigh, but tapers (gradually narrows) below the knee for a more fitted and refined look. Slim and slim taper fits are both designed to fit a bit closer without feeling tight. The narrowing begins at the mid-thigh for both, but the slim tapers a bit less than the slim taper. Tapering creates a more put-together look, but the brand recognizes that not all bodies are the same from knee-to-ankle, and squeezed calves not only will make the pants look like they don't fit, it will also be uncomfortable. The final fit offered in these pants is the narrowest: tailored. This style is great for those who know their exact sizing and are looking for a custom-feeling fit hugging the body.
RELATED: 7 pairs of pants you need for fall golf
More Golf Pants Under $100
Building off the success of the golf pants, the brand developed the Highland Tour Golf Shorts and Performance Link Shorts. Both shorts have a silicone shirt gripper on the inside of the waistband to keep shirts tucked in place. Inseam options range from 7 and 9 inches in the Performance Link or 8 and 10 inches in the Highland Tour Shorts. All of the shorts are machine washable.
More Golf Shorts Under $100
Lesser known from the brand are the equally upscale yet affordable golf shirts. Available colorways and patterns ranging from simple solids to eye-catching statement pieces, Bonobos' shirts have golf-ready technology (UPF fabric, ventilation, moisture-wicking properties) with styling appropriate for a business-casual event (ribbed collars, shell buttons subtle branding).
The layering pieces in the Bonobos golf collection is another unexpected-yet-impressive offering from the brand. Expanding on the on-course-off-course versatility of the line, these sweaters and jackets are a great way to add warmth and refinement to shoulder-season looks. While many golf sweaters are above $100, Bonobos' Soft Air Golf Half-Zip is currently on sale for just $79. It's a mid-weight pullover with a soft fabrication that adds warmth.