News
Bold prediction: Why a hockey beard will win the PGA
The question today class is, "What is the average between Mark Brooks and Tiger Woods?" If you can figure out that one, you'll have a leg up on who to pick to win the year's final major, the PGA Championship at Valhalla Golf Club.
The question is meaningful, obviously, because Brooks and Woods are the two players to have won the PGA title when the event was played previously at Valhalla (1996 and 2000). Now, some rightly might argue the average of Woods and Brooks could easily be determined to be Kenny Perry or even Bob May, but neither of those answers, while plausibly correct, are helpful to our purposes. I suppose it makes some sense even to suggest that the average between Woods and Brooks is Anthony Kim, the hero of the U.S. team during its victory at the 2008 Ryder Cup, played at Valhalla. But that's not going to get us the answer we're after either (although it spawns a whole series of other questions, doesn't it, like what is the average of an injured thumb, a sore elbow and a strained achilles? Don't know, but it looks like a diamond-studded belt buckle that doesn't exactly fasten anymore.)
But I digress. Back to our original postulate, namely that the way to figure out who's winning this week at Valhalla is to determine the average of the 1996 Mark Brooks with the 2000 Tiger Woods. It's a flawed concept, certainly, but then who would have predicted John Daly would win the PGA Championship? Y.E. Yang? Or, well, Mark Brooks? We all know predictions for golf's major championships are like eyeballing the 20-scoop Vermonster at a Ben & Jerry's: A pointless, but entertaining, distraction that if pursued to its final conclusion usually makes you out to be, well, horribly bad at predicting what might be possible. In short, senseless or without sense.
So here's what we're going to do. Basically, I'm going to attempt a variation of the process I've used in the three previous majors this year. Never mind that all of those previous attempts have produced choices that did not, in fact, win and, in fact, made almost no sense: Jordan Spieth at the Masters (T-2, impressive), Bill Haas at the U.S. Open (T-35, meh) Adam Scott at the British Open (T-5, but really more a backdoor contender).
Nevertheless, let's look at Brooks' statistics and Woods' numbers heading into their victories in 1996 and 2000. Specifically, wins, driving distance, driving accuracy, greens in regulation and putting. The average of the averages should lead us to today's average of Mark Brooks and Tiger Woods. Brooks won nothing important and Tiger was in the midst of the greatest stretch of golf in human history. They both hit a lot of fairways and greens, Woods putted great, Brooks was somewhat below average, and Tiger was obviously long, while Brooks, well, wasn't. (Interesting sidenote: Brooks actually won a major championship while averaging 263 yards off the tee for the year. You know who averages 263 yards off the tee this year on the PGA Tour? No one.)
(P.S.: Mark Brooks and Tiger Woods have 10 letters in their names. So if form holds that means that Ian Poulter, Justin Rose, Matt Kuchar, Ross Fisher, Nick Watney, Luke Donald, Jonas Blixt, Shane Lowry, Marc Warren and Boo Weekley might have a chance. This is just in case my actual choice doesn't pan out.)
Again, I digress. The calculations for this year's crop of PGA Championship contenders showed several players who came close to the magic number. (My calculations show the magic number to be 92.003, but that's probably as relevant as the NCAA's passing efficiency rating, which for some reason can reach as high as 175.62). Continuing: Henrik Stenson, Martin Kaymer, Zach Johnson, Angel Cabrera, Thomas Bjorn, Keegan Bradley, Justin Rose, Jim Furyk and Charl Schwartzel all were close to that mark, and Miguel Angel Jimenez was very close. (By the way, Rory McIlroy was way over the number, for what it's worth, but not as high as Adam Scott, Phil Mickelson or Tiger Woods. But it's not about accumulating the highest average, it's about matching the average of Mark Brooks and Tiger Woods. Because that makes sense.)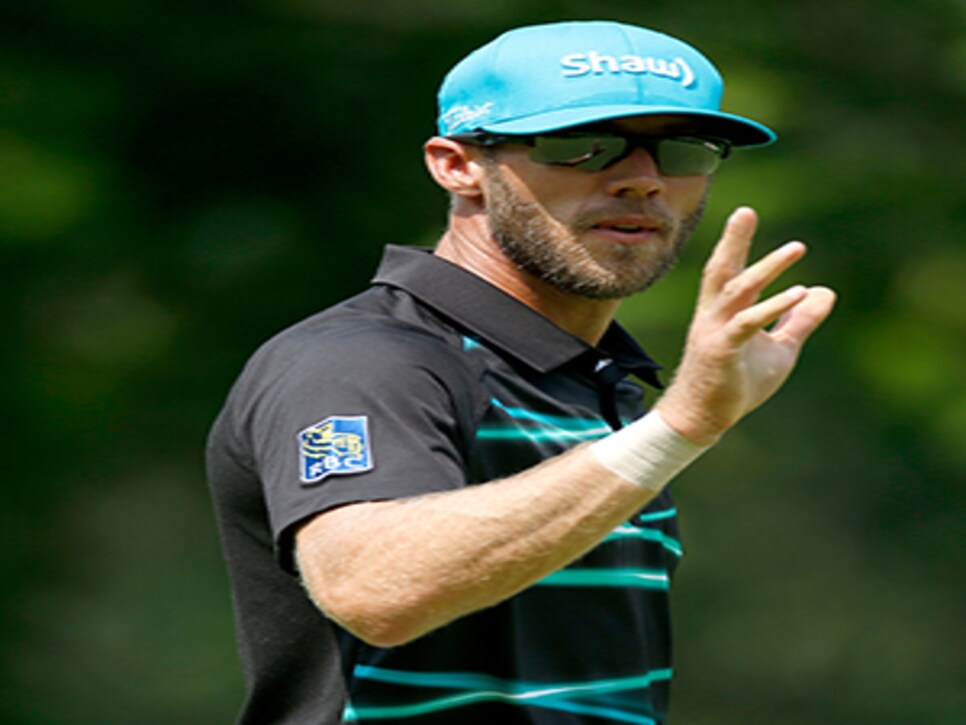 Look at his numbers: He drives it over 300 yards, he hits 63 percent of the fairways, and he's hitting almost 71 percent of the greens. He doesn't putt great, but apparently that's not going to matter, especially since it didn't for  Brooks. He's got the feel of a Rich Beem, or maybe an Al Geiberger. I could see a Wayne Grady vibe, too, or perhaps a Bobby Nichols sort of feel. It makes no sense, but the PGA Championship clearly has that club in its historical bag. (Shaun Micheel, anyone?)
So by my calculations, the average of Brooks and Woods is a Canadian with a hockey beard who played his college golf in Idaho and is currently on IV treatments for the flu. Yeah, that makes perfect sense. A Mark Brooks kind of sense.