Fire Pit Collective
Grandeur aside, the BMW Championship was testament to what is right about the game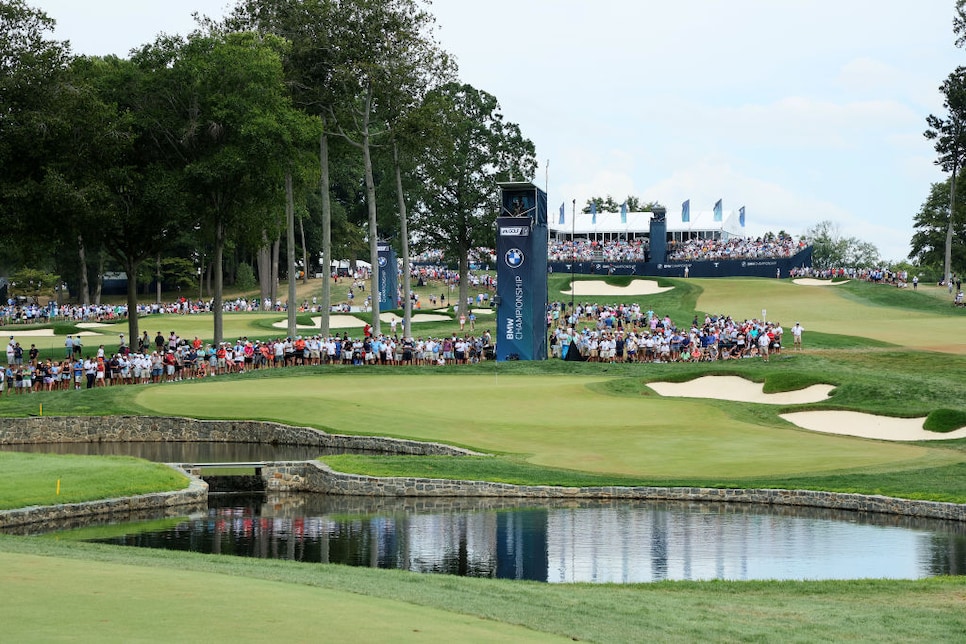 WILMINGTON, Del. — I wasn't planning on attending FedEx II, even though it was a home game. From my house in Philadelphia to the front gate of the Wilmington Country Club is an hour in the usual traffic. (Insert electronic voice: You are still on the fastest route.) But we had been away on a family vacation—an August vacation with grown children, that rare summer flower—and I got home as the BMW Championship was wrapping up its third round. It was the Saturday night BMW leaderboard that sent me to Wilmington on Sunday morn.
You know: Scottie Scheffler and Scott Stallings; Adam Scott and Aaron Wise; Collin Morikawa and Corey Conners. In other words, players we know from their wins in majors, and players we're getting to know. Plus proven winners like Xander Schauffele and Patrick Cantlay. Appealing players like Max Homa and Harold Varner III. A deep field. Sunday came, and off I went.
Note to self: You need the regular events to see who gets into the majors, and you need the majors to identify the game's stars. Golf's balancing act.
I parked in a farm field maybe a mile from the clubhouse, a temple of suburban wealth. On my way in, I saw some sparkly BMWs on display, and some sparkly tour guides beside them. Everywhere you looked, there was the American Dream.
The PGA Tour sells the American Dream, and it is the American Dream. For starters, there's this: Do you want to play on the PGA Tour? Shoot the scores. That's it. You'll be in and somebody else will be out. It's a brutal system, but it's fair. You earn your way in, you play your way off. That's why they say every shot makes somebody happy.
As for the rest of us, we can usually find a way to snag a tournament ticket, and subject ourselves to the symphony of marketing efforts. For insurance and banking and phone services. (The basic food groups of American capitalism.) Plus, cars and credit cards and gasoline. (All that freedom.) I see on CarMax a 2018 BMW 430 Gran Coupe for $35,000. Can you handle the monthly payments? Consider the joy. You, in a BMW.
People were streaming in with me by the score.
As for the Wilmington Country Club, it, too, is part of the American Dream. Or some version of it. A bastion of wealth and super-wealth. Thus, 20 tennis courts, four of them grass; a big pool and a kiddie pool; two 18-hole courses. Bars and dining rooms and banquet halls for every mood and occasion. A home away from home for innumerable DuPont executives, corporation lawyers and leaders in the entrenched medical community.
For FedEx II, the BMW Championship, the club opened its doors so a thousand young men could yell "Patty ice!" on a warm later-summer Sunday afternoon. I was interviewing Scott as the tournament was concluding. Scott, in that never-flustered way of his, asked if Cantlay had won the tournament. He had. Scott nodded. Earlier, he had wrapped himself in the flag of the International team of the Presidents Cup, for a photo op. He's on the team.
By virtue of his T-5 here, Scott, 42, played his way into this week's Tour Championship. He's talking about how his game is in good shape for the 2023 season. It was in 2013 when he won the Masters. He sounds like he's happy with where he is, an Aussie who lives in the Bahamas and has made some life for himself playing golf around the world and most particularly in these United States.
It was beautiful, in its way, the whole thing. Cantlay's win, Scott's ease with reporters, Scheffler's nonchalance after missing a late three-footer. Homa, tall, slender bearded Jewish golfer, and Varner, short, roundish Black golfer with a shaved head, playing fast Sunday golf, joking and laughing as they waited on tees and walked fairways together.
That was the true us, on Sunday at the BMW at the Wilmington Country Club. Representatives of a vast and stable middle-class, tens of thousands of law-abiding people willing to obediently park their shiny cars in remote parking lots, climb onto shuttle buses to be transported to the course where we stand in a muggy air with a cold beer in hand for the privilege of shouting encouragement to a group of men insanely good at an essentially meaningless activity.
Believe me, I'm not knocking it. I've devoted a good portion of my adult life to this scene, and to playing this game. There's a lot to like, and I do.
Maybe this is what the members of the House of Saud want, and LIV Golf would be part of it. Not for themselves. Their vast, incomprehensible wealth comes at the intersection of the Lucky Sperm Club and the Price of Crude. Maybe the plan is to spread the wealth, keep the peace, appear more Western, attract more tourists. It's smart, because 100 years from now, the price of a barrel of crude might be closer to $1 than $100. Yes, their wealth is dynastic. But what works for your 401(k) works for Saudi billionaires too: diversification.
Joe Biden, son of a used-car salesman, went to a Catholic high school 12 miles from here, became a lawyer and eventually was successful enough to join the Wilmington Country Club. A common-enough dream, when you get right down to it. A common-enough dream, that is, in this country.
Tiger Woods came to the Wilmington Country Club on Tuesday to meet with other players. "I'm not talking about what happened in the room," Homa told me, but he was happy to talk about Tiger's intelligence, Tiger's charisma and Tiger's devotion to the system that made him, the PGA Tour. I asked Homa if Woods had given him a hard time about his elaborate AimPoint putting routine, when they played together in the first two rounds of the British Open at the Old Course last month. "No, he didn't—but I was putting better than he was," he said good naturedly. Homa grew up in Los Angeles. He won at Riviera. Woods gave him the trophy. Homa will have that for the rest of his life. One of his pet phrases is, "You can't buy my dreams." He's living his.
Golf has brought me to Delaware often over the years. In 1987, I caddied for Betsy King in the pro-am of the McDonald's LPGA Championship at the DuPont Country Club, built by a forward-thinking company for the benefit of its employees. Last year I played the Bidermann golf course for the first time. It is charming, beautiful and elite. I've never played the Porky Oliver public course. Porky was born and raised and died in Wilmington, and he was Greg Norman before Greg Norman made his first swing, with second-place finishes in the '46 PGA, the '52 U.S. Open and the '53 Masters, along with eight Tour wins. Porky helped pave the way for Arnold and Jack and Tiger—and Homa and Varner and Wise.
I saw Arnold Palmer a few times in Wilmington over the years. We had a mutual friend, Howdy Giles, who was Arnold's dentist and an owner of a sports-bar restaurant. Stanley's Tavern was Arnold's kind of place, and the Wilmington Airport was Arnold's kind of airport. (Casual and quiet.) Arnold and Howdy were examples of opposites attracting, as Howdy is gregarious and he comes at you with a torrent of words. Arnold liked to size things up. Howdy made a ball marker out of one of Arnold's old gold fillings.
Tiger's trip to Wilmington brought to mind for me when Arnold flew from Latrobe, Pa., to Atlantic City, N.J., in 1968, for a meeting at the Atlantic City Country Club, then owned by Leo Fraser and family. Fraser was the president of the PGA of America. It was at that meeting, attended by Arnold and Jack Nicklaus and Gardner Dickinson and others, where the touring pros broke off from the PGA of America and founded what is today the PGA Tour. Arnold was on the fence all the while. (My sources are the late Bob Goalby and the late Doug Ford.) He flew, in his own plane, with a PGA of America official. After the rancorous meeting, with Arnold voting for the breakaway, he flew home alone.
And here was Tiger, flying up from Florida with Rickie Fowler to the little Wilmington Airport, getting behind the wheel of a Nissan SUV and driving off to meet with his fellow touring pros. I would say that Woods is the most powerful figure in golf today, by a mile. Let's say the Saudis said to Woods, "We will pay you $2 billion to become our global ambassador for golf. The term will expire when you do. You will build courses and hotels beside them, be the host of our top tournaments, extol the virtues of our golf properties." Let's say Woods said yes. The PGA Tour as we know it would no longer exist. The floodgates would be open.
But that would never happen. For one thing, how would $2 billion improve Tiger's life? It wouldn't happen because Tiger, at his core, is a traditionalist, just as Arnold was. The system was working for them. But that doesn't mean the system can't be improved. What happened in '68 is not as radical as what is happening today. In '94, Norman was trying to get a world golf tour off the ground. Davis Love III told this story the other day, on a Fire Pit Collective podcast. Thirty or so of the top players, Norman among them, were ushered into Palmer's smallish second-floor office at his Bay Hill Club. Love's job was to get Norman there. Arnold's message was blunt: This whole World Golf Tour is over.
Maybe it was a great idea. But it was bad for Arnold and bad for the PGA Tour. Tim Finchem, with Arnold's help, killed it, just as Arnold's reluctant vote helped create the modern PGA Tour. But in another sense, the modern PGA Tour began with Arnold in the late 1950s, when the emphasis on the four modern major championships began in earnest. I asked Scott about the relationship between regular Tour events and the majors, the very thing that made the BMW Championship leaderboard so appealing.
"I think it's quite a conundrum," Scott said. "The majors are the star-making events. That's a little harsh, but you know what I mean. It's a conundrum for the Tour to play second fiddle. But the majors are the pinnacle of the game and have been since the late 1950s."
In other words, since the emergence of Arnold Palmer.
"What the majors must keep doing is make sure they have the best players in the game," Scott added. "If they don't have the best players, then you can start arguing, Are these the best events? You're not able to argue that at the moment because it's been satisfactory, with the qualifying marks and the qualifying tournaments. With the landscape somewhat changing in golf, that's going to be challenging."
I asked Scott if he had made eye contact with Woods this week. He had.
"I'm pleased to see Tiger in these other capacities, doing something other than kicking my ass on the golf course," Scott said. "I'm pleased to see how much he cares. It's really interesting to see. If his influence is put to good use, there will be good outcomes."
That sounds like Arnold in 1968. Arnold in 1994 is harder to say. It's an odd and tumultuous time in the game, but the BMW Championship at the Wilmington Country Club, concluding on Sunday, Aug. 21, 2022, was a good time.
I walked back to my car, over a heaving farm field, and drove home. The PGA Tour, for a night, was in a good place. A good night, and a good run.