The Loop
Blumenherst/Lewis: The start of something special
It's rare that women's college golf experiences a good old-fashioned individual player rivalry. It's why the next month could be turn out to be the most exciting period we've seen in the game in a number of years. With Duke junior Amanda Blumenherst, two-time defending national player of the year, and Arkansas senior Stacy Lewis, defending NCAA champion, having separated themselves from the rest of the college golf world with their performances thus far in the 2007-08 season, we all will be treated to seeing the two talents compete in the same tournaments three times in the next four weeks. How they do over this stretch will go a long way in determining which golfer earns national player-of-the-year honors.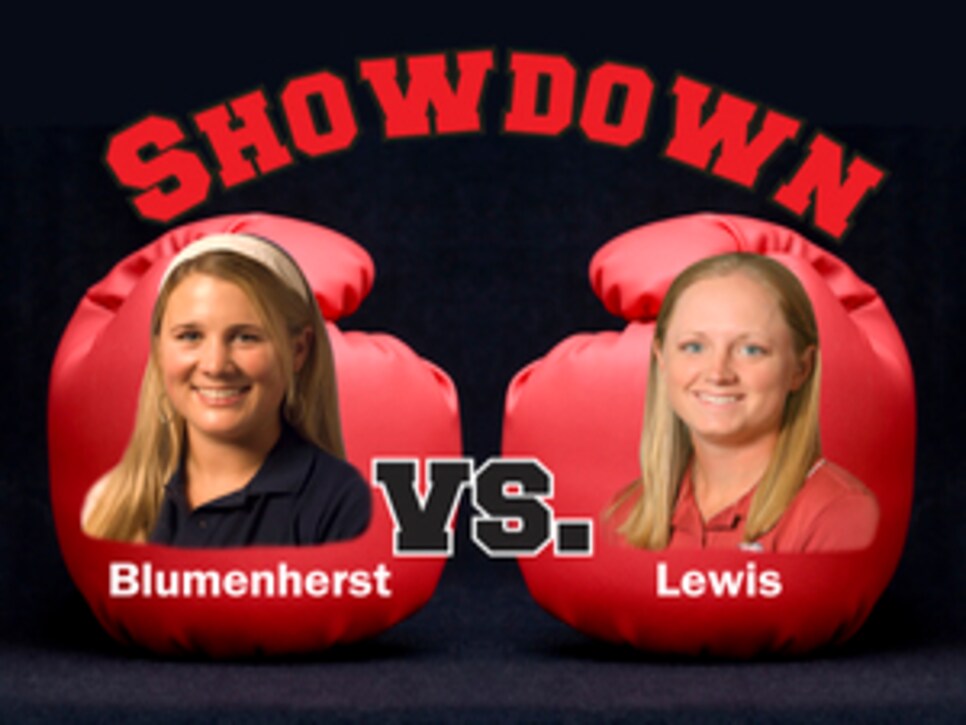 "It will be great for them to be on the same golf course and playing in the same conditions," Arkansas coach Shauna Estes-Taylor told me last week. "To have that sort of competition in our sport shows you how far it's come and the direction I think it's heading in the future."
It's no surprise Estes-Taylor would say something like this, but other coaches from around the country are thinking the same thing. Purdue's Devon Brouse watched Lewis play at the Lady Puerto Rico Classic two weeks ago and said that he walked away extremely impressed with Lewis' course-management skills. "What she and Amanda might do this spring is something I think we're all anxious to see," Brouse said. "It's good for women's college golf."
The interesting thing to me is how differently the two are approaching the pending race. "Winning the award would be great, but ultimately I'm just trying to see how low I can go," says Blumenherst. "I'm out there practicing for Duke and not the individual award." Conversely, Lewis frequently searches the Internet to see what has happening at tournaments where Blumenherst is playing. "She likes to know where she stands," Estes-Taylor says. "She knows we're going to see them in the next couple of tournaments. So she's really excited and motivated."
Indeed, when I asked Lewis if she knew Arkansas and Duke were competing in three tournaments together in the coming weeks she was rather blunt:
"Oh yeah I'm aware. Very aware."
Below is a listing of how the two of them have fared so far this season. Call it a primer for the upcoming events. Lewis has a 1-0 lead over Blumenherst in head-to-head match-ups so far, having won the Stanford Invitational in the fall while Blumenherst tied for fifth place.
Says Estes-Taylor: "It will be great when we go to Florida and the next couple of events for them to be on the same golf course and playing in the same conditions. I think you'll see somebody emerge."
I agree, but I honestly can't say who I think it will be. All I know is I can't wait to see it all unfold.
__AMANDA BLUMENHERST, Duke
Percentage of rounds counting for team: 100%
Event                     Score            Finish        Team Finish__
Mason Rudolph     66-68-69      Win                3rd
NCAA Preview      73-68-67       2nd                 Win
Lady Tar Heel      71-68-70       Win                  Win
Stanford                66-73-76        T-5                 2nd
Ariz. Wildcat       68-72-73        Win                  T-2
Percentage of rounds counting for team: 100%
Event                     Score            Finish        Team Finish__
Ky. Wildcat           69-76-71       T-3                  3rd
Mercedes-Benz     69-71-71       3rd                     3rd
Stanford                 69-72-70      Win                   4th
UA/Ann Rhodes    68-76-69        Win                  Win
Puerto Rico            68-70-70        Win                  T-5