The Loop
Blumenherst is rested and ready
Perhaps this is all you need to know about how talented Duke's Amanda Blumenherst is: after posting three top-10 finishes in three tournaments this fall, there were some who suggested the reigning college player of the year was in the midst of a sophomore slump. The logic? Well, she had broken par only twice in nine rounds and carried a weighty 72.5 stroke average, almost a full shot higher than her nation's best 71.62 mark as a freshman.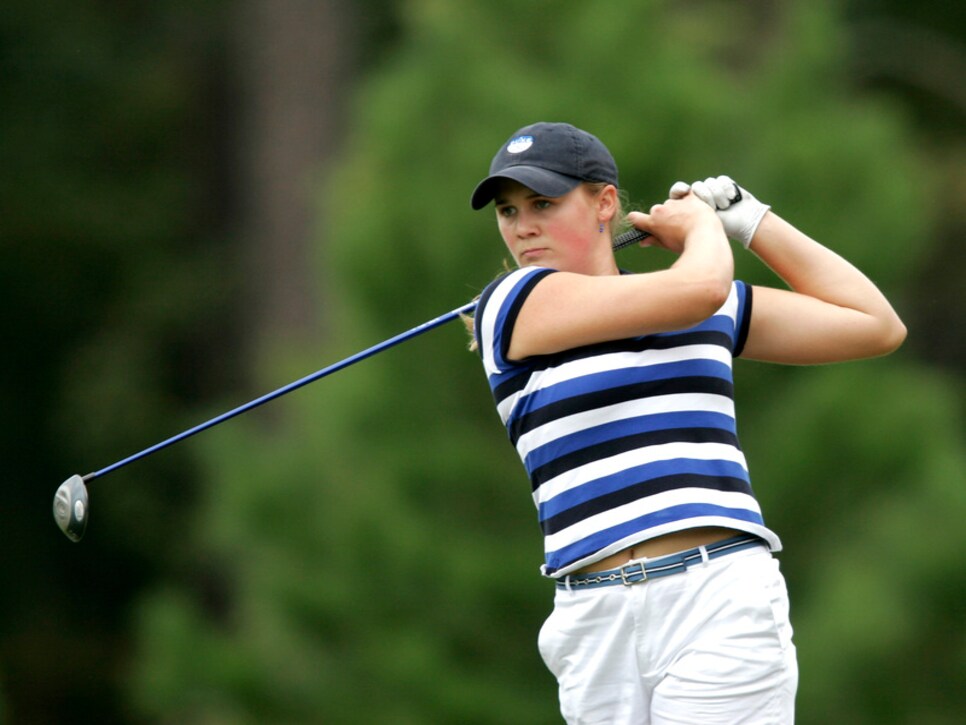 "It just got to the point by our last tournament I was ready for the season to be over," admits Blumenherst (photo supplied by Duke Photography). "I was excited I had some time off."
So it is then that a sleeping giant has arisen in Durham, N.C. With two stirring victories in eight days, Blumenherst has silenced those who might have been uttering the "S" word, replacing it instead with talk of becoming the first golfer since Arizona's Lorena Ochoa in 2001-02 to repeat as national player of the year.
Of course, if being more refreshed was the key to victory, college coaches would be calling off 7 a.m. workouts and replacing them with mandatory afternoon naps. In Blumenherst's case the resurgence also has something to do with extra work put in on the practice green.
"I really felt like I didn't putt all that great my freshman year," says Blumenherst, despite finishing no worse than a tie for ninth in any tournament during the 2005-06 season. "The tournaments that I won, most of the putts were falling, but really my putting wasn't where I wanted to be."
Enter Stan Utley, the former PGA Tour player turned short-game guru, who Blumenherst first met last August and who she visited again in Scottsdale during the winter break. After their initial session, Utley suggested Blumenherst switch putters, going away from a mallet-style club to a blade-style Scotty Cameron model. This winter, the two worked on tempo, keeping Blumenherst's body still over the ball in hopes of making more solid contact.
No doubt, the extra effort around the greens was much appreciated by Duke women's coach Dan Brooks, who already had determined his entire squad needed to focus more on short-game practice after a fall season that saw the two-time defending NCAA champions look somewhat mortal, winning just two of five fall events. Since coming back from winter break in January, Brooks and his assistant, Kalen Anderson, have been putting the team through their paces with an up-and-down competition at the end of each practice. Not so coincidentally, the Blue Devils finished second in Tucson (eight shots off Arizona State's winning pace) and then ran away from the field in Orlando (winning by 26 strokes over No. 1-ranked Georgia) to put themselves very much in the mix for a three-peat.
Saying Blumenherst's game is the best it has been since entering college might be a stretch, she contends, as her ball striking is off somewhat from a year ago. That too was something she keyed on with her long-time swing instructor, Mike LaBauve, during the break. "My hands were getting too far away from my body at take away," Blumenherst says. "So we're just trying to make [the swing] get more compact. I can still get better here."
Suffice it to say, the work put in by his star-player hasn't been lost on Brooks. "Amanda is really fun to watch," he says. "She has all the physical parts, has a great attitude, plays with a lot of energy and great passion."
As her game continues to impress, she will be forced to address the question posed to all elite college golfers: Will you be leaving school early to turn professional? Blumenherst remains adamant she'll be a Blue Devil for the duration. "Coach is stuck with me for another two years," she told Campus Insider two days ago. "I'm absolutely loving school, having friends, the whole college experience. The [LPGA] tour is always going to be there. I feel like I'm improving even now from last year. So if college is helping me prepare for the tour, I might as well stay."
That said Blumenherst already has penciled in three off weeks during the summer to be sure to prevent a repeat of last year's late-season drain. "Throughout junior golf I gave myself three weeks off, practiced maybe an hour a day [during that time] and spent the rest of the day at the lake," she said. "I'm going to make sure I do that [this year]."
After all, she wouldn't want to suffer through another "slump."