The Loop
Blogging From The Bob Hope, Day 6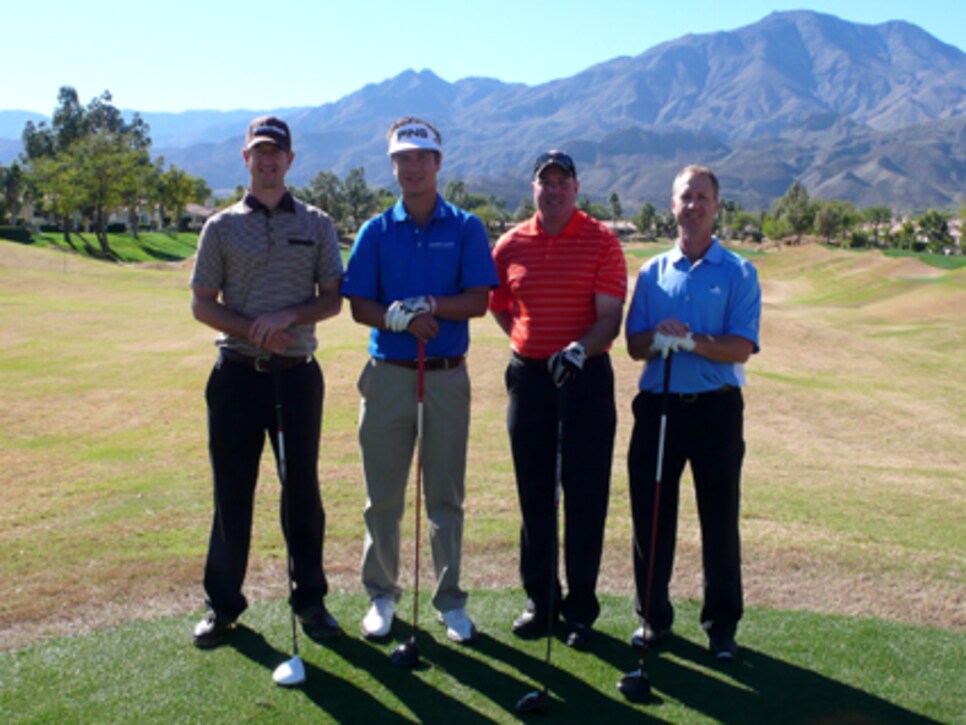 Team No. 33 finished T98 out of 128 at the 2011 Bob Hope Classic Pro-Am in La Quinta, Calif.
On the fourth and final day of team competition, we scored our third-straight 11 under; I had two birdies and a few pars where I got a stroke, so thanks again to Dave Alvarez of the Jim McLean School of Golf for a spontaneous lesson on Thursday afternoon.
On Saturday there was a lot less gallery than we had the day before. We were no longer with a pro in contention and we were over on the Nickluas Private course (the masses were watching the celebrities play the Palmer Private).
The pro for our last competitive round was Zack Miller (pictured above, second from left). A Stanford grad, Miller has spent three years in the minors before making his official PGA Tour debut two weeks ago at the Sony in Hawaii.
Before we go any further with Saturday at the Hope, let's go back to the last few holes of the Sony, where Miller birdied the 35th hole to get within one shot of the cut line.
[Ljava.lang.String;@79be81c9
The 18th hole at Waialae Country Club is a reachable par 5; a birdie earns Miller another 36 holes and a paycheck. "I drove it behind a tree," says Miller. "I got too aggressive with the second shot and it ricocheted into a bush. I made bogey and missed the cut, which affected me. It was in the back of my mind on Saturday."
Which brings us back to the final few holes of the fourth round of the Hope. Miller was at 11 under (3 under on the day) as we played the 509-yard eighth hole of Nicklaus Private.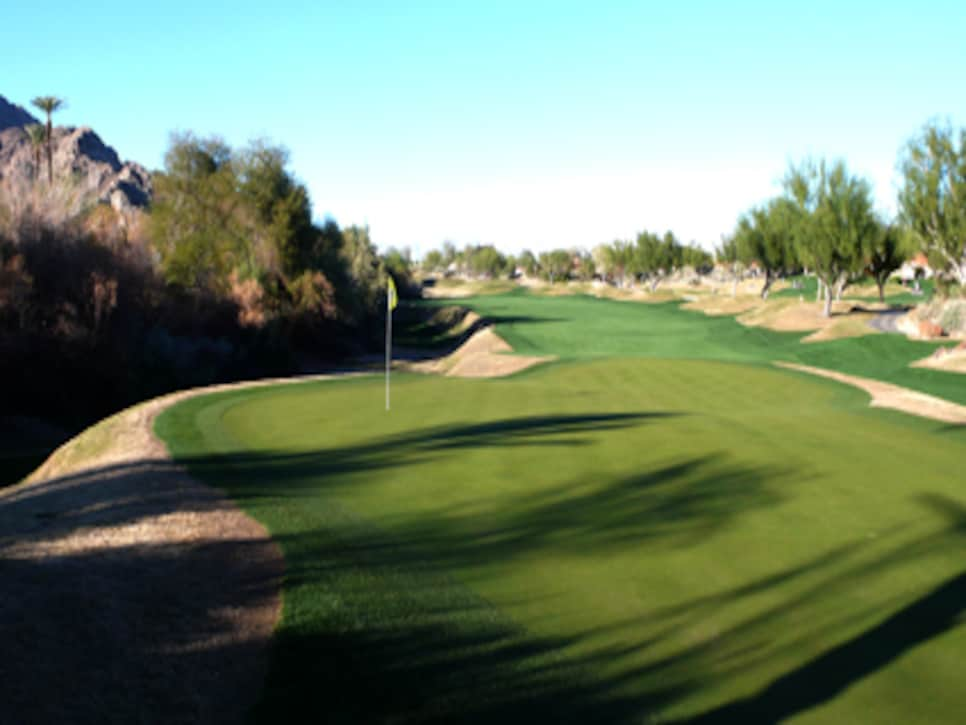 We had started on the back nine, so there were only two holes to play, and Miller and his caddie, Lewis Puller, figured the cut line was 10 under. Miller and Puller opted to play it safe this time. Miller laid-up to within 80 yards of the green and then proceeded to tug his wedge long and left of the narrow putting surface, which is protected by water on the right. "Quite honestly, it was nerves," said Miller. "I was feeling uncomfortable. It was very important to me that I made the cut."
Oblivious to Miller's score in relation to the cut line, and curious as to why Miller didn't try to get home in two from 215 yards, my partners and I were focused on trying to save par for the rather meaningless team score. Miller left himself with an eight-footer for par. Miller uses a belly putter and coming into Saturday, he was leading the tournament in putting, averaging 25 putts per round. His putting was off the day we were playing with him, he had missed several eight-footers already, but he made the one that mattered the most. He finished with an easy par on the last hole and he made his first cut on the PGA Tour. He had a modest celebration off to the side of the scoring trailer with some close friends from San Rafael, his hometown in Northern California.
Last week was about my best buddy on my bag all week as we went through a range of extreme highs and lows. And it was about getting the chills when I saw my dad, who made the drive over from San Diego for a day. It was about the Friday night Jam Session (which included Robby Krieger of The Doors, Tommy Thayer of KISS, Alice Cooper and many more). It was about sitting down with Ron White, the comedian, for a Q&A over appetizers and some beers (you'll read the interview in the April issue of Golf Digest). It was about shaking the fragile hand of Yogi Berra and the thick hand of Bo Jackson. And, of course, it was about the Hope Girls: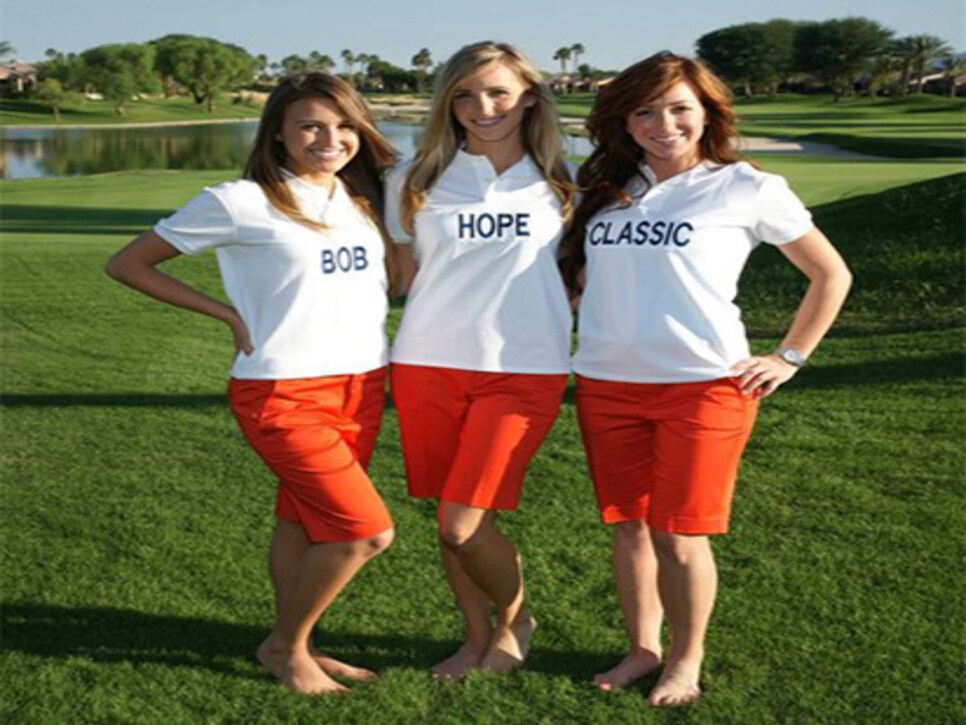 Kelly shot 69 on Sunday and finished T13. Trahan shot 74 to finish T61. It was Miller who got hot. He made one bogey, seven birdies and an eagle for a 64; a tie for the second best round of the day. He jumped 36 spots and finished T25, taking home his first official tour check for $39,875. (Miller played in the 2009 AT&T and missed the cut, but got a check for $2,030.)
"I'm sorry," Miller said later, over the phone. "I felt like I was friendlier to the groups I played with the first few days." Miller was quiet when he played with us, if anything he came off as shy, but very nice, and he was more engaging than Mayfair. "I felt like I was in my own world out there on Saturday. On Sunday I was relaxed, I felt comfortable. It felt good to be aggressive again."
Miller's low round is a 62 in a Nationwide Tour event. "That bogey [on the 14th hole on Sunday] was a slap in my face," Miller said. "It was a turning point." After the bogey, Miller birdied three out of the last four holes.
As a Stanford grad, I asked if he had spent any time with Tiger. "One year he had lunch with the team when he came to town to play at Harding Park," Miller said. "The team that is there now is closer to him than we were. I look forward to meeting him again this year and having that connection." Which will happen this week at the Farmers Insurance Open at Torrey Pines in San Diego. Tiger tees off on Thursday at 9:00 a.m., Miller is in the group right behind him.
I look forward to tracking Miller's progress as he continues his first year on tour. On Monday I sent the commissioner of my fantasy golf team an e-mail: "Drop Davis Love, pick up Zack Miller."
Then it was back to my reality as a travel editor, which isn't so bad.