The Loop
Birdies, Birds and Fish in Minnesota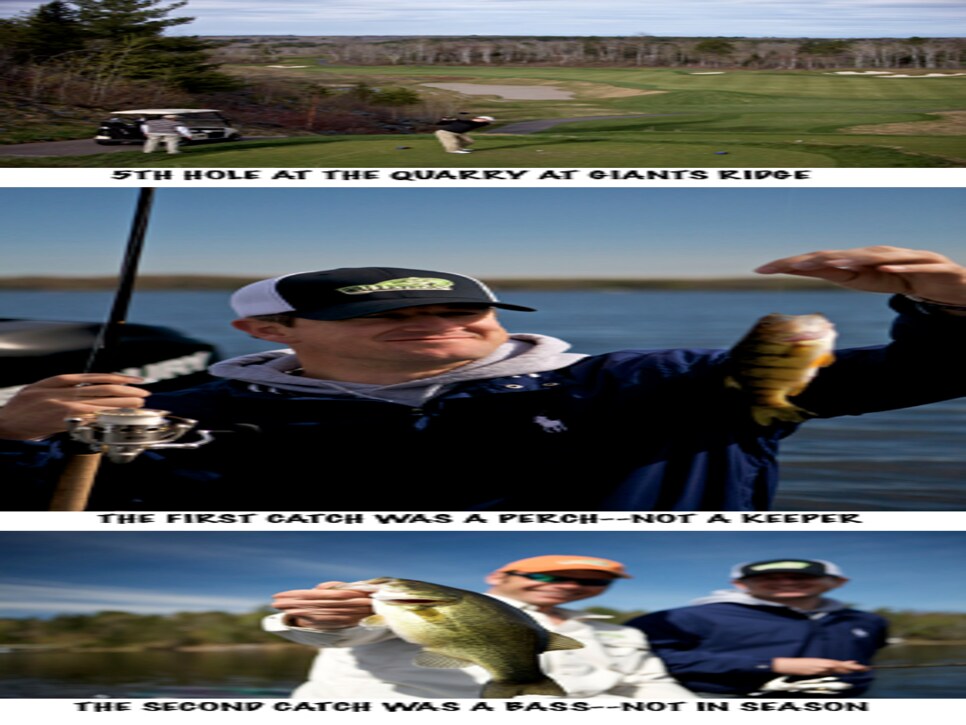 I was stunned to learn while examining our ranking of America's 100 Greatest Public Golf Courses that four of the top 60 are in Minnesota. California, where I played many great courses last month and where you can play almost 365 days a year, has only three in the top 60. How could this be?
So last week, I went to see Minnesota's Fantastic Four. You'll read the full story in the August issue of Golf Digest, but in four days and three nights I drove a total of 400 miles, stayed at three resorts, played 111 holes, caught one perch, one bass and a photographer (our lines crossed under the boat). I saw mailboxes shaped like fish, signs for $2 domestic tap beers, an active drive-in theater and a town hall under the same roof as a U-Save Discount Foods.
The four golf courses and their rankings are: The Quarry (#19) and the Legend (#59) at Giants Ridge, the Classic at Madden's Resort (#42) and Deacon's Lodge (#52).
There's a reason they're all ranked in the top 60--they're all very good, but my ranking is: Classic, Quarry, Deacon's Lodge and the Legend. Pasatiempo (#30) in Santa Cruz, Calif., is my favorite public course of the many I've played in the past few months. The Classic and the Quarry are almost as good as Pasatiempo, and the other two aren't far behind.
You can't go to the land of 10,000 lakes (I'm told the number is closer to 20,000) without doing a little fishing, so I made it part of my trip. It seems to me there isn't a person in and around  Brainerd, Minn., who doesn't know about Walleyedan's Guide Service. Dan Eigen, aka Walleyedan, was our guide in the search for walleye, a medium-sized freshwater fish in the Great Lakes.
After we saw loons on Gull Lake I said the scene reminded me of the 1982 movie "On Golden Pond," with Henry Fonda and Katharine Hepburn. I wanted to catch Walter--that's the name of the biggest fish in the lake that Fonda and his grandson try to catch in the film.
Walleyedan told me the name of the biggest fish in Brainerd is actually Jingles. The story goes that Jingles is so big and has eluded so many fisherman that when he swims by the boat you can hear the old rusty lures hanging from his mouth make a jingle sound.
Here's an edited version:
*"OF DOUBLE EAGLES, BASS OPENER"
The season has started and it's time to try and get back in the groove.
I was out Thursday a.m. with a senior editor for Golf Digest magazine, a buddy of his and a camera team (husband and wife). It was a quick trip, but a very memorable one. We didn't catch much for fish in our one-and-a-half-hour tour, but we did catch some. They got some awesome photos and an awesome story.
The best was the "double eagle."
We pulled into the last spot to fish for five more minutes, and I mentioned that we were on the 18th and we needed a double eagle to win (meaning we needed a big walleye for a photo). Not likely this late in the game, but it happened. Sort of.
As I was hooking a shiner on one of their rigs, I caught movement above. It was a bald eagle and then another. Not the kind of double eagle we wanted, but they sure thought it was cool and shot the heck out of it (with their monster zoom lens).
I usually give a two-minute warning when it's time to pull the pin for the day, and right at the buzzer, Matt hooked into what looked like a nice fish. It was, but it was a bass.
Have a nice Memorial weekend, and let's all remember the soldiers.
It was cool to see two bald eagles. It was Discovery Channel material to hear the loons go crazy trying to send some sort of signal to the eagles that they weren't welcome in the area. Unfortunately it wasn't bass season in Minnesota, but it is golf season. From June through September there are very good, inexpensive courses. If a fishing pole is your 15th club and you want to play four of America's 100 Greatest Public Courses, move Minnesota up on your list of places to play.