The Loop
Billy Hurley's big win, Tiger in the booth, an ill-timed speeding ticket, and models with golfer tans
Welcome to another edition of The Grind, where we highly recommend NOT getting a speeding ticket on your way to the golf course. One minute you're all smiles and bopping your head along to a Justin Timberlake song, and the next, an otherwise beautiful day is ruined. "Quiet, please: Mentally weak golfer on the tee!" As you can imagine, my round didn't go so well. But a win by an inspirational tour pro coupled with the fact that I'm going on my annual buddies golf trip this week has me back in a better mood. Sing it, JT!
Time to groove on with what else has us talking this week.
Billy Hurley III: Peter Kostis deemed it "the story of the year in sports," and he's certainly got a point. Hurley, a Navy grad who served his country for five years, captured his first PGA Tour title just outside our nation's capital. And he did it less than a year after his father's tragic suicide. "It's been a hard year," said Hurley, who entered the week No. 607 in the Official World Golf Ranking. "It's been a really hard year, so it's nice to have something go well." Now there's a golfer who can overcome adversity.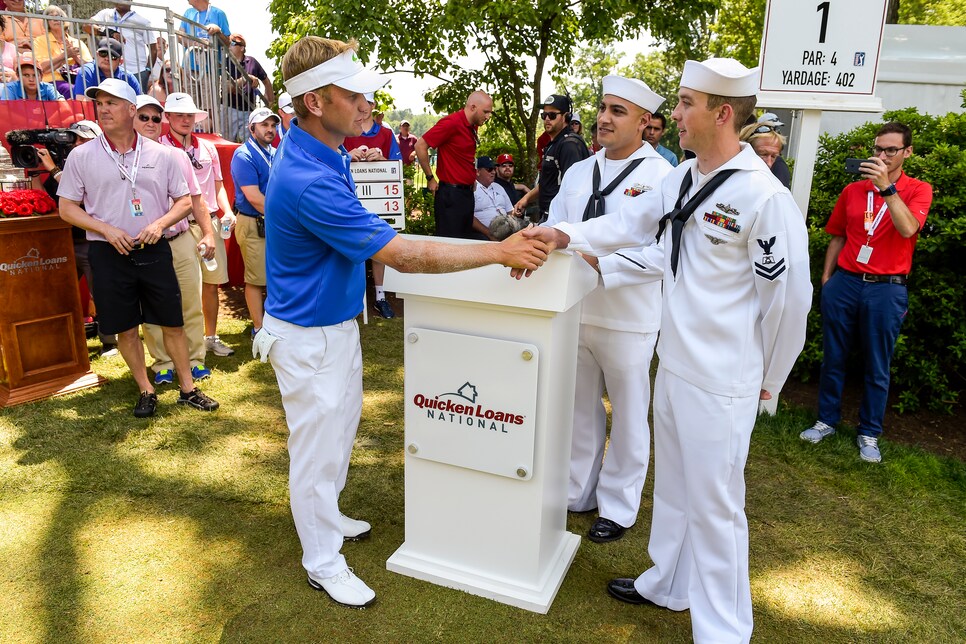 Random tournament fact: The last time the HGGA Championship was contested in Ocean City was 2001 when I was still in college. The 15 years is the longest such gap in the event's prestigious history. And the five years I've gone without winning golf's "other green jacket" seems even longer. I forgot I used to be skinny. . . Oh, you were looking for a nugget about the WGC? Well, it's in Akron, which just happens to be home to the world's greatest athlete, LeBron James. You can expect to see a few more No. 23 jerseys in the crowd than normal.
RANDOM PROP BETS OF THE WEEK
-- I will get some good sleep Tuesday night: 1 MILLION-to-1 odds
-- Tiger Woods will play this season: 10-to-1 odds
-- Tiger Woods will NOT let us know when he's playing until the last minute: LOCK
THIS WEEK IN DUSTIN JOHNSON-PAULINA GRETZKY MAX ROTLUFF-EMILY COLLINS PUBLIC DISPLAYS OF AFFECTION
There's a good chance we'll be seeing and hearing about their on-course accomplishments in the future.
Check out this 16-month-old who has discovered an ingenious way of practicing his game in the house:
Vijay Singh would be proud.
"When the chairman of the Joint Chiefs of Staff calls, you answer the phone." – Billy Hurley III uttering words that no other PGA Tour winner has ever said before.
THIS WEEK IN MODELS PLAYING WHO PLAY GOLF
Not bad, Hayden, but I've still got you beat.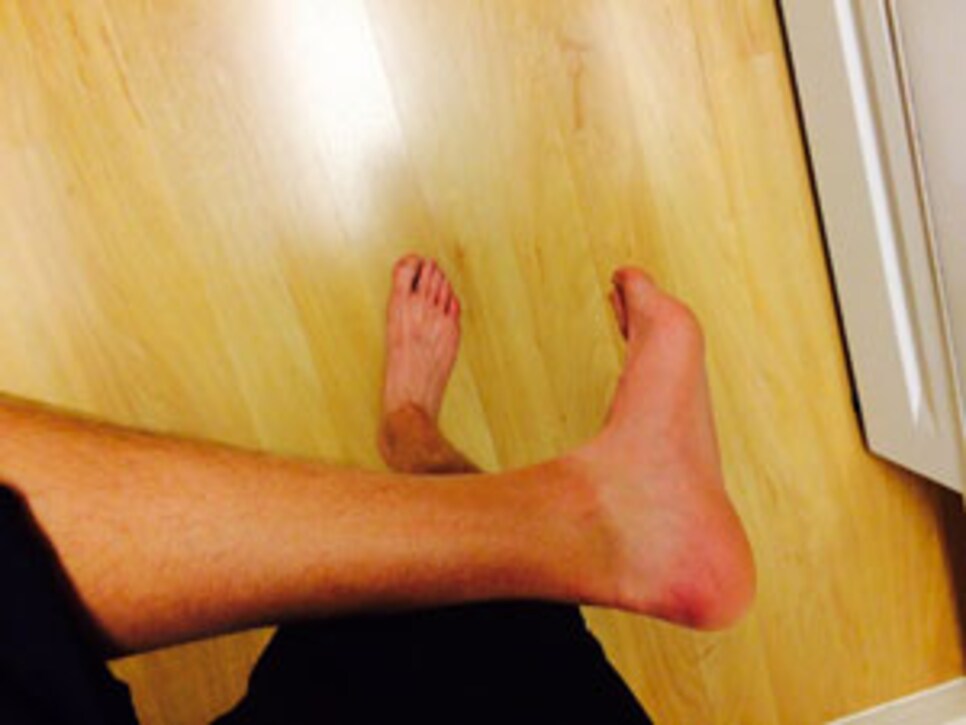 And unfortunately, it's really hurt my career as a sandals model.
THIS WEEK IN BELEN MOZO MAKING US FEEL BAD WITH HER TRAINING
Another week, another insane workout video by Belen:
After, she hit the beach:
Whatever she ate that night, she deserved it.
Lydia Ko won for the third time this season at the NW Arkansas Championship. It doesn't quite make up for her playoff loss to Brooke Henderson in the year's second major, but it was a solid bounce back. . . . Speaking of trying to bounce back, Muirfield is seeking another vote on whether to allow women members after the first one failed and the course was taken out of the British Open rota. Good idea, guys. . . . Charlie Woods, the 7-year-old son of Tiger, finished T-2 in his first tournament, a U.S. Kids Boys 7 event. Charlie shot 19 over for nine holes. Sounds like he could be giving dad strokes soon. . . . Congrats to Golf Digest Editor-in-Chief Jerry Tarde for making his fourth career hole-in-one at the Country Club of Fairfield: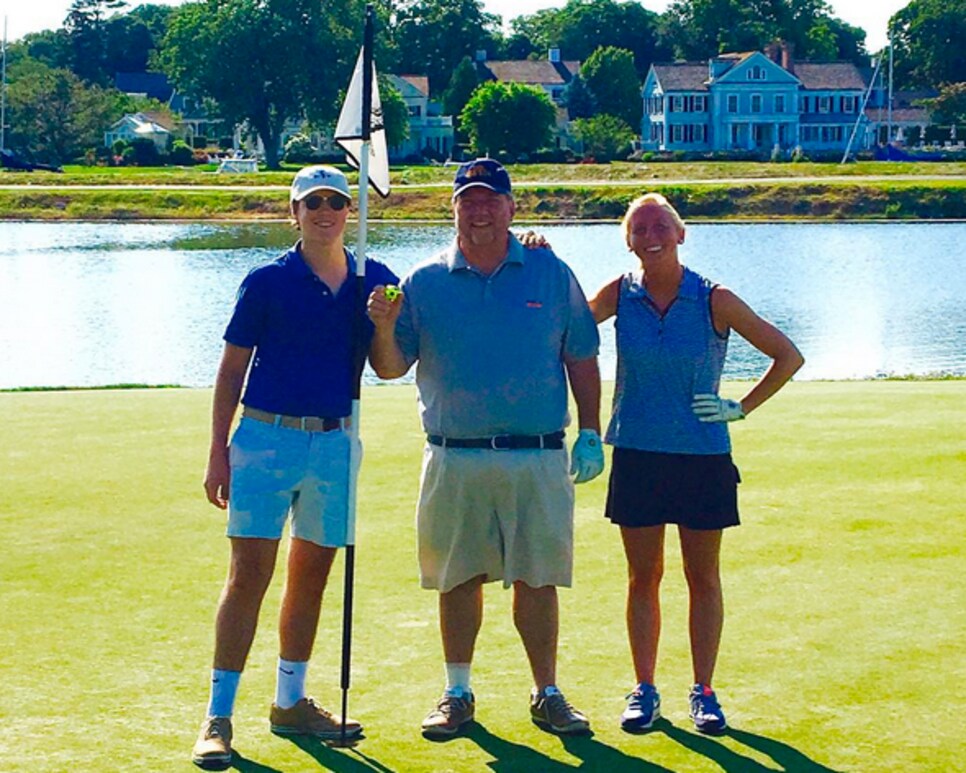 One of these days I'll join the club. Right? . . . And congrats to Mike Johnson and Steve Hennessey for winning the inaugural "Golf Digest Trainwreck" at Pound Ridge Golf Club: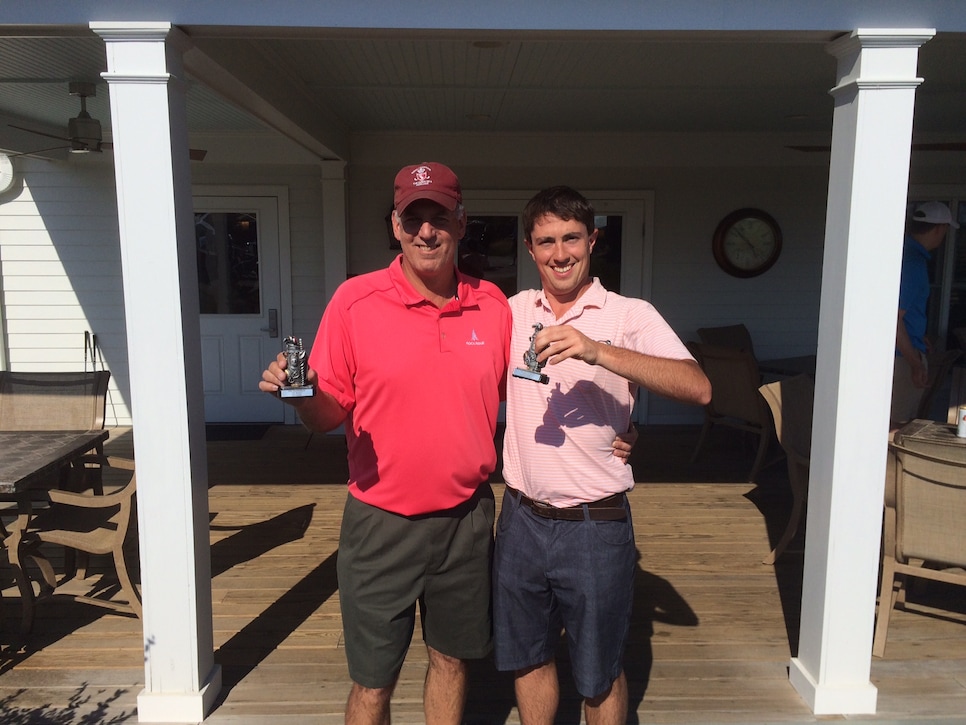 Steve (right), a 15.4 handicap, shot a career-best 83 at one of the toughest tracks in the area. With that kind of sandbagging, he'd fit right in on my golf trip.
RANDOM QUESTIONS TO PONDER
Will LeBron James ever take up golf seriously?
Would Tiger Woods consider coming on my golf trip?
Would Billy Hurley III consider being my mental coach?