News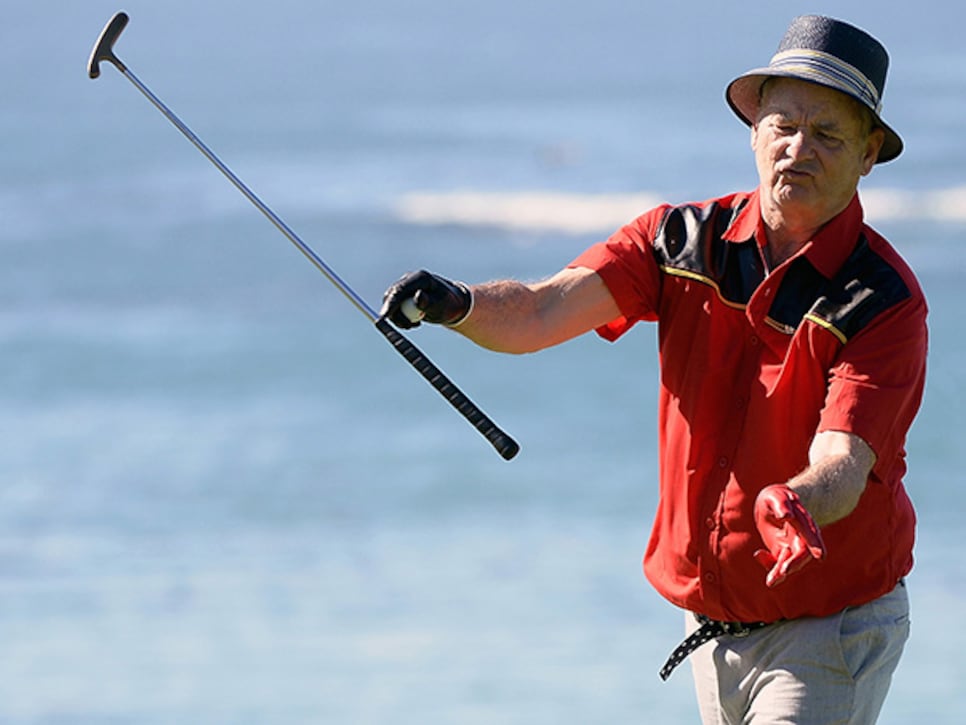 Editor's Note: This story originally appeared in the Feb. 16, 2015 issue of Golf World. To get Golf World every week, sign up here.
On the 18th green of Monterey Peninsula C.C.'s Shore Course in the first round of the AT&T Pebble Beach National Pro-Am, journeyman Dicky Pride is looking over the kind of round-closing eight-footer that determines how dinner goes down. Bill Murray measures the man and the moment, and decides some stage setting is in order.
"From Tuscaloosa, Alabama," Murray begins, his improvisational chops churning, "very close to Cuba over there … where the elephant hunting is very good … Dicky Pride."
Although he doesn't get the obscure Groucho Marx allusion, Pride chuckles with the throng and gets over his ball. But Murray isn't done zooming through the PGA Tour's unspoken no-fly zone, breaking the customary silence with a well-meant but late "knock it in." When Pride does, the place—with Murray leading the fist pumping—erupts.
Arguably no one on earth is better at making the mundane memorable than Bill Murray, and his gift finds particular expression in golf. The comedian's pro-am rounds produce an uncanny flow of distinctive moments, fueled by a beyond-showmanship obligation to leave a personal signature on every encounter. Murray seems to live by the E.M. Forster directive: "Only connect."
For example, when, after putting out on Monterey Peninsula's 17th green and a bevy of adult women on a patio scream his name, Murray joyfully called out "Cougars!" and strutted over for a few sips of wine. Then, in front of the 18th tee, 11-year-old Rachel Ellison of Palo Alto shyly asked him for an autograph. Murray paused, then suddenly swung her low in a ballroom-dancing dip.
It was all more fodder for the website, billmurrarystories.com, dedicated to people recounting random meetings (most of them true) in which Murray applied his magical spin. "I try to be alert and available—available just for life to happen to you," Murray recently told Charlie Rose. Murray confided once to longtime caddie Andrew Whitacre that when choosing gallery members to interact with, he looked "for the ones with kind eyes." And though he is big hearted, Murray is also honing his craft. "You make it difficult for me, I will make it work," the Academy Award-nominated actor said to Howard Stern. "Put me in a box … that's where you really have to be creative."
At the AT&T, where he first played in 1992, golf becomes Murray's sometimes incongruous and challenging "box," and the sport should be grateful. At a time when the game is not only desperately looking for new players but struggling to keep disaffected ones, Murray more than ever is an antidote—a cool, modern connector with the persona to validate an essentially old-world pastime across cultural and generational lines.
Of course, good comedy tells the truth, and Murray's innate honesty compels him to send up the game's hoary traditions, from his nuanced grasp of a vainglorious touring pro acknowledging the crowd to mixing and un-matching the most garish fashion designs of the sport's history. What helps is that Murray is an authentic golfer. A former schoolboy caddie in Chicagoland, he retains a powerful swing at 64, and still knows the pleasure of doing well in a member-guest and "using that pro-shop credit to get a vest that's marked down." All of this allows for bits that are affectionate, and of course, funny.
Lately, Murray has been more forthcoming in extolling his game. Some of his candor may be from time loosening the shackles of the anti-establishment perspective of "Caddyshack," where no golfers were portrayed as admirable. But most of it seems to come from a time-tested belief that golf is enriching and integral to his life.
"I've met a lot of extraordinary people through golf," Murray told Howard Stern last year. "You learned how to treat people by how those people treated you." In an interview with ESPN's John Walsh, Murray said, "It's a game of self-report, the only one. People who seek that game just are of a different fiber."
Perhaps the turning point in his public endorsement came after he was so genuinely moved to have partnered with D.A. Points to win the AT&T pro-am in 2011, particularly because Points also won the tour event and credited Murray's approach with helping him handle the pressure. Says Murray, "It's the one time I didn't have anything to say."
Murray missed the 2014 event, but when he showed up at Pebble Beach last Wednesday for the traditional Celebrity Challenge, it was clear the afterglow endures. Turned out in a muted gray ensemble topped by a black Borsalino (OK, he had aqua wing-tipped shoes), his demeanor was decidedly mellow. "Just trying to channel The Slammer," he said, the embodiment of one of his mottos: "The more relaxed you are, the better you are at everything."
Asked if he's felt his role in golf expanding, Murray hesitated. "Do you know Johann Rupert?" he asks, referring to the South African patron of golf. "He invites me to the Dunhill Links at St. Andrews, which so many people who really love the game attend. Last year he got up in front of everybody at this dinner and said, 'Every single person in this room has received more from this game than they've given to it.' I thought that was something."
"Yes, I did say that," Rupert says. "Basically that we all have a debt to pay back to golf. And in my opinion, Bill Murray does that as well as anyone. He's a wonderful man."
Adds David Maddocks, chief marketing officer of Cole Haan, which designed Murray's retro/avant-garde shoes and is working with him to develop some commercials evocative of Murray's mock-mystical "Find My Court" ads for the NBA in the 1990s: "Bill shows us all how to be open in our lives."
Murray was open at Pebble Beach, beginning his last round by throwing bananas to the crowd on the first tee (cast members of his current movie, "St. Vincent," report he threw banana peels in front of them on set). Pride, who had never played in a group with Murray before, got in the spirit.
"At first I was a little worried that he would be distracting, but he was not at all," Pride said. "When Bill was doing his thing, I just waited until he finished. The bonus is that even when he's just talking to the players, he is truly hilarious. Like we're walking down the 15th at Pebble, and he breaks into Carl Spackler. Something I'll never forget. He definitely has a place in the game. I mean, golf is supposed to be fun, definitely at the recreational level, and even for tour pros."
Murray was under-golfed this year, and he and Points missed the pro-am cut. Murray finished his final round Saturday visibly weary, the effort he'd given playing and entertaining visible.
I try again. What do you think about being considered important to golf? Murray winces. The last thing he wants is for his actions to become studied rather than spontaneous, in any way complicated, and especially not pretentious. "Look, I'm a caddie, and I'm following that," he finally says. "That's when I was introduced to comedy, and I'm being the way I was from the beginning. But over the years I've met so many amazing people in golf, people of character. It's just fun to make them laugh."
These days, maybe more than ever, that's important work.