The Loop
Bill Haas finally living up to lofty expectations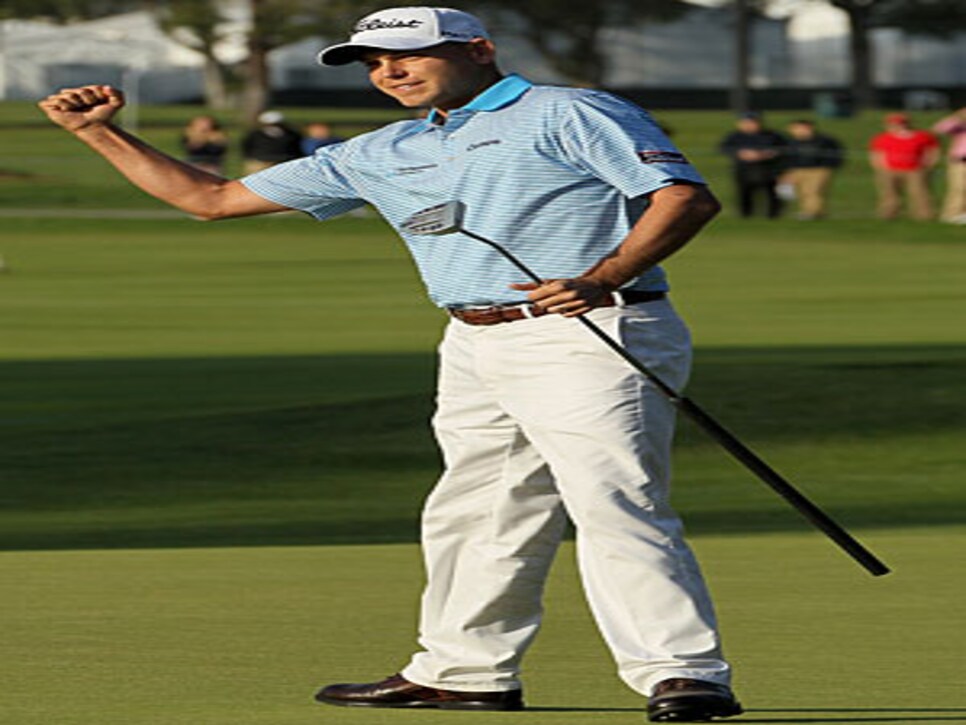 MARANA, Ariz. -- Generally speaking, three putts is considered a bad thing in this ludicrous game. But three putts last Sunday at Riviera CC combined to produce one of the best finishes of the early season. Phil Mickelson makes one and the amphitheater that surrounds the 18th green erupts. Keegan Bradley tops him to turn the playoff into a threesome. Bill Haas was less than a full-blooded wedge away, taking in the audio as he stayed warm on the practice ground, already in. "You're on the range, hitting balls, going, there's probably going to be a playoff. But, when there is a playoff, it's a different feeling," he said. At the little beastie that is Riviera's 10th, Haas dispatched them both on the second hole of sudden death with a 40-foot bomb of his own.
"My putting was the entire reason I was in that playoff," he said prior to Accenture Match Play Championship. "It was fitting to make a long putt like that. That was probably the best putt I've ever made in my career, because of the length of it and the type of putt it was. If you miss it a foot left, it goes almost off the green, maybe in the bunker. If you get it a little right, it doesn't break, it stays right. It was just a hard putt. In that situation, I ranked that as my best putt ever."
When coupled with his splash-out recovery from the water hazard in the playoff for the Tour Championship and the FedEx Cup last year at East Lake CC's 17th, Haas has produced a pair of the tour's most dramatic moments in a few short months. Big things were expected of the former Wake Forest University All American and the big things are beginning to materialize, even if it didn't happen fast enough to suit some people. "I wasn't completely ignorant to how good everybody is out here," said Bill, whose well-known family tree includes dad, Jay, and uncle, Bob Goalby. "Even as a senior in college, I couldn't beat my dad. So, I knew if I couldn't beat him, I couldn't beat the rest of the guys out here. Deep down, I knew it was not the easiest thing to get out here and play, much less win. Guys like Tiger and Phil, even some of the young guys, stars, your Rory McIlroys, they're not saying that because they're really, really good. And I'm trying to get there. I think I can get better. And maybe up to that level. I don't know if there's any 'why' to why it took me five years to win."
This is only Haas' second appearance in the Match Play. Last year he lost in the first round. His opponent tomorrow is Ryo Ishikawa. If anything, the expectations for the 20-year-old Japanese star are even greater than the ones that accompanied Haas out of college. It should be a good day for great expectations.
(Photo: Stephen Dunn/Getty Images)