Courses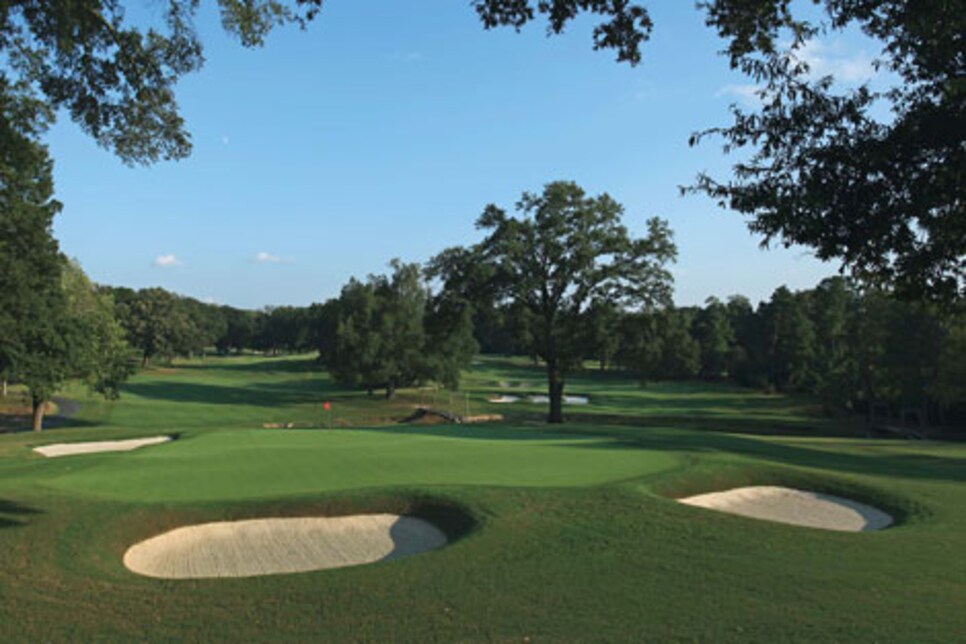 Best New Remodel: Ron Prichard distilled and updated Donald Ross in redoing Charlotte Country Club. Typical is the par-4 eighth, which has a rebuilt green that recaptures original contours, and restored bunkers with crisp, clean lines. View more photos of this course >
. OK, it began as a nine-hole sand-green course designed by three-time Carolina Amateur champion Fred Laxton in 1910, but in 1915 it was remodeled and expanded to 18 by Ross, who added grass greens in 1925 and further tinkered with the layout in 1942 and 1947. Robert Trent Jones did some remodeling in 1962, but the Charlotte Country Club course on which Vinny Giles won the 1972 U.S. Amateur and which Golf Digest ranked among America's 100 Greatest from 1985-'92 was considered a vintage Ross design.
Still, before the USGA awarded the 2010 U.S. Women's Amateur to the club, some members debated whether their course should be modernized by a big-name architect. In 2006, somebody discovered a 1938 aerial of the course in the files of Mecklenburg County's Soil and Conservation Department.
It revealed what few members knew: Trent Jones had vastly altered their Ross design in 1962. Besides re-arranging the final three holes to make room for a decent range, Trent had remodeled almost every green and relocated almost every bunker. Not that there was anything wrong with possessing a Robert Trent Jones redesign, but this is North Carolina, Donald Ross' second home.
So the club retained Ron Prichard, an architect hailed by many (including the Donald Ross Society) as the pre-eminent expert on the "restoration" of Donald Ross designs. Prichard, now in his "early 60s," takes pride in that reputation. (His advertising boasts, "All's well, fellas. Your work is in good hands.") But he's also savvy enough to recognize that it does no good to simply replicate holes shown on an old aerial photo. Times have changed. So has the game, from equipment to maintenance practices to green speeds.
His work at Charlotte involved more than 12 miles of drainage pipe, 3,200 tons of bunker sand and SubAir systems under every green. He added new back tees to lengthen the course to 7,335 yards, par 71, and relocated seven greens from Ross' original locations. It's enough to make a Ross devotee wince. But Prichard also removed thousands of trees and 60 percent of the cartpaths. He ripped out ugly edging on Briar Creek and replaced it with natural bank edges. He dug up an old stream that Jones had piped underground. Most important, Prichard rebuilt all the greens and bunkers in the style of Donald Ross, to reintroduce not just the look and feel of a Ross design but its strategies and pitfalls.
"In Ross' day, the fairways were 50 yards wide," Prichard says. "Today, we use narrower fairways [about 35 yards wide] because of the improvement in golf equipment. If you didn't, there wouldn't be a [fairway] bunker that ever came into play unless you played the wildest shot imaginable."
Original green contours couldn't be discerned from a grainy aerial, so Prichard improvised on internal slopes and pin positions based on other Ross greens he'd seen over the years.
"My mission was not to dream up new ideas," Prichard says.
He did invent something new for the par-3 17th. Prichard disliked the Jones replacement hole, so he built a new par 3 from thick woods to the right, in the process creating the biggest and most controversial green on the course. It's wide and shallow with bold humps and bumps.
But it works, because like everything else now at Charlotte Country Club, it carries the essence of Donald Ross.
__ • South San Francisco, Calif. • Yards: 7,216 • Par: 72 • Fee: $102,000 • Kyle Phillips • calclub.org __4. Austin C.C.
__• Seaside, Calif. • Yards: 7,024 • Par: 72 • Fee: $160 • Gene Bates • 831-393-3006 • bayonetblackhorse.com