Courses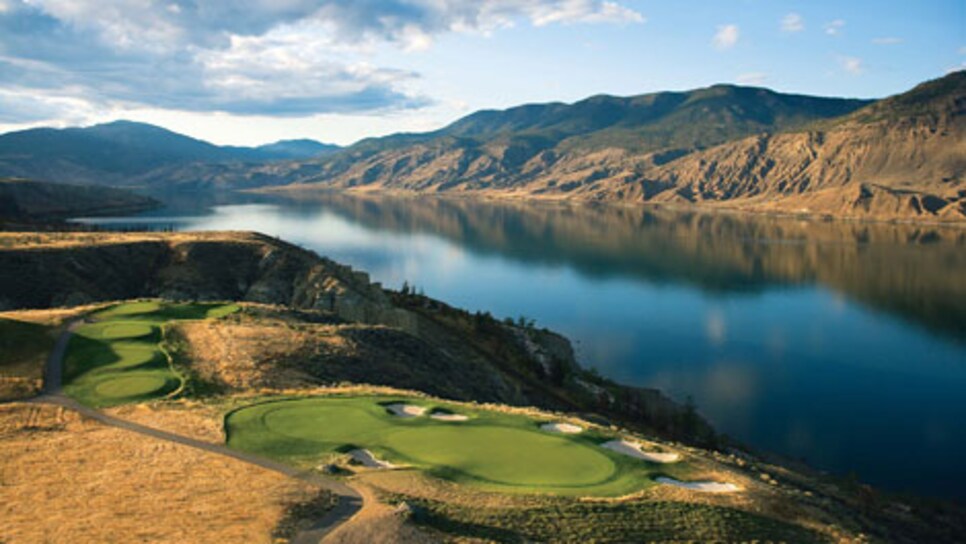 Tobiano, our Best New Canadian Course of 2008, punctuates what a phenomenal year it was in golf architecture. It's as starkly dramatic as Chambers Bay and as scenic as Gozzer Ranch but has its own tranquil, intriguing charm.
Its desolate location makes it unique. It traverses a barren badlands within a mountain setting, a high desert (receiving a mere seven inches of rain per year) hard against a massive reservoir, 18-mile-long Kamloops Lake, fed by the Thompson River.
McBroom calls the property "multi-dimensional," the best site for a golf course he has ever seen. He fiddled with 20 routings before deciding on the one that best flows across the plateaus, up and down the gullies and over the fissures that disrupt the land. It resulted in five par 3s, five par 5s and just eight par 4s, every one of them dramatic and strategic.
Some holes have the feel of Ireland's Ballybunion, in particular the par-4 fifth, which plunges into a gulch framed by near-vertical walls of rock-hard clay that won't support any vegetation. The gulch was the ideal width for a golf hole, and McBroom insists he designed nothing other than a tee and green.
Kamloops Lake is in view from some point on every hole, and those holes closest to it are reminiscent of Pebble Beach, particularly the sixth, where the horizon green seems to be floating in the water beyond (an "infinity green," McBroom calls it), and the par-3 15th, playing parallel to the shoreline atop a 100-foot bluff.
With gleaming bent-grass tees, fairways and greens contrasted against flinty, barren no-man's-land between holes and fingery McBroom bunkers, Tobiano looks linkslike in most spots (there are some scattered firs on the back nine) but demands an aerial game as well as a ground one.
The day I played Tobiano, I stood on one tee and gazed across the lake, mirror-like in appearance because no powerboats are allowed on it. On the far shore, a mile away, a long freight train moved just above the water line, dwarfed by a towering mountain range. Each car was the size of a thumbnail, reflected in the serene water, like the finest model-railroad display ever created. It looked surreal, which is perhaps the best way to describe the entire Tobiano experience.
BEST CANADIAN 1. TOBIANO G. CSE. • Kamloops, B.C. • Yards: 7,328 • Par: 72 • Fee: $130 • Designers: Thomas McBroom • 877-373-2218 • tobianogolf.com 2. WYNDANCE G.C. • Uxbridge, Ont. • Yards: 7,479 • Par: 72 • Initiation Fee: $70,000 • Designer: Greg Norman • clublink.ca __3. COBBLE BEACH G. LINKS__• Owen Sound, Ont. • Yards: 7,134 • Par: 72 • Fee: $135 • Designer: Doug Carrick With Steve Vanderploeg And John Anderson • 519-370-2173 • cobblebeach.com