Shots of the year
The 15 best shots of the year from the 2022 PGA Tour season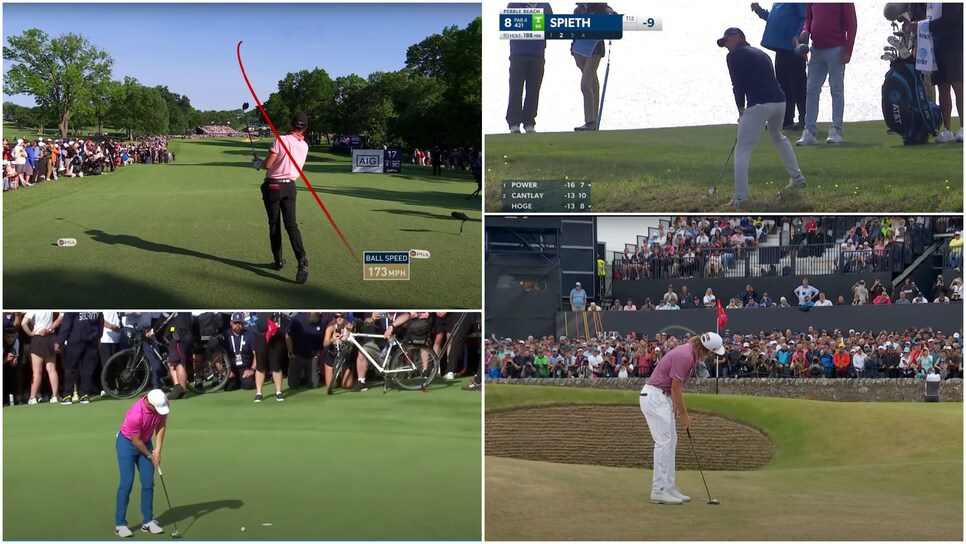 When golf fans look backwards, they don't think in terms of years, or seasons. They think in moments. Remember when Jordan Spieth hit that shot off a cliff at Pebble Beach?
There were plenty to choose from this year, so let's dive into a few of the shots that we'll rememeber.
Yes, this happened in 2021, but it was part of the 2022 season because I'm counting it. Homa's clutch chip-in and subsequent victory was another proof point that he deserves a spot alongside the best players in the game today. It also rattled Danny Willett, who proceed to miss two makable putts, and give us a thrilling finish.
Hideki Matsuyama's 3-wood
It's quite possible we got the best shot of 2022 in just the second week of the year. What more is there to say about it? From 276 yards, Hideki mashed an unholy 3-wood into the sun to tap-in range on his first playoff hole. Literal perfection.
Jordan Spieth's cliff shot
Spieth's ball is on a downslope toward the edge of a cliff. In order to play this shot properly, you need to keep most of your weight on your front foot, and align your shoulders with the slope. It's a gutsy shot, to say the least.
Harry Higgs' Phoenix Open birdie
Who are we kidding, this is the defining shot of 2022. He said he'd flash the crowd if he made birdie, so birdie he made, and flashing he did...
Collin Morikawa's nasty flopper
Riviera's grass is notoriously tricky to chip off, but apparently Morikawa never got the memo. The contact required to hit a short-sided chip like this makes it just an unbelievably nasty shot, one only a truly elite ball-striker like Morikawa could execute.
Cameron Smith's Players birdie
You'd like to think that with the Players Championship on the line, Smith would take dead aim at that pin. Logic would suggest he was aiming slightly left of that pin and trying to hit a cut, then pushed it slightly. But it hung on just enough, caught the right side of the green, and made a birdie we'll remember for a long time to come.
Keegan Bradley's hero shot
I still can't quite fathom how this shot turned out this well. Incredible stuff that helped Bradley win his match at the WGC-Match Play, but a devestating blow to the 'don't try the hero shot' movement.
Scottie Scheffler's pinestraw recovery
When Scheffler popped into the lead at the Masters once again, it was both expected and still surprising. Was Scottie really about to cap his amazing hot streak with a green jacket? His quest threatened to unravel after a nervy, yanked drive left of the fairway of 18 during his third round. But Scottie wouldn't let that stop him. He got a good drop, and mustered something onto the green to dampen his chasers' hopes.
Jordan Spieth's bunker shot
Another Spieth shot, this time en-route to victory. He birdied Harbour Town's picturesque 18th hole in regulation to force a playoff, then up against the lip in his showdown with Patrick Cantlay, wedged his ball from an awkward lie to gimmie range.
When Tiger told JT he needed more shots in his arsenal, he took the advice to heart. In his 2022 PGA Championship playoff against Will Zalatoris, his high-cut driver came in handy. It landed soft and kicked up just enough to set up a decisive two-putt birdie.
Also, we can't talk about the PGA Championship without sparing a word for poor Mito. He looked like he was going to hold on just enough, but his drive on the 72nd hole proved fatal. This is a golf swing when nerves have taken over, plain and simple.
Rory McIlroy's Canadian victory
Rory was roasting his driver to perfection all week, and fluttering high-cut wedges into greens. It's a combination that can't be beaten, and during the Canadian Open, more iconic was his victory putt with fans surronding the green on 18. He had verbally sparred with LIV CEO Greg Norman earlier in the week, then let his clubs do the talking on Sunday.
Matt Fitzpatrick's bunker shot
There are so many things that could've gone wrong from this position for Fitzpatrick. Catch this shot the tiniest bit heavy, and Will Zalatoris is your 2022 U.S. Open champion. Fitzpatrick rose to the occasion. He nipped his ball off the sand to perfection into a smart target in the middle of the green, securing a par and his first major trophy.
Cameron Smith's Open putt
Pick the hardest shot around the 17th green at St. Andrews, and this may well be it: baked-out greens, a tight lie, and a tucked pin with no room to work with. Cameron Smith navigated it by trusting his putter: He played the break so his ball rolled around the bunker to within 10 feet. He made that one, too, and lifted the trophy as a result.
The 2022 season wouldn't have felt right without a Will Zalatoris victory, and we got one at the FedEx St. Jude Championship. Facing a dastardly downhill 10-footer to shoot 65, Zala knocked it in and celebrating by screaming: 'What are they gonna say now?' He won the subsequent playoff for his first tour victory.
Drama surrounding LIV players spelled doom for the International Presidents Cup team. But Tom Kim rose to the occasion. His 10-foot birdie putt to beat Patrick Cantlay and Xander Schauffele was a huge momentum-booster for the Internationals, and a much-needed moment for the event.