The Loop
Bernhard Langer spent his day keeping tabs on the USA-Germany World Cup game
But Langer had something else on his mind Thursday: the United States-Germany soccer game, a World Cup Group G contest that would determine both squads' fates in advancing to the Round of 16 (Germany was a near-lock).
Langer said Wednesday he hoped both teams would advance; he has a house in Boca Raton, Fla., and respects German-born U.S. coach Jurgen Klinsmann. He got his wish -- Germany's 1-0 victory, coupled with Portugal's 2-1 win over Ghana, sent both Germany and the U.S. into the knockout stage.
"In the forefront today was golf, but the crowd kept me informed," Langer said after his round. "They told me everything, updates every 15-20 minutes. I'm very happy that both got through; they were the two better teams in the group. They were the two teams that deserved to make it."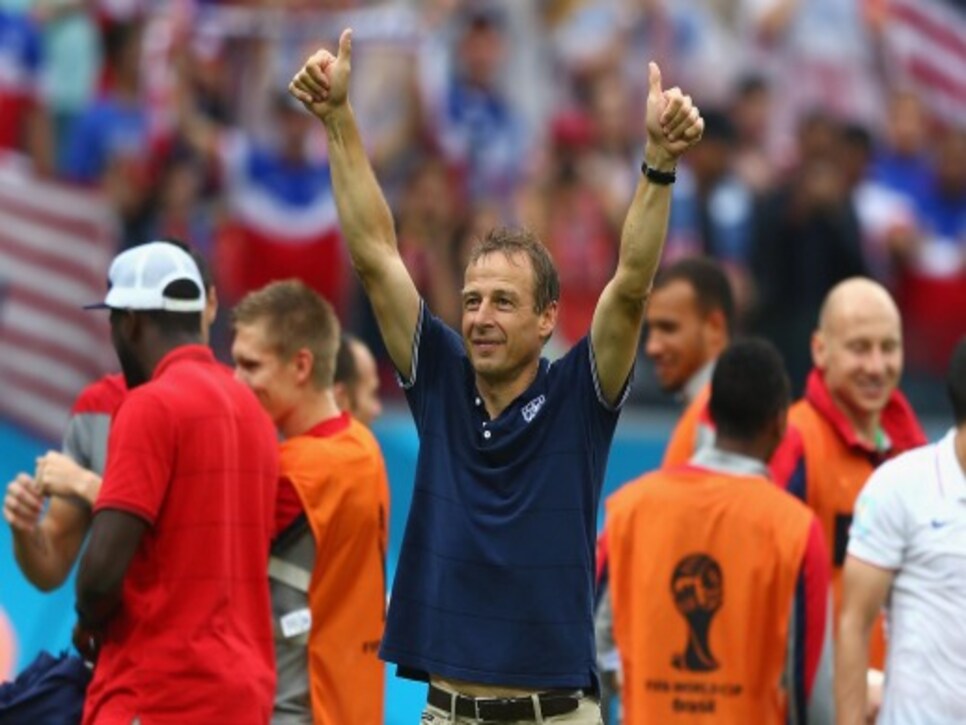 Overall the crowds weren't impressive during the opening round, but a sizable gallery was stationed near the ninth green and 10th tee, so Allen and Triplett took the opportunity and asked the spectators the result when they made the turn at around 2 p.m. They were thrilled when learned the U.S. had lost but still advanced.
"If America wasn't in it, I couldn't care less, but they are, so I'm watching," Allen said after shooting two-under 68. "I'm putting it on in the hotel room. It's been more entertaining than I had thought. As a little kid I played soccer but was more into other things -- football, baseball, basketball, tennis. But still, this has been fun to watch."
For the most part, players with early tee times weren't keeping tabs on the soccer as they competed but were eager to hear once they finished their rounds. Bart Bryant was happy when he learned the U.S. had advanced, and his caddie, Greg Poston, was especially amped.
"You got some good news for me?" Poston excitably asked a reporter when the subject was broached.
Jeff Sluman, sporting an American flag emblem on the side of his hat, was also pleased to learn the outcome.
Everyone has their sporting preferences, and soccer has never been the most popular choice among Americans anywhere -- golfers and non-golfers. Still, this year's World Cup has gained  attention across the country, and a sampling of Champions Tour golfers reflects that.
And with the tour taking next week off leading into the U.S. Senior Open, we know what will be holding Langer's interest.
"That's what I'll be doing next week when I'm off," he said. "Watching games."