PGA Tour Champions
Bernhard Langer's bid for record 46th senior victory unravels as Ernie Els wins Hoag Classic by 1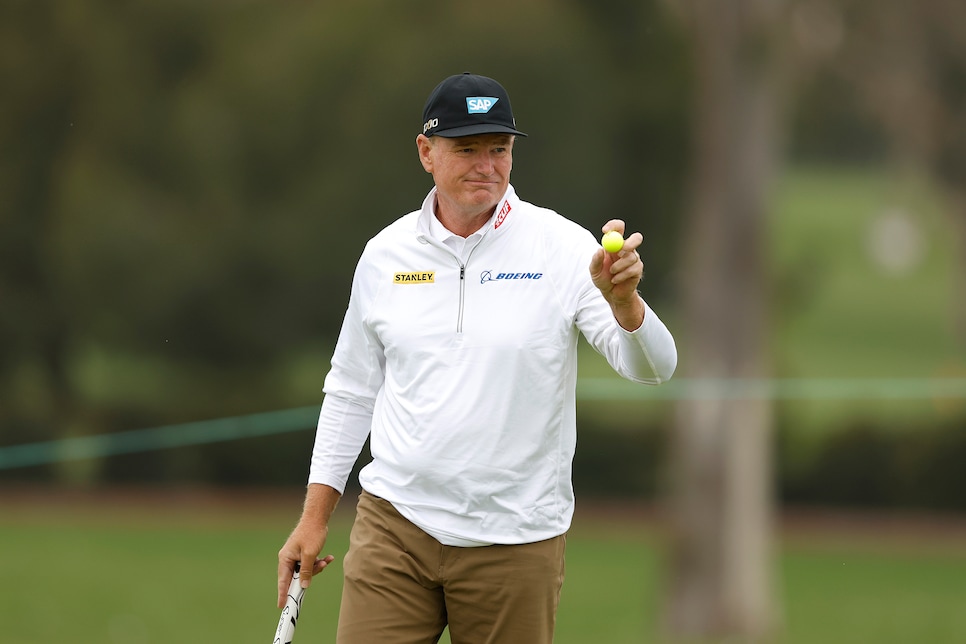 Bernhard Langer's bid for a PGA Tour Champions-record 46th victory went awry on the back nine on Sunday, clearing a way for another World Golf Hall of Famer, Ernie Els, to win the Hoag Classic.
Els, 53, who began the final round trailing Langer by five, birdied two of his final three holes on a cool, wet day at Newport Beach (Calif.) Country Club to complete a bogey-free six-under-par 65 and beat Doug Barron and Steve Stricker by one. It was Els' third senior victory and second in this tournament.
Langer, 65, entered the final round with a one-stroke lead, still led with seven holes remaining, but fell from a three-way tie for the lead with a three-putt bogey at 14 and another three-putt bogey at 17 ended his bid. He shot a two-over 73 and fell to a tie for seventh.
"Basically it came down to the putter," Langer said. "I didn't putt well. I missed two very short ones and had whatever, a couple of three-putts. Didn't play too bad I played good enough to shoot one or two under or something. That would have done it, but the putter was not good enough."
His next opportunity to set the record he now shares with Hale Irwin for most senior victories will be the new Galleri Classic in Rancho Mirage, Calif., that begins on Friday at Mission Hills Country Club.
Els hadn't won since October 2020, and he had to wait out Barron playing the 18th hole with a chance to tie and force a playoff. But Barron missed a four-foot birdie putt, giving Els the victory.
"Even at our age, even on the Champions Tour, we still want to get better and get to where we're comfortable and I'm getting to that stage," Els said. "For a long time in my 40s I didn't play very well. To get that confidence back has taken awhile, but rounds like this, tournaments like this, it's coming back a little bit."