AUGUSTA, Ga. -- Somebody needs to have a word with Bernhard Langer and remind him that 2016 was supposed to be the year he faded from golf's consciousness, not contend for a third Masters title and chase golf history.
After shooting a two-under 70 in Saturday's third round, the 58-year-old German sits at one-under 215, tied for third and within two strokes of leader Jordan Spieth.
When the anchoring ban went into effect in January, it was presumed Langer would be the tour pro most impacted. It was the long putter that cured the World Golf Hall of Famer's short-game woes more than a decade ago and fueled his dominating, 26-victory run on the PGA Tour Champions. It also helped him post solid finishes at Augusta National long after he won green jackets in 1985 and 1993, including a T-4 showing in 2004 and a T-8 finish in 2014.
Rather than mope about the new equipment rule, Langer coped. He listening to the USGA's guidance and has been merely extending his hands away from his chest, even just a few inches, since using the long putter would be permitted.
"I probably have 20 new putters, 25, 30 new putters at home the last three months with different grips," Langer said. "I tried this way, I tried that way, regular, cross‑handed, and some of them work pretty decent. But at this time, I'm still the most comfortable by just not anchoring because I've done this for 18, 19 years now. Put so many hours into it, it's difficult to change something that quick."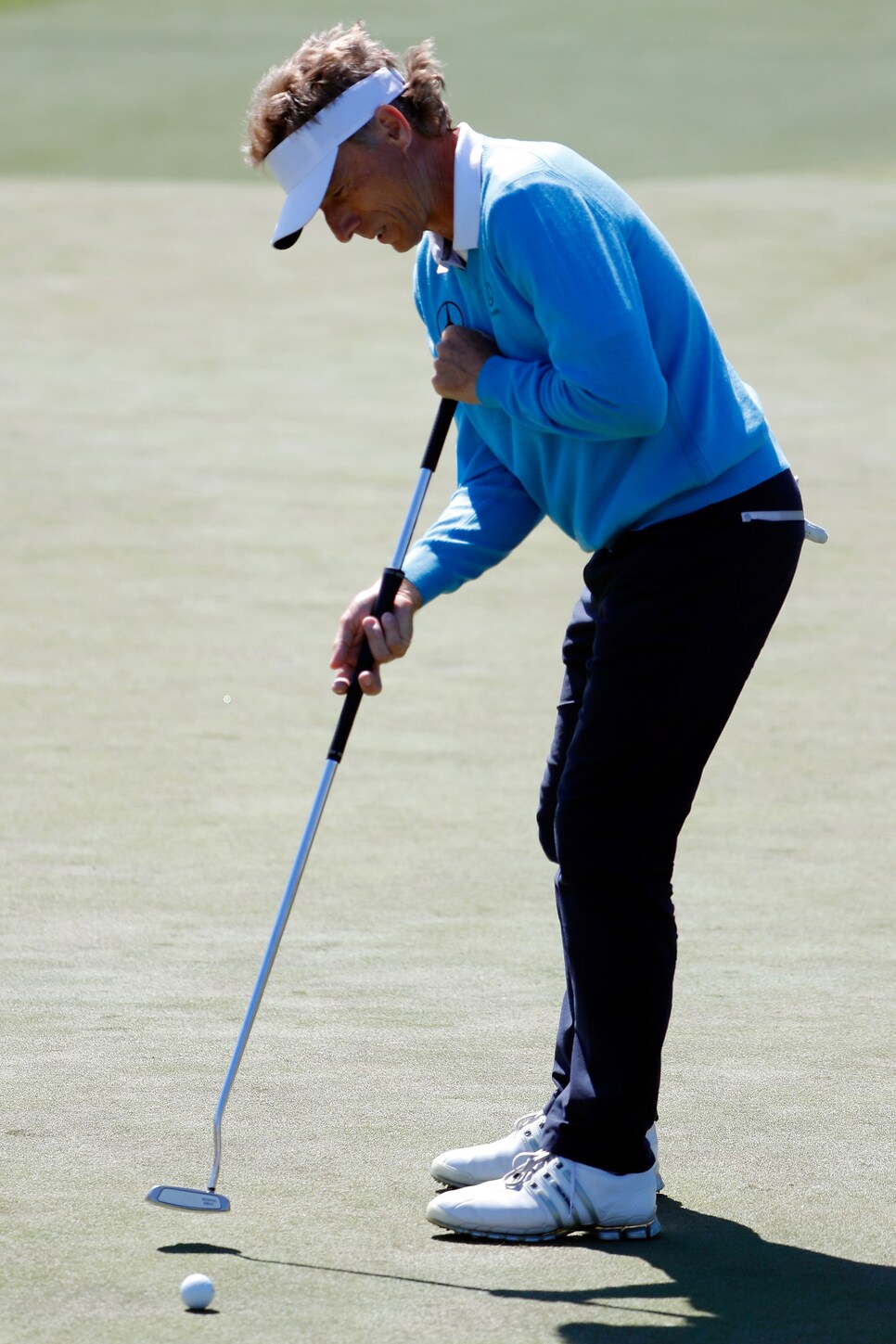 Both PGA Tour Champions and USGA officials have watched Langer in action in 2016 and given their blessing that his new technique conforms to the new rule -- despite Internet chatter to the contrary.
Suffice it to say, solid putting was the key to Langer topping the score of his playing partner, Jason Day, by a stroke, despite being outdriven by the World No. 1 by 50-plus yards on many holes. Langer made six birdies Saturday, including three in a row on Nos. 14-16.
Langer's history at Augusta National spans 33 years and 113 competitive rounds. He had 14 top-25 finishes and nine top-10s. His victories, however, are ancient history, relatively speaking. The 22-year-old Spieth was born three months after Langer won his second green jacket.
Can Langer win one for the old guys? He thinks so, and even if he doesn't get it done on Sunday he believes a senior golfer will win one soon.
"It's going to happen," Langer says. "We have guys right now: Davis Love, Vijay Singh, Fred Couples, these guys are still long enough to compete on any golf course. … The guys are staying fit. They are more athletes. They are taking care of themselves. We see it amongst the young guys, but as they get older they are going to be in better shape. And it's just a matter of time."
Maybe just a matter of a day.