News
Bernhard Langer continues to roll, opens this major the way he closed last one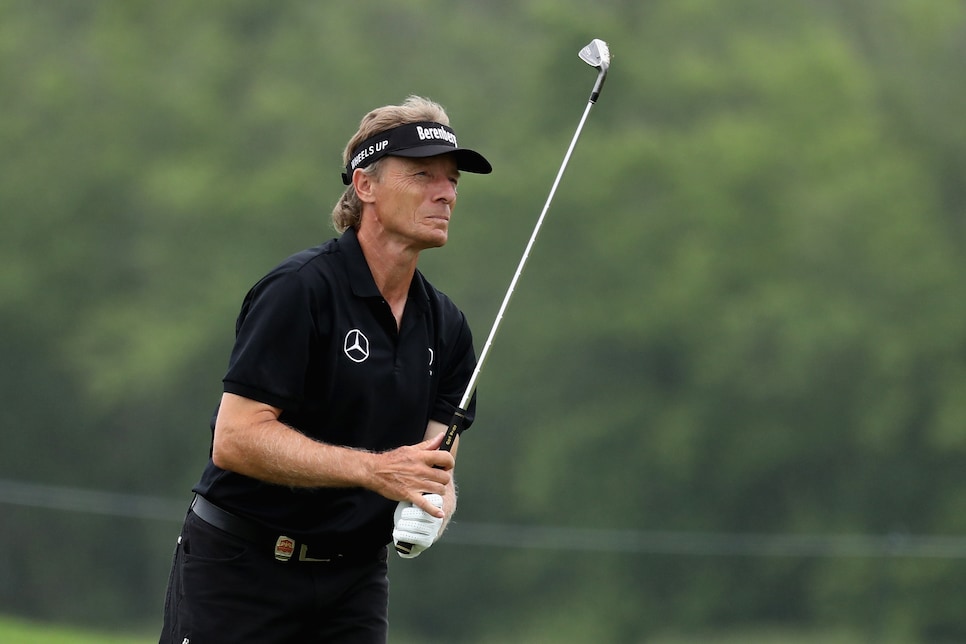 When the rain stopped, the reign resumed for Bernhard Langer, who began his bid to win a record ninth senior major championship with the best round of the day.
Langer, the aging yet ageless star of the senior set, shot a seven-under 65 at Trump National Golf Club, Washington D.C., on Thursday to take the lead in the KitchenAid Senior PGA Championship. Tom Lehman, Lee Janzen and Scott McCarron were among those tied for second with 67s.
The round was delayed one hour, 20 minutes by a storm in the morning, and a second delay in the early evening suspended play for the day with several players still on the course.
"None of us like delays," he said. "I got up at five o'clock for an eight o'clock tee time and then we got an hour, 20 minute delay. So it messes with you a little bit with your stretching routine, eating routine and all that kind of stuff. We're just sitting around getting stiff. At our age you get stiff sitting around. But it didn't seem to do a lot of harm."
Langer, three months shy of his 60th birthday, had six birdies and an eagle, the latter coming on the 533-yard par-5 18th hole. He hit his second shot from 222 yards to within two feet of the hole for a virtual tap-in eagle.
"It looked pretty much perfect," he said. "I had a real good yardage and struck it solid. Pretty special to finish that way. Lunch will be pretty good today."
Langer, whose victory in the Regions Tradition tied him with Jack Nicklaus for most senior majors, closed that tournament with rounds of 66 and 64.
"I was really tired Monday and Tuesday," he said. "Yesterday I only played nine holes, to try to conserve some energy. But today I felt pretty decent. I'm the type of guy if I feel good about my game, my swing and my putting I can keep playing. I don't usually have a downer after a win, which you see quite often."
Langer wasn't the only player to make news on Thursday. Colin Montgomerie posted a two-under-par 70, his 38th consecutive round of par or better in PGA Tour Champions events, equaling Jay Haas' record set in 2014.