voices
Ben Wright's passing recalls how a legacy can be tainted in an instant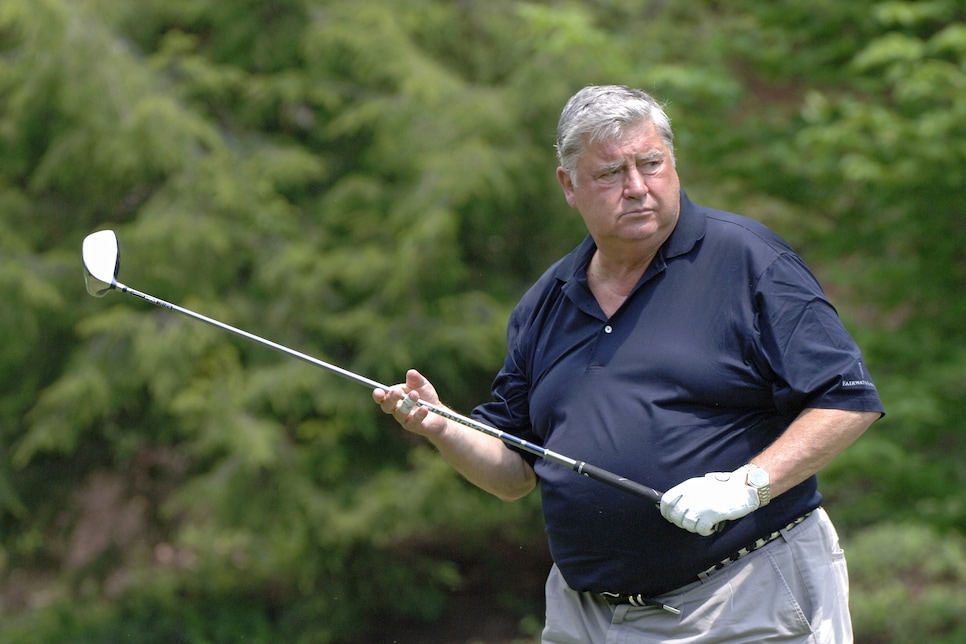 Ben Wright plays in the Nationwide Tour BMW Charity Pro-Am in April 2006 in Greenville, S.C.
Al Messerschmidt
On the last day of the 1983 Kemper Open, the final threesome of Fred Couples, T.C. Chen and Scott Simpson slogged their way through a miserable finish at Congressional Country Club, reaching the 17th hole long after everyone else had finished.
With little else to do while the players dawdled, CBS producer Frank Chirkinian cut to a group of ducks hanging out around the pond that fronted the green. Without missing a beat, Ben Wright, sitting in the tower above, said: "When this round began, those were eggs."
Ben Wright died last week at the age of 88. He suffered a fall, broke two vertebrae and succumbed to complications post-surgery. While those who enjoyed his work on CBS's golf coverage for 24 years will remember him for pithy lines like his one at Congressional, his legacy will always be darkened by the way his career at CBS crashed—and the way CBS mishandled the crash.
In the spring of 1995, Wright was at DuPont Country Club in Wilmington, Del., to be part of CBS's coverage of what was then the McDonald's LPGA Championship. On Thursday May 11, he did what would normally have been a routine interview with Valerie Helmbreck of Wilmington's local paper, the News Journal. Twenty-four hours later, when Helmbreck's story was published, Wright was smack in the middle of a national controversy.
According to Helmbreck, Wright said the following: "Let's face facts here. Lesbians in the sport hurt women's golf." There was more: "They've gone to a butch game and that furthers the bad image of the game. … It's not reticent, it's paraded."
And then, just in case there were still some women out there he hadn't yet offended, Wright added: "Women are handicapped by having boobs. It's not easy for them to keep their left arm straight and that's one of the tenets of the game. Their boobs get in the way."
Helmbreck didn't record the interview—she likely walked into the CBS trailer that morning expecting to have an innocuous, isn't-this-all-great chat with Wright, not report on remarks that would stir outrage. Wright and CBS quickly turned the story into a he said/she said saga, Wright categorically denying he had said anything like that. In a statement posted in the players locker room that day, Wright wrote: "I am disgusted by the pack of lies and distortion that was attributed to me."
CBS Sports President David Kenin backed Wright, saying: "I am convinced that the offensive statements attributed to Mr. Wright were not made." He then added that both Wright and CBS had "been done a grave injustice in this matter."
Wright was well liked in the golf world: by viewers; by colleagues; by golfers. Hall-of-Fame golfer Joanne Carner insisted that the "boobs" comment had initially come from her, a joke to explain the difficulties of being a female player. At CBS's request, the LPGA put the great Nancy Lopez in the booth with Wright on Saturday to show support for him. During the telecast, he again denied the comments.
As is often the case, the cover-up proved to be as bad or worse than the crime. A month later, at a party during the U.S. Open, Wright admitted to Dan Jenkins that Helmbreck had his comments right but he had thought he was off-the-record. Ken Doig, a caddie who had worked part-time as a spotter for CBS, later came forward to say he'd been in the trailer and heard Wright make the comments.
And then, when Sports Illustrated's Michael Bamberger looked into what happened, Wright, after saying CBS didn't want him to talk, claimed that Helmbreck was divorced, involved in a custody battle and possibly a lesbian who he had the misfortune to run into just prior to Mother's Day.
It turned out, according to Bamberger's story, that Helmbreck was happily married with three children.
In January 1996, even though CBS had given Wright a new four-year contract in the wake of the controversy, he was suspended indefinitely by Kenin. The suspension turned out to be forever.
What's sad in all this is I just felt compelled to write about 500 words on the incident that led to Wright's demise at CBS. Beyond that foolish 30 minutes and its mendacious aftermath, John Bentley Wright lived a colorful life as a newspaperman, a very good player (a 2-handicap for a long time), a gifted television commentator, an entertaining raconteur and as an excellent foil for Gary McCord—who always called him by his full middle name, on-air—before David Feherty arrived on the scene as Wright's replacement.
When I was researching my book, A Good Walk Spoiled, I spent a good deal of time around the CBS compound, in large part because Chirkinian and Chuck Will, his director, were two of the smartest and funniest people in golf. They knew everyone and everything.
During that time, I also got to know Wright and McCord and found them as entertaining off-camera as they were on-camera. Wright often teased me about the fact that I tended to show up around lunchtime. "Must be time for lunch, Feinstein's here!" he would shout and then would add, "John old man, be careful or you'll end up looking like me."
He was a superb, often self-deprecating storyteller, and the truth is I showed up at lunchtime because the food was good and I loved listening to Chirkinian, Will, McCord and Wright tell stories. Sitting among "the boys" at CBS, Ben talked that way at times about women. It was borderline lewd, and in that sense, his remarks to Helmbreck were not out of character. Still, the question I never got to ask was this: Why in the world would you make comments like that to a stranger on or off the record? It made no sense at all.
Wright never made it back to network television and went through rehab at the Betty Ford Clinic not long after he lost his job. He was married five times and lived a comfortable life in the North Carolina mountains, doing occasional radio shows, writing columns for Links Magazine, giving speeches and doing golf outings. He even designed a golf course in South Carolina.
It was, in all, a full and productive life. He was very good at what he did until he went off the rails in Delaware one morning and, soon after, was no longer doing what he did anymore. He deserved to be fired—for the comments and for the cover-up. That doesn't mean it wasn't a shame.