Course Rankings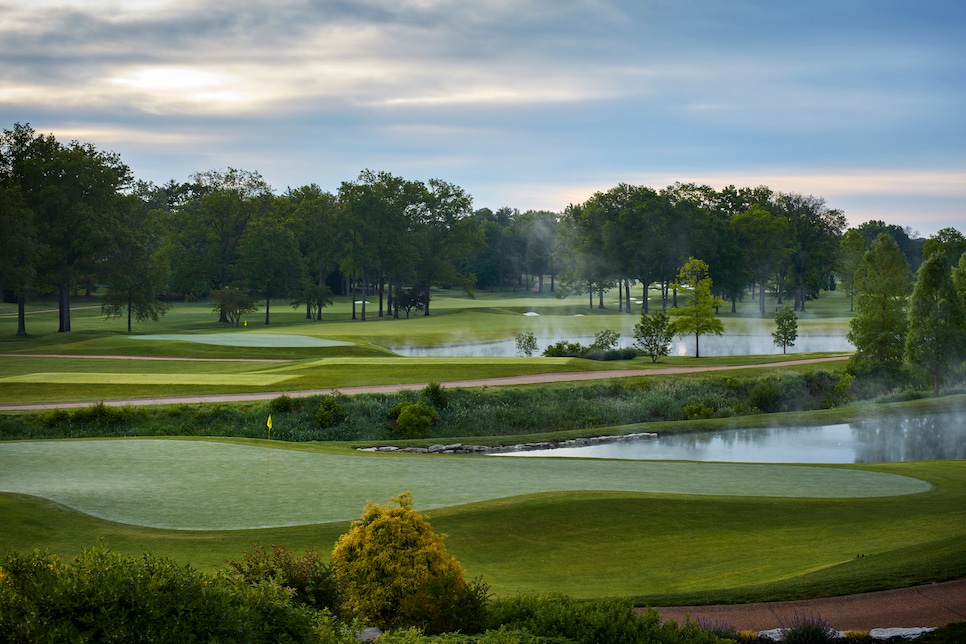 165. Bellerive Country Club
Robert Trent Jones (1960)
Once the darling of the U.S.G.A., which awarded this Robert Trent Jones design the 1965 U.S. Open, making it the second youngest course to host an Open in the 20th Century (after Northwood in Dallas), Bellerive is now favored by the PGA of America, which successfully concluded the recent 2018 PGA Championship on it. The polished course that hosted the PGA is a far cry from the immature one of 1965. Hardwoods along holes now have 50 years worth of growth, fairways are now Zoysia and architect Rees Jones has replaced his father's bunkering with that of his own style, positioned farther off the tees to challenge big hitters. Rees also filled in a pond in front of the 17th green and added chipping areas next to several putting surfaces.
100 Greatest/Second 100 Greatest History: Ranked on America's 100 Greatest, 1966 through 2004. Ranked on America's Second 100 Greatest, 2015 to current. Highest ranking: No. 47, 1985-1986. Previous ranking: No. 144.
Watch Golf Digest's latest "Every Hole At" course videos below:
Panelist comments, Bellerive Country Club:
"Bellerive is the long and difficult course that you would expect from Trent Jones. The property is fairly flarge and tree lined with predictable bunkering. It is a strong test and a worthy venue for hosting championships but for daily play it is a rather uninspiring affair. There are a couple of exceptions, the dog leg 14th with an angled green protected by a deep valley in front and the 17th with a creek down the entire right side. The final five are good holes and will certainly make for am exciting PGA finish."
"Bellerive is well positioned to be a major venue for years to come. I played this course from 7,090 and still looked back at a few tees. New fairways are fully grown and the greens were great and the new tees and planters really dressed up the place. As usual, the clubhouse and facilities looked magnificent. I think this course will have a chance to regain its No. 1 spot in the state very soon."
"With a wide selection of tees and combos, the course is playable for just about everyone. Once you step up to the back tees the course truly provides a fair test with great variety. The distance changes from tee to tee as well as the angles of the many subtle to normal doglegs. Both the greens and fairways are bunkered just enough and in the right places."