News
Before you start buying up that Adam Scott stock, one word of statistical caution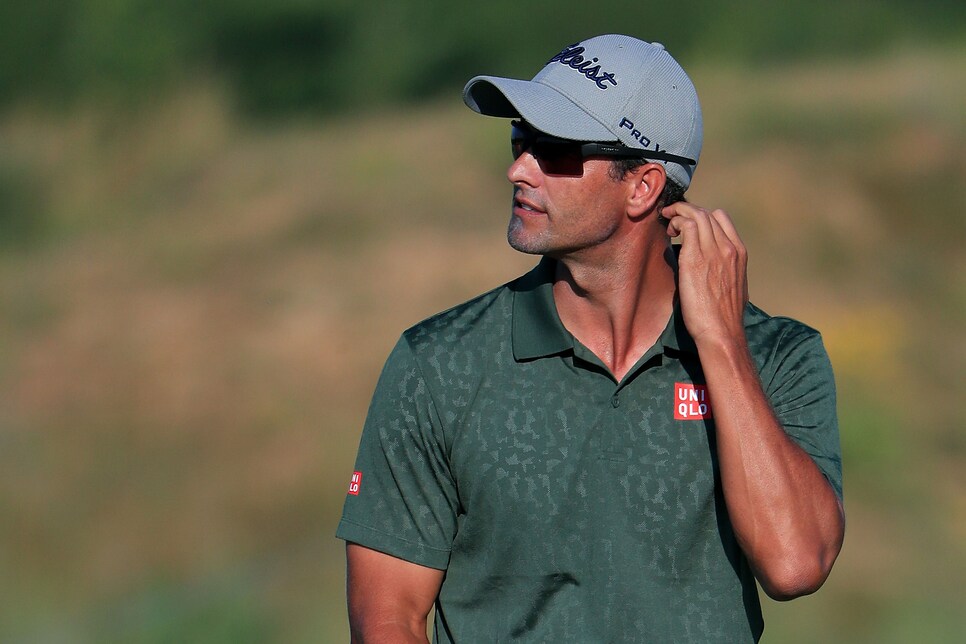 Tom Pennington/Getty Images
At long last, things seem to be starting to look up for Adam Scott. The 2013 Masters champ finished T-9 at the AT&T Byron Nelson a week after posting a T-11 showing at the Players. As surprising as this will sound, it was the first time Scott has had consecutive top-15 finishes since February 2016. If he can carry over this momentum into his play the next few weeks, he'll likely do enough to keep his impressive streak of consecutive majors played going past 67 at the U.S. Open. Regardless, it's an important step in the right direction.
So what's going right? Well, Scott has been plagued by a singular problem for his entire career: His putting. If the 37-year-old is turning things around, it stands to reason that it's because he's finally improved on the greens, right?.
Here's Scott's per tournament strokes gained/putting chart since his 2013 Masters win. As you might expect, it's pretty ugly. For five years his putting has been on a steady—and steep—downward slide.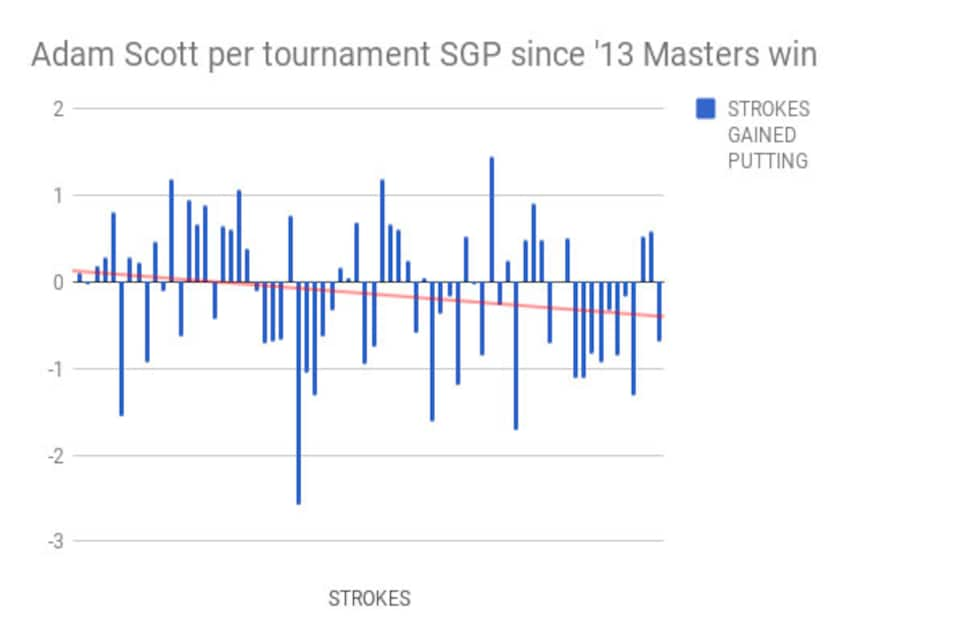 Look towards the end of the graph, at his starts in late 2017 and 2018, and you'll see that Scott finally snapped a streak of eight-straight negative SGP tournaments with two above-average performances (Wells Fargo and the Players). But don't get too excited: The date is not enough to suggest any meaningful improvement. Indeed, at the Byron Nelson he failed to extend the streak to three. More meaningfully, the putting upswing didn't really correlate into better overall performances at the tournaments. Scott boasted a +.516 SGP at Quail Hollow but finished T-76 (four over par) for the week.
It turns out what's actually driving Scott's mini resurgence isn't turning the bad parts of his game to decent, but from improving the already good to even better.
At the Players, Scott's ball-striking stats started to surge. He hit more than 72 percent of his greens in regulation—11 percent better than the previous week and the most he's hit at any tournament since February.
Scott finished fifth in driving distance at TPC Sawgrass, T-21 in GIRs and T-11 in strokes gained/total. He didn't putt as well a week later at the Byron Nelson, but his ball-striking improved even more: He ranked third in both driving accuracy and greens in regulation, and first in SG/tee to green.
Scott isn't just hitting more fairways and greens, his strokes gained shows he's putting himself in better spots when he is. It's why, despite losing almost three strokes on the greens at the Byron Nelson, he soared to his best finish of the season.
All in all, there's reason for encouragement. Golf is more fun when Adam Scott is playing well, and in that sense, he's succeeding. The trick will be for the Aussie to somehow maintain this current trend. Unfortunately, should the same underlying problems with Scott's putting persist, even supreme ball-striking every week won't be enough to stop the bleeding on the greens.