The Loop
Be the right phrase ... ten years later
PONTE VEDRA BEACH, Fla. -- Hal Sutton defeated Tiger Woods 10 years ago this week at The Players Championship, and he closed out his one-stroke victory with one of the most memorable unscripted moments in the tournament's history.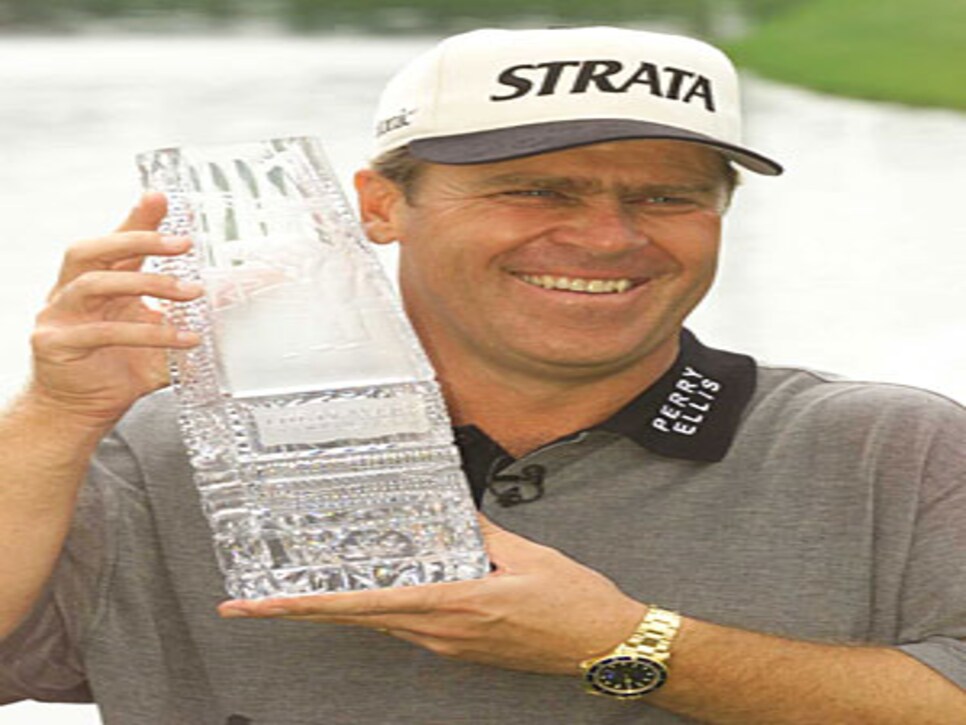 "Be the right club today," Sutton said mostly to himself but which was picked up by television microphones as he watched his 6-iron approach at the home hole at the TPC Sawgrass track towards the flagstick.
"I quit the game for five years. The thing that surprised me the most was that I couldn't touch a hole from three feet when I first came back, and then how much people used the phrase," Sutton, 52, said during a press conference Wednesday. "There was one stretch last year where I was so shocked by it, that one month I counted every day how many people said something to me about it. The least number of times was 10, and the most was 36 times in a day. I couldn't believe it, but people use that all the time.
"The phrase, 'Be the right club today' was just a moment of passion," Sutton added. "It was never practiced or anything else. It was just what came out of my mouth when I saw it in the air."
Sutton, who has two top-10 finishes in six starts this year on the Champions Tour, won two Players, in 2000 and 1983. He also won the '83 PGA Championship by one stroke over Jack Nicklaus.
"Maybe my two greatest wins," Sutton, who won 14 PGA Tour titles, said during his one-day visit to the Stadium Course. "That says how old I am, I guess, or how long my career spanned. Went into the PGA, beat Jack by one, and then beating Tiger here, I beat him by one 17 years later. I look back on my career, and those are pretty high spots. I really looked up ... I idolized Jack Nicklaus, and certainly the modern-day player of the world is Tiger Woods."
Does one win mean more to him than the other?
"I didn't really have an opinion on that until Tiger beat Rocco (Mediate) at Torrey Pines (in the 2008 U.S. Open)," he said. "I was sitting in my den with my little boy (Holt) at the time. He was about five years old, and I never talked to him about beating Tiger Woods. And Tiger Woods is such a big name. And this little five-year-old looks up at me and said, 'Daddy, you beat him one time, didn't you?' He didn't know who Jack Nicklaus was. It was a big moment because my son recognized that I had done that."
(Photo: Craig Jones/Getty Images)