News
Be it rust or polish, players are getting a feel for their games at Colonial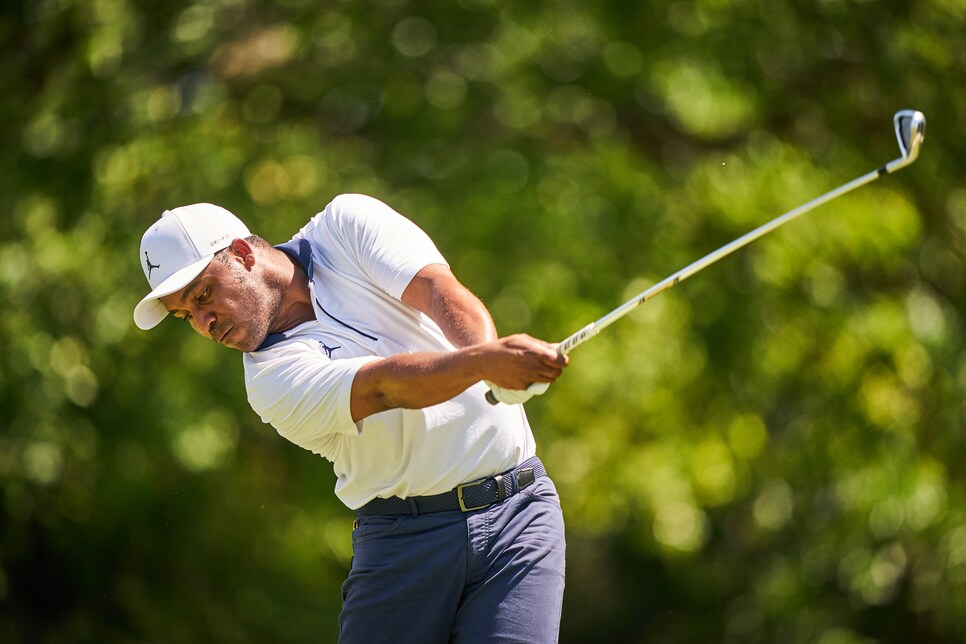 Harold Varner III holds a one-shot lead after two rounds of the Charles Schwab Challenge.
Darren Carroll for Golf Digest
FORT WORTH — After three months away from competitive golf, the players in the Charles Schwab Challenge came to Colonial with the same question.
Did their games come too?
Round One was the day for judgment. Answers were offered. But let's be clear: There was more going on Thursday than finding one's swing or stroke. It was the first day of the first tournament under conditions dictated by the coronavirus pandemic. It was the first time these players competed on the PGA Tour in the presence of no fans.
Round Two was for affirmation—you either had it or you didn't. You were ready or not. And here they came, the rust and the polish, the tempo or the twitch. Little about golf is like riding a bike. And yet Friday was about riding again. The stuff Jordan Spieth called "feels."
Take Spieth, the 2016 champion at Colonial. He had a tie for ninth in February at Pebble Beach, but the rest of his 2020 season—indeed the balance of 2018 and 2019—had been rugged. Then the tour shut down. Time to rest. Time to relax. Time to reconsider. Time to hone. "I tried to approach it as an offseason," Spieth said Tuesday.
Two days later, he made bogey (rust) at the first at Colonial, a gettable par 5, but seventeen holes later signed for five-under 65 (polish). He matched that Friday. With a four-putt. Spieth made eight birdies on a sultry day in Fort Worth, the kind when cicadas harmonize in the leaves. He was in second, a shot behind Harold Varner III.
Jordan Spieth says he's trying to find his "feels."
Darren Carroll for Golf Digest
In his visit with reporters after, Spieth talked about feeling control of the club, feeling a cut 3-iron or a high, drawing wedge. He said he's trying only to achieve a notch more control than he had the day before. He said sometimes that means a lower score, but sometimes not.
"I'm looking for the feels," Spieth said, "and I was giving myself grace on the outcome. As long as I stay focused on doing that this weekend, that keeps me progressing forward." Notice the abstraction in his objectives: control, grace, feels—especially feels. "Are they at the level I want them?" Spieth said. "No. But they're almost pretty much there on the range, and then when I go to the course, it's 90 percent."
The top-ranked player in the world, McIlroy spent a lot of the break on his Peloton, assembling jigsaw puzzles and thinking by the pool. But he had the charity match at Seminole at least—remember the wedge shot he hit to win? He's shot 68-63 at Colonial, his first appearance in the tournament. (Worth considering: His rental house in Texas happens to have a simulator in the basement. He made use of it, he said, to further tighten his wedge play, a noted weakness.)
The judgment? "I learned a lot about my game yesterday (Thursday) through just 18 holes, and you can do as much practice as you want and play as much as you want at home," McIlroy said Friday. "But until you actually get into that competitive environment, you're never 100-percent sure of how your game is." And here we are.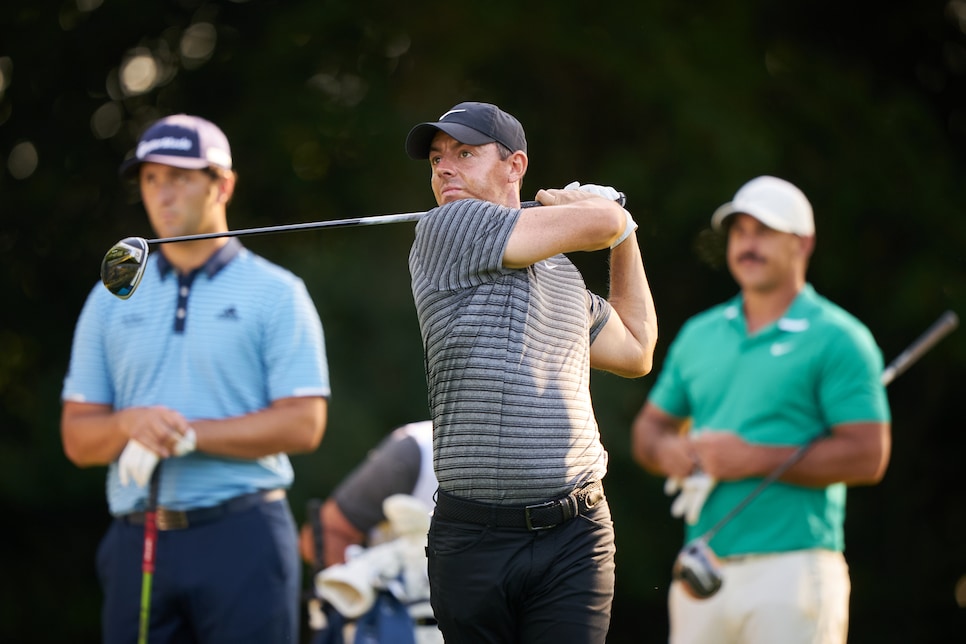 Rory McIlroy tees off with Jon Rahm and Brooks Koepka watching.
Darren Carroll for Golf Digest
The affirmation? "Not surprised," McIlroy said. "I've been playing well at home and I've been hitting the ball the way I've wanted to. (It's) just a matter of getting it to translate out on to tournament play, and it's nice that it has."
Rahm said he nary touched a golf grip for seven weeks during the pause. "I haven't competed in three months," he said earlier this week, "which is basically the longest break I've ever had since I started playing golf competitively." Rahm birdied his first two holes Thursday. Polish! He played the remaining 16 holes at one over par. Rust! Rahm shot 69-71 and missed the cut.
The leader board is exceptional, as good as hoped. Varner, who shot 63 in the first round, tripled his first hole Friday—rusty, rusty—but righted himself and still shot 66 for an 11-under-par lead. There's Spieth, tied with Bryson DeChambeau (65-65) for second at minus 10. McIlroy, Collin Morikawa and Xander Schauffele are nipping tight behind at nine under.
First-round leader Justin Rose and three others, including Justin Thomas, are three behind Varner at eight under.
Take Thomas now. He played plenty of golf during the interruption, usually with six or seven friends at Medalist in Florida, one guy to a cart, no caddies, no rakes, and fast. Three-hour rounds. "We got spoiled," Thomas said. It looks like he also got himself in form. He shot 64-68.
His judgment? Notice how obvious it is.
"The leader board," he affirmed, "speaks for itself."