Course Rankings
Both Bayonne Golf Club and its neighbor, No. 197 Liberty National G.C., were built at the same time, part of a massive transformation of the Jersey shoreline along the Hudson River and New York Harbor. Bayonne was built on an old sanitary landfill covered with 7 million cubic yards of fill, much of it dredged from the harbor to efforts to make the harbor deep enough for supertankers. The deposits were piled up to 10 stories high, which developer-designer Eric Bergstol then shaped into towering faux sand dunes. The course is an ode to Irish links, with no trees, cart paths or level lies. Fairways flow down narrow valleys, edged by steep slopes laden with tall, wavy fescues. Bunkers are deep and often fearsome. A few greens sit right above the harbor and all putting surfaces have confounding humps, bumps and rolls. Tucked away down a bumpy, unpaved road past a strip mall in blue-collar Bayonne, N.J. is this private, walking-only enclave.
Second 100 Greatest History: Ranked among America's Second 100 Greatest: 2013 to current. Highest ranking: 126th, 2013-2014. Previous ranking: 142nd.
Watch Golf Digest's latest "Every Hole At" course videos below:
Panelist comments, Bayonne Golf Club:
"Perhaps one of the most scenic courses on the East Coast. The ferry ride over from Manhattan is just a preview of what is to come at Bayonne. If you can get past the amazing views of the Manhattan skyline, and the feeling like you're in Ireland or Scotland, the course itself if pretty good as well."
"Bayonne is built on a reclaimed landfill in a mostly industrial area so the course has a very limited sense of place. The property is rather tight which forced Eric Bergstol to use every corner of the property as well as having several longish green to tee walks to create length."
"Bayonne is an engineering marvel. Transporting a Scottish links golf course onto the shores of New Jersey. With rolling, undulating wide fairways, framed by dunes of fescue, exposed to the influence of the wind and views of water, no cart paths make this walking only course a testament to the traditions of the game."
"Many distinctive holes dot the property and you feel transported to Whistling Straits on occasion despite being surrounded by industrial sites. A course that transports the golfer away from the rather urban surroundings visually yet still has proximity to NY to stir the senses. Bayonne is an example of strategic architecture with placement over length favored."
"Non-traditional routing sometimes feels crammed. A few unusual playing lines off tees across adjacent fairways adds a confining feel to an already limited property. Several holes feel confined to areas of the property and are slightly forced in concept. Maximizing strategic value is sometimes compromised in places."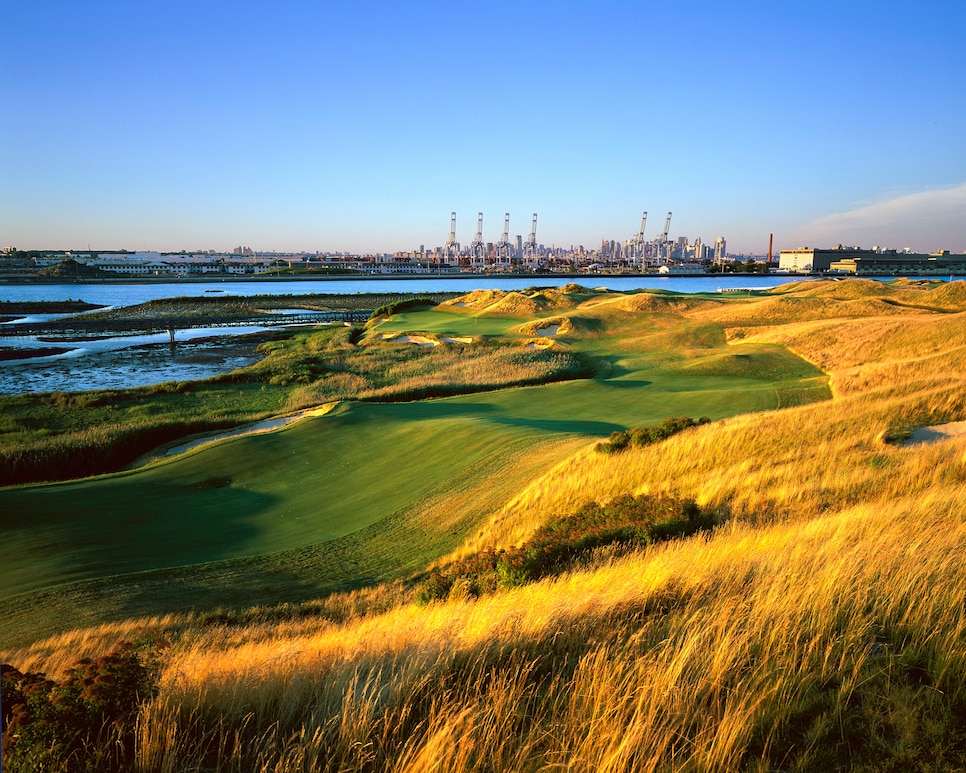 Courtesy of Evan Schiller

Courtesy of Evan Schiller

Courtesy of Evan Schiller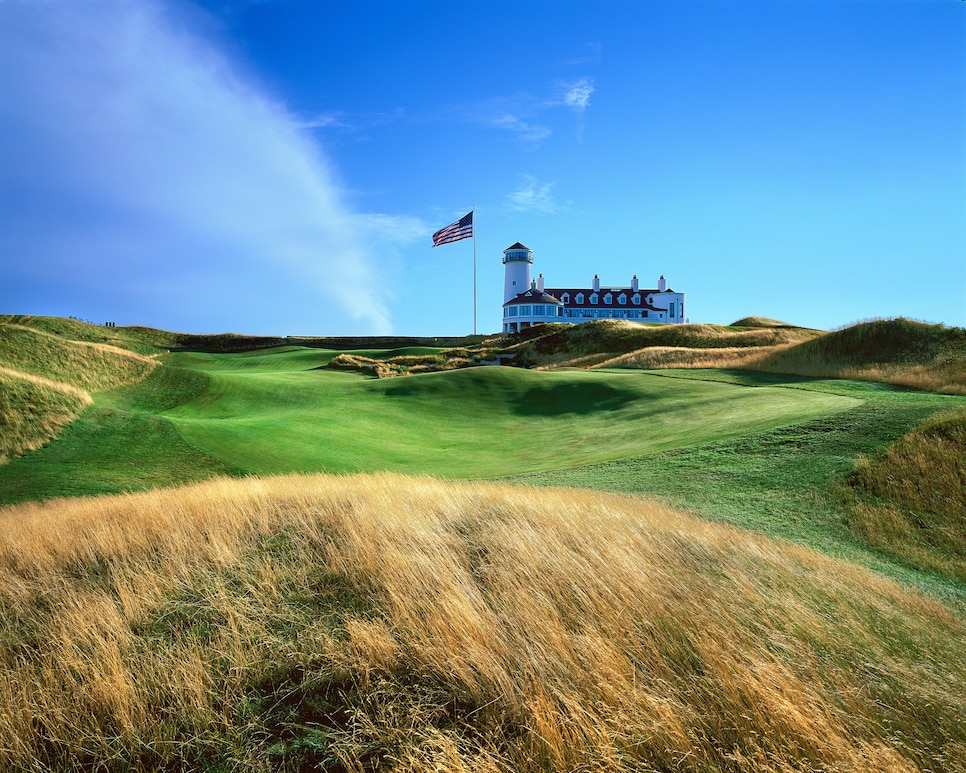 Courtesy of Evan schiller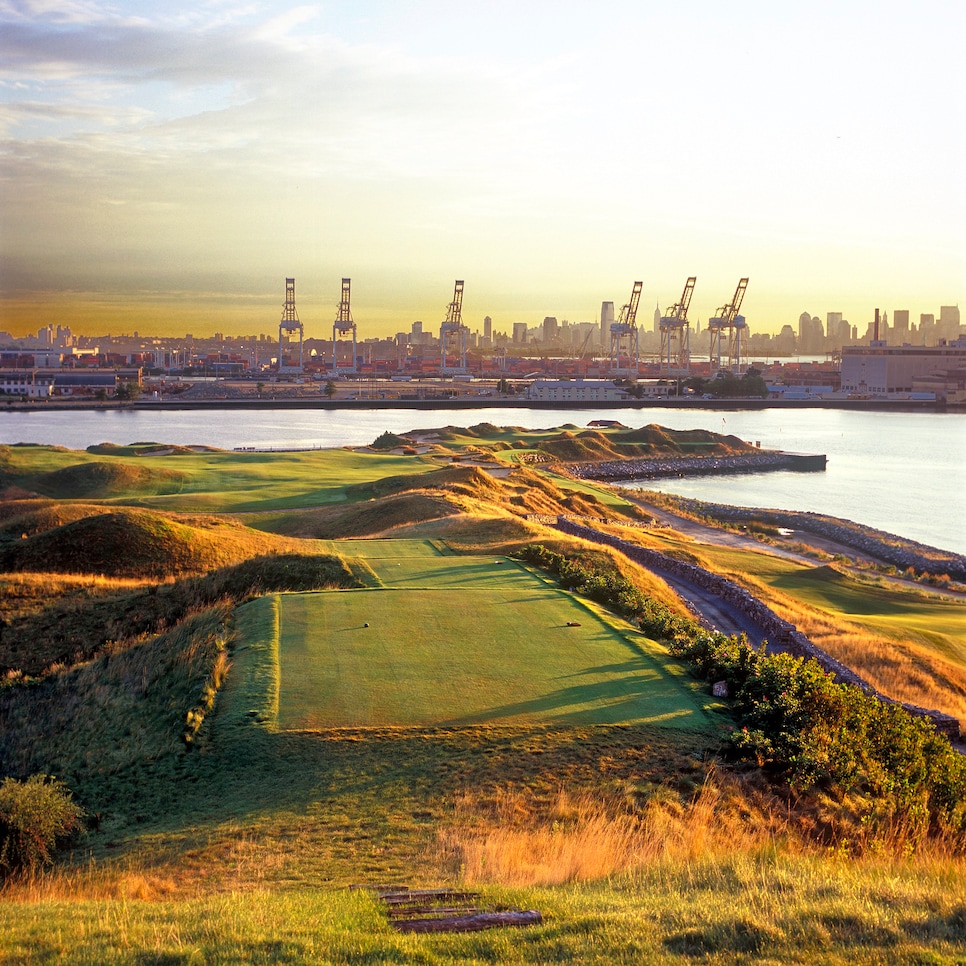 Courtesy of Evan Schiller