News
Right Where He Wants Him?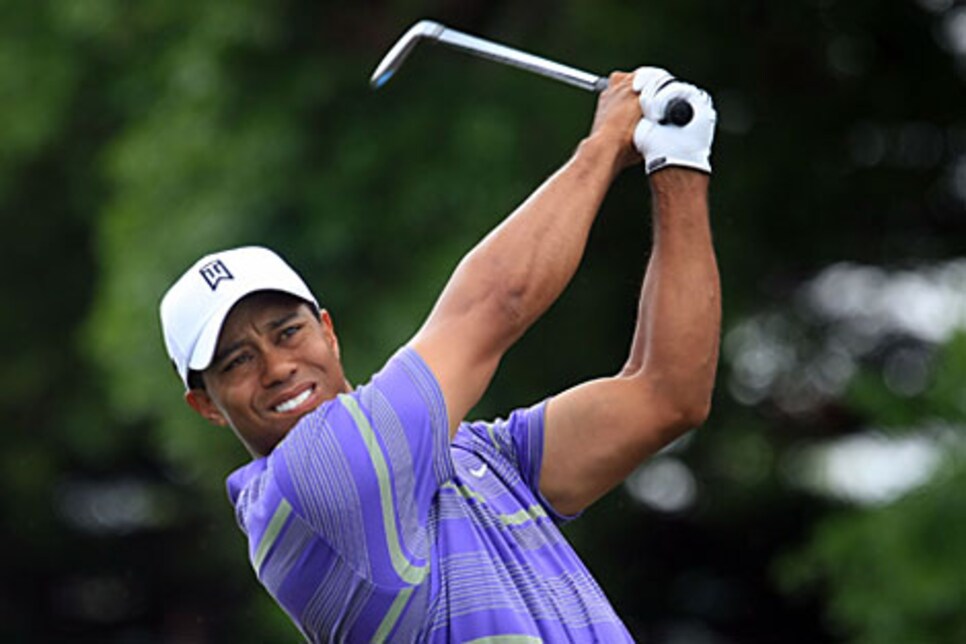 To win for the sixth time at Bay Hill, Tiger Woods will have to match the largest final-round comeback of his career.
ORLANDO -- So how far back is too far back? If you're Tiger Woods, is it five shots?
But what if it rains at Bay Hill as expected and the course softens up like a giant sponge?
"That's the way it goes," he said.
And what about playing in the last group Sunday, with nothing much riding on it except a victory in the third tournament of his comeback, a $1.08 million winner's check, momentum for the Masters and a sixth victory in this Arnold Palmer Invitational?
"It is what it is," he said.
On Saturday afternoon, with the wind blowing so hard the bunkers could have had whitecaps, Woods didn't need a lot of words to explain how he shot a one-over 71, survived a shaky closing sequence with a 24-foot birdie putt that saved bogey at the 18th and somehow stayed within sight of Sean O'Hair.
Woods had the look of somebody who just went 12 rounds in a heavyweight fight and was still standing afterwards. He's five shots behind O'Hair despite dropping two shots the last three holes. He wasn't alone among the frontrunners. O'Hair dropped three shots the last four holes, and just to show there was enough suffering to go around, Jason Gore dropped three shots the last two holes.
Needless to say, it was tough out there, especially at the 18th, where Woods hit a bad drive into the right rough, leaving him little option except to aim for the left greenside bunker with a wedge. Good plan, but the wind snagged the ball and buried it somewhere in the muddy bank of the pond. After a search party couldn't find it within the five-minute time limit, Woods took a penalty shot, and then knocked the ball onto the green, 24 feet above the hole.
Double bogey territory, right?
That's not how it turned out, if for no other reason than we're talking Tiger here. Woods doesn't win every time out and Sunday might be another close call, but he is without a doubt the center of attention this week as he plays in Palmer's tournament. In his search for the right rhythm, the burden of expectations is loaded so heavily on his back and the Masters is so close, you can almost see the azaleas.
Woods started the day five shots behind O'Hair and ended it in the same position, but even if he couldn't make up ground, he had to feel good about the way he handled himself in extremely difficult conditions in what is still the early stages of his comeback from knee surgery.
He said he's starting to get the speed right on his putting, which is a positive on which he can build. Woods spent a few minutes speaking with reporters after his round, dozens of fans lining up behind a green metal fence only a few feet away. Two wore fuzzy tiger heads. If Woods weren't so worn out, he might have laughed. It was that kind of day.
A little earlier, about the time Woods reached the seventh hole, his control over the gallery was never more pronounced. Or louder, thanks to a sonic boom from the Shuttle Discovery on its way back to Cape Canaveral after a 13-day mission. Fans stood five deep all along the fairway, others moved ahead to the next hole to establish their position. There weren't more than a dozen fans following O'Hair, who was managing to lead the tournament anonymously.
Meanwhile, there was quite a party going on at a house near the eighth green, about 100 yards away, but actually situated on a fairway on Bay Hill's other golf course. About 15 partygoers climbed on board a platform with a hydraulic lift that slowly rose about 30 feet, offering a perfect view of Woods as he drew closer to the eighth green. The music from the loudspeakers spilled outside: "Hot Hot Hot," "Tequila" and the Mexican Hat Dance.
If Woods noticed, he didn't show it.
But then neither did he act any differently when his downwind second shot at the 16th sailed right, caromed off a cart path and bounded into the rough near the 17th tee. Woods chopped the ball out of the junk and onto the green, two-putted for his bogey and calmly moved on.
So far, Aaron Baddeley is the only player putting better than Woods through three rounds. And Woods hit more fairways (nine of 14) and more greens (11 of 18) on Saturday than he did the first two rounds.
Good indications all for Woods, who is probably going to embrace the vibe once he shakes off the effects of a brutal afternoon of golf on a demanding course with the wind gusting strong enough to move the balls on the greens. If he gets it done Sunday, Woods would equal his biggest 54-hole comeback, which came at Pebble Beach in 2000.
And do you know what Woods said about that?