News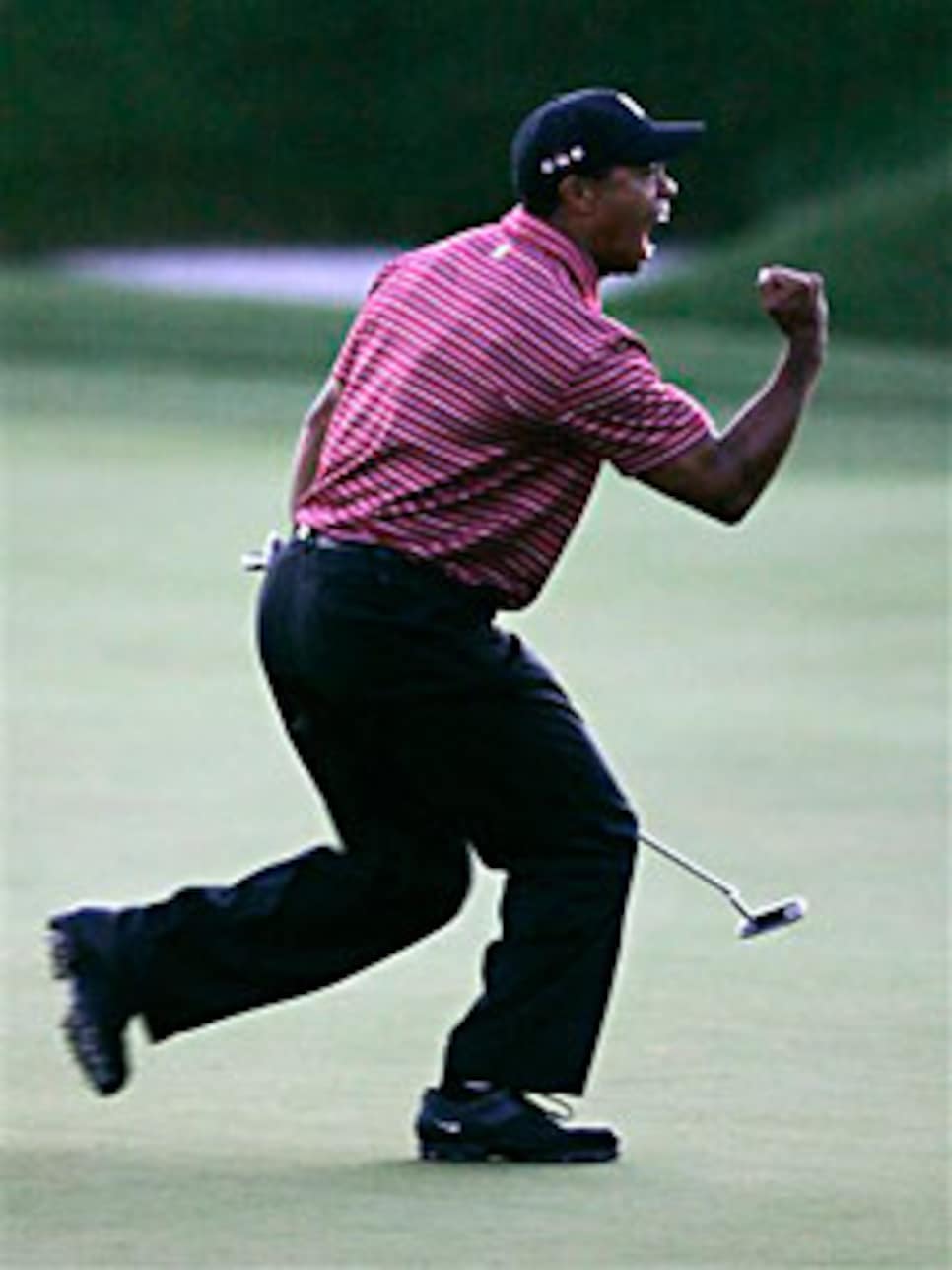 Tiger left no doubt who is the favorite heading to next month's Masters.
ORLANDO, Fla. (AP) -- The clutch shots. The late charge. An electric birdie putt on the 18th hole at Bay Hill.
Yep, Tiger Woods is back.
With those familiar back-nine heroics and a putt most everyone knew he was going to make, Woods holed a 15-footer for birdie to win the Arnold Palmer Invitational for his first victory since returning from knee surgery.
"It feels good to be back in contention, to feel the rush," Woods said. "It's been awhile, but God, it felt good."
Just like last year, when Woods made a 25-foot birdie on the final hole at Bay Hill for a one-shot victory, he delivered a high-charged celebration. Instead of slamming his cap to the ground, he turned and ran into the arms of his caddie, who lifted him off his feet.
Then came the meeting with the tournament host.
"What was it I told you last year?" Palmer said with a wide grin.
Palmer has seen enough of Woods to know what to expect. Woods won at Bay Hill for the sixth time, the third PGA Tour event he has won at least that often.
Woods had not been atop the leaderboard since he won the U.S. Open in a 19-hole playoff last June. He had reconstructive surgery on his left knee a week later, and missed the next eight months.
With two indifferent results at World Golf Championships, there were questions whether he would be ready for the Masters in two weeks. Not anymore. He rallied from a five-shot deficit and delivered one crucial shot after another in fading sunlight.
It was the third time Woods has won at Bay Hill with a birdie on the 72nd hole.
O'Hair made only one birdie and closed with a 73, but he steadied himself along the back nine until a crucial mistake on the 16th hole, when he went at the flag with Woods in the rough. His 7-iron came up short and into the water, leading to a bogey.
"I think what happened is when the sun was going down a little bit, I guess that kind of proved to me that the ball wasn't quite going as far," O'Hair said.
He might be right, for Woods ran into the same problem a hole later. He posed over a 4-iron that he thought was flush, tongue hanging out of his mouth like Michael Jordan when he knew a shot was going in. This one plugged under the lip of the front bunker, and Woods made bogey to fall into a tie.
That set up the dramatic finish with only minutes of daylight remaining, thanks to a two-hour rain delay in the morning.
It was the second straight year that O'Hair had to watch Woods celebrate. They were in the final group a year ago when Woods made his big birdie putt to beat Bart Bryant. This one stung even more.
"It's just a little bit disappointing that I couldn't close it," O'Hair said.
Woods finished at 5-under 275 and won $1.08 million for his 66th career victory. Only once in his career has Woods failed to win a PGA Tour even in the three months leading to the Masters, but more Bay Hill magic took care of that.
Zach Johnson shot 69 and finished third.
Woods was running out of holes until he came up with two clutch putts, the kind he has made throughout his career.
The most pivotal came at the 14th, when he was one shot behind and caught yet another plugged lie under the lip of a bunker. Woods did well to blast out to just over 12 feet, while O'Hair had 15 feet for birdie. Make it, and he could go up by three.
O'Hair narrowly missed, and Woods holed his putt for par. On the next hole, Woods made a 25-foot birdie putt to tie for the lead.
There were three lead changes over the final three holes, and a predictable winner.
"It's like Stevie was saying out there," Woods said of caddie Steve Williams. "This feels like we hadn't left. You just remember how to do it. It hasn't been that long for me, but you just have that feel of what to do. And it's a matter of getting it done."
It was a struggle from the start for O'Hair.
He didn't hit a fairway until the sixth hole, and he didn't have a birdie putt inside 30 feet until the ninth hole. The game was on after a two-shot swing on the third hole, when O'Hair missed the green to the right and made bogey, and Woods made an 8-footer for his second straight birdie to close within two shots.
Woods pulled to within one shot on the par-3 seventh. Standing over the ball with a 7-iron, he backed away when he felt the wind shift ever so slightly, switched to a 6-iron and hit it to 6 feet for a birdie. O'Hair, well left of the flag, three-putted for bogey.
They were separated by one shot for most of the back nine, with momentum seemingly on Woods' side, but not the lead. That didn't come until the 16th hole, and then he needed one more clutch shot to return to a familiar place.